News
Bergendoff Hall renovation to match quality of programs
Augustana has taken a major first step toward establishing a "corner for the arts" with the recent transformation of the College Center into the state-of-the-art Brunner Theatre Center.
Renovating and expanding the college's fine and performing arts near the corner of 38th Street and 7th Avenue will reaffirm the fine arts as a cornerstone to a liberal arts education for the 21st century. The college expects to invest a total of $12 million to $15 million for this multi-year "corner for the arts" project.
The focus now is on the Bergendoff Hall of Fine Arts. Constructed in the mid-1950s (Centennial Hall was completed in 1959), Bergendoff Hall will continue to house Augustana's music and art history programs.
The goal is to renovate and advance the building to match the quality of its music program.
In addition to the new spaces described below, renovations to Bergendoff will achieve the following:
Updates in mechanical systems, windows, roofs and tuck pointing that will improve the air quality and temperature in a building that depends on it.

All classroom technology will be updated and uniform.

Rehearsal spaces will accommodate growing ensembles' needs.

The majority of the music program can be housed in Bergendoff Hall.
Investment
The anticipated total investment in Bergendoff Hall will be $8 million to $10 million. Funding will come from monies reserved for depreciation and fund-raising efforts.
Augustana College Board of Trustee Julie Hamann has made a $1 million matching gift challenge for the renovation and expansion. The 1982 Augustana graduate will match gifts dollar-for-dollar up to $1 million.
Multimedia music laboratory
Technology in music — including computer music stations, sound recording capabilities, electronic composition and music education software — is a key learning component in any respected music program.
The proposed new space would include a more open and collaborative environment. Music students will be able to record, work with others on projects and compositions, listen to audio and video examples for class assignments, compose music with the latest software and hardware, and experiment with technology for entrepreneurial activities and graduate school auditions.
Faculty could teach using current technology practice in their coursework and collaborations with students. Specific components of the space would include:
a technology classroom with keyboards and dedicated computer workstations for musicianship and composition courses

an open area with electronic music stations and workstations for individual and group projects

a small recording studio

a faculty office where a composition faculty member could work closely with students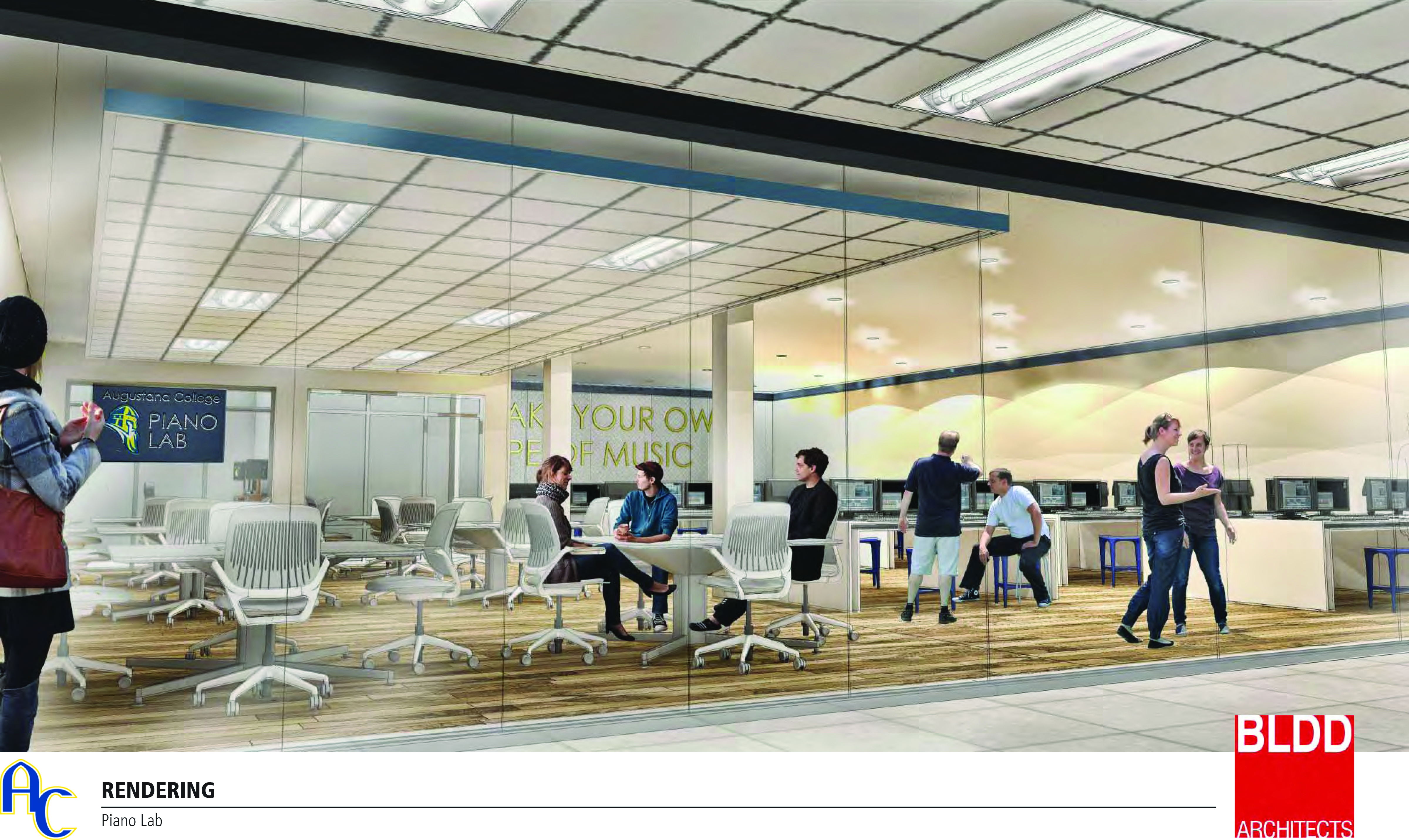 Music education suite expansion and dedicated classroom
Music education represents the largest cohort of Augustana's music majors; more than 75 percent graduate with music education licensure.
A dedicated music education classroom will better prepare Augustana's future music teachers with an environment that simulates music classrooms in contemporary elementary and secondary schools.
Specifically, this room would have advanced teaching technologies, including a Smart Board and sound systems; would include storage space for Orff xylophones, guitars, world percussion and other instruments and materials; and would be centrally located to other music education resources, the curriculum lab and faculty offices.
These changes mirror not only public school settings where students engage in field experiences, but also the philosophy of classroom set-up shared by colleagues in the education department as they established new teaching spaces in their recently renovated building and at Longfellow Elementary School.
Classroom/rehearsal spaces
One of the music department's greatest needs is for additional teaching and rehearsal spaces in Bergendoff. Adding teaching spaces will give all music classes access to instrumental (primarily piano) and sound system requirements.
In addition, the inclusion of multi-use spaces for teaching and ensemble rehearsals will promote new integrative teaching and learning experiences for music students, and house everything within Bergendoff Hall.
Larson Hall, the most widely used room for curricular and co-curricular offerings, is the current model for what the music program can achieve with expanded rehearsal/classroom space. The addition of two similar spaces will increase opportunities for larger ensembles to learn together through practice and class experiences.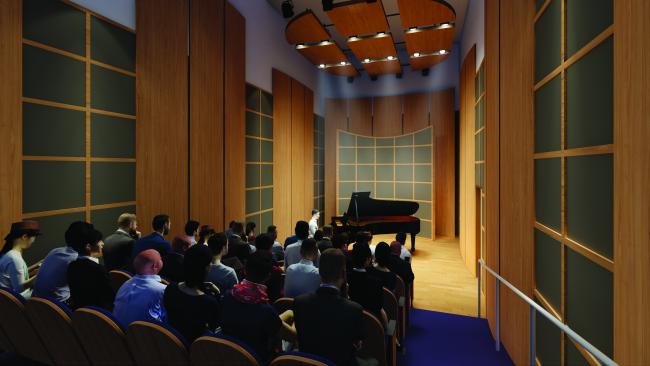 Recital hall/small performance space
Throughout the year, Augustana's music department presents 30-40 small recitals by students, faculty and visiting artists. These recitals are of very high quality and often have audiences numbering between 50 and 75, but lack a venue on par with the performance and audience.
These kinds of performances are integral to the program because they include degree recitals for our majors, lecture recitals for specific areas of the program, and guest recitals.
A proposed small recital hall would be a highly functional addition to Augustana's Center for Creativity. Few colleges in the region have a similar intimate performance space for student and faculty recitals, recording projects, visiting artist performances, and chamber music rehearsals and performances.
Choir director Dr. Jon Hurty saw an opportunity after seeing similar spaces at the Manhattan School of Music in New York City, realizing the backstage area of the current Potter Hall theatre would make an ideal spot for a similar small, narrow hall with a high ceiling.
This space would be outfitted with high-quality recording equipment, allowing students and faculty to produce audio and video recordings of the performances. It would be available for teaching music classes, chamber ensemble rehearsals and guest lectures.
Due to the size of the available footprint in Bergendoff, the college can design a small acoustic space that will be extremely practical for its programs.
Adjacent to the small recital hall/performance space will be a new reception and pre-function space to gather family or VIPs before or after a senior recital or performance.
Jazz ensemble/instrumental classroom
Augustana has long needed a dedicated space that is acoustically appropriate and environmentally sound to house talented jazz ensembles.
Converting the existing Black Box to a rehearsal space for jazz and chamber ensembles, as well as a classroom for teaching such courses, can fulfill this need.
The ability to store equipment on-site would significantly reduce the wear and tear on the specialized sound equipment used in jazz and other contemporary music.
The location of this room — near the large ensemble rehearsal room, instrument storage and faculty teaching spaces — is logical for use as a chamber rehearsal room and teaching space using these resources.
Commons and creativity spaces
Augustana is devoted to liberal arts education — in which knowledge and perspectives from multiple fields are balanced with depth in a major field. Bringing together creative minds from across campus within one location can facilitate collaboration and translate creatively across disciplines.
An addition to Bergendoff Hall will include flexible spaces that function as laboratory, thought incubator, meeting room, smart classroom, and exhibition and performance space.
A concept for Bergendoff commons and creativity spaces includes the following areas:
ideation classroom laboratory

multimedia classroom and laboratory

student and faculty commons

exhibit space
The new "front door for the arts," improved common areas and innovative learning spaces in Bergendoff Hall will create new spaces to fulfill Augustana's mission as a liberal arts college, and foster meaningful interactions with the community.
Augustana 2020, the college's strategic plan, promotes advancing the benefits of the college's residential, liberal arts experience and creating new advantages for graduates. Consistent with Augustana's Campus Master Plan, and supporting primary strategic goals of the college, the renovation of Bergendoff Hall is among the college's most important priorities.
Contact:
If you have questions or would like to discuss ways to make a gift in support of Bergendoff and our music students, please contact Sam Schlouch '10 at 309-794-7592 or samschlouch@augustana.edu.
(Editor's note: This article originally was published in Augustana Magazine Oct. 20, 2017.)