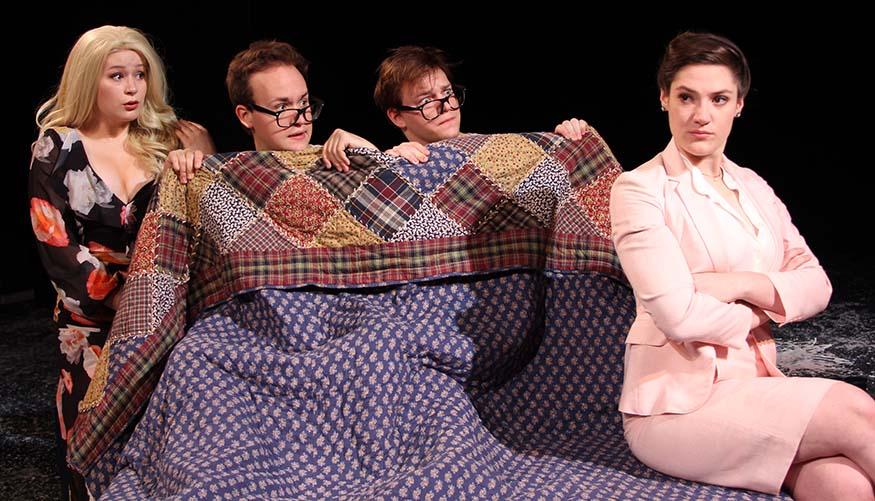 News
"Beginner's Luck" starts here Aug. 3-12
Mississippi Bend Players will premiere the comedy "Beginner's Luck," written by Emmy Award nominee and Golden Girls producer P.J. Lasker Aug. 3-12.
Augustana alumni and brothers Keenan and Tristan Odenkirk play Harold and Harry — different personalities of a former child star trying to deal with his loss of fame as an adult. Dropped by his agent, disliked by his ex-wife, and mourning his loss of confidence, he devises questionable plans for a career comeback and copes with his existential crisis by talking to himself.
The play is directed by Augustana alumnus and Broadway veteran Phil McKinley.
"As a producer/director, I'm always exploring the opportunity to produce new plays by writers who need a platform to develop their work," he said. "Mr. Lasker brings to MBP his award-winning talents as a creator and writer for the hit series "The Golden Girls" and "Barney Miller," among others."
McKinley's production also features Marjorie Gast, Megan Clarke, Mike Schulz, Lora Adams and Mark Reubling. They are joined onstage by an ensemble of six company interns who extend their involvement to all areas of the production, including scenic construction, costumes, lighting and sound, dramaturgy and house management.
"Beginner's Luck" will be performed at 7:30 p.m. Aug. 3, 4, 10 and 11, and at 2 p.m. Aug. 5 and 12 in Augustana's Brunner Theatre Center.
Tickets are $20, or $15 for seniors, students and Augustana faculty and staff. Group rates are available for groups of 10 or more. 
Talk-back sessions with the cast, director, and creative team will take place after the opening weekend performances. Playwright P.J. Lasker will participate in the talk-backs  Aug. 3 and 4.
A show-after-show will be presented Aug. 10 and 11. This 45-minute cabaret will feature summer interns and be presented in the Honkamp Black Box Theatre 15 minutes after the curtain call. Admission to the show-after-show is $5 per person.
The Mississippi Bend Players is a regional theatre group whose mission is to provide excellence in theatre for the Quad Cities area by producing both proven commercial works and original material.