News
Award positions Ehrlich among top string teachers in Illinois
Dr. Janina Ehrlich, professor of cello and music history, has been teaching Augustana students for 43 years.
No one was surprised, especially current and former students, when she received the 2020 Outstanding Studio Teacher award from the Illinois chapter of the American String Teachers Association (ASTA). The prestigious award places her among the top string teachers in the state. 
Dr. Ehrlich was nominated by two of her current students, Anne Bak '21 and Madeline Kusar '24.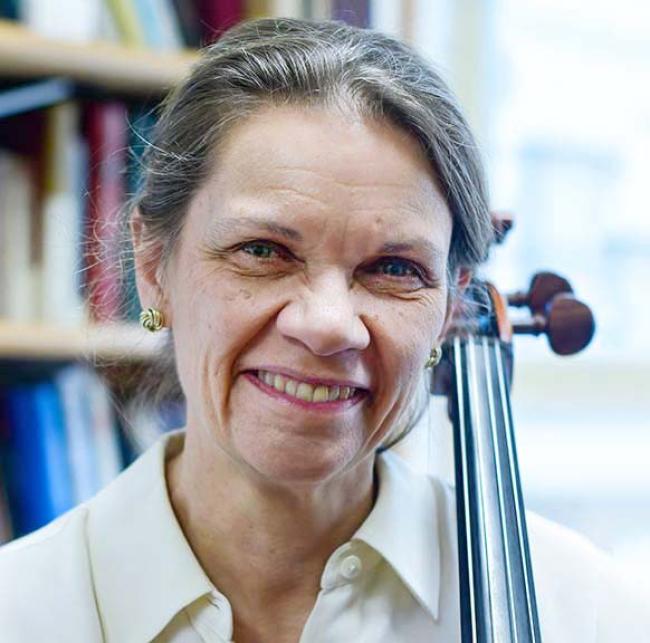 "Because of the pandemic, Dr. Ehrlich has had to work remotely from her house, which has been hard for all of us in the studio," Bak said. "She has gone above and beyond for all of her students to make sure they are succeeding and growing. She is always on top of her game, answering any questions and concerns I have or if I even need an extra lesson for a recital coming up."
Kusar wrote in her nomination: "Despite there only being online lessons this semester, Dr. Ehrlich has managed to make and maintain personal connections with her students. As a freshman, I don't feel that there's any less of a relationship only having had lessons online."
Former student Dung Pham '94, orchestra director at Palatine High School and Illinois ASTA Luncheon Chair, has not forgotten Ehrlich's teaching style. "Her teaching style inspires you to expect the best of yourself and to never set your bar too low because you are capable of reaching for more," Pham said.
"Outstanding is certainly the word to describe her."
"I admire that she is courageous in having difficult conversations, but does so with truth and love," Pham continued. "It is clear that her comments are made in the spirit of helping you achieve your goals, not only in your career, but in your growth as a human being."
Dr. Ehrlich credits ASTA with shaping her professional life because she became a member when she was in college and credits her students for her love of teaching.  
"The students I have taught and mentored have touched my life in special ways," she said. "I am so proud of all of them; this award would not be possible without the dedication and passion that they bring to cello playing.
"So to be awarded with this honor is particularly meaningful and deeply appreciated. My sincere thanks go out to all my friends, students and colleagues throughout Illinois and beyond."
In addition to teaching, Dr. Ehrlich is the founder and faculty advisor for Augustana's student ASTA chapter and an active musician in the Quad Cities. She serves as the director of the Center for the Study of Judaism and Jewish Culture at Augustana and is the faculty advisor to the college's Hillel chapter. 
"Outstanding is certainly the word to describe her, and it's always a pleasure to see her recognized for her work," Kusar said.