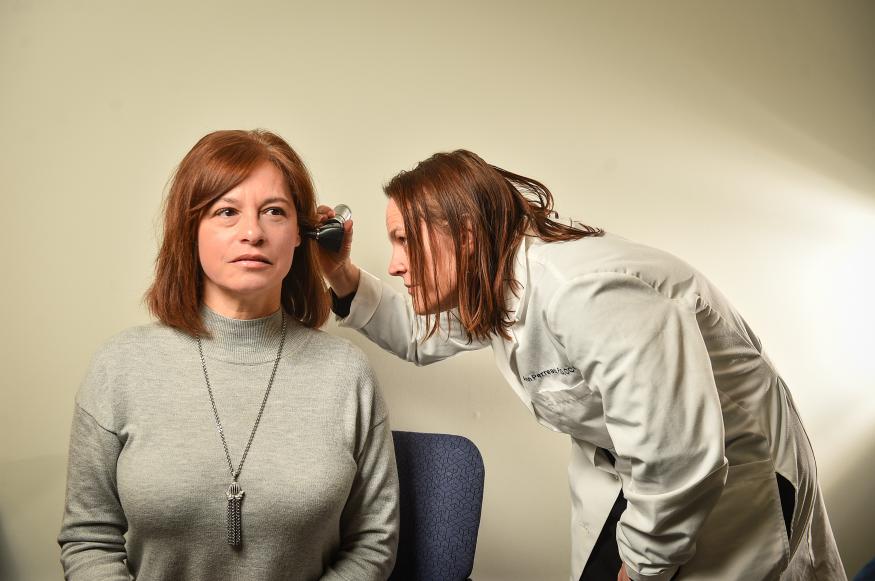 News
Augustana's Dr. Ann Perreau awarded NIH grant for hyperacusis study
A dog barking, dishes clanging, a noisy chewer, the blare of rock music or the high pitch of a whistle. To the average person, these sounds may be a nuisance, but to individuals with a certain hearing condition they can be debilitating.
A $361,276 grant awarded to Augustana College Associate Professor Dr. Ann Perreau will launch a hearing study to aid those with hyperacusis, a hearing disorder where sounds are perceived as loud, painful and even frightening.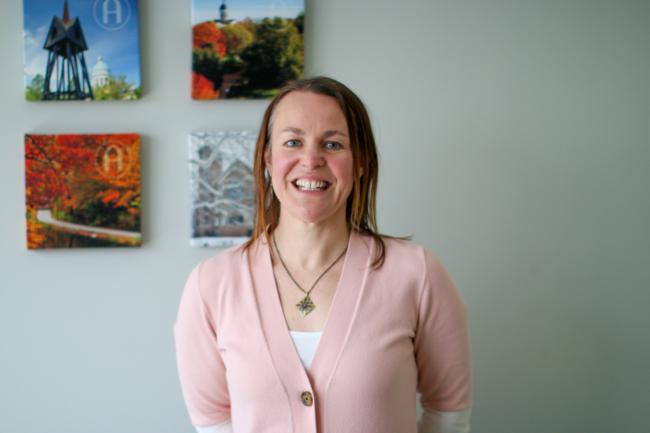 Funding was awarded by the Department of Health and Human Services' National Institute on Deafness and Other Communication Disorders for Dr. Perreau's three-year project, which will provide remote counseling and sound therapy for 60 adult participants across the nation. 
Dr. Perreau said this is the first study to investigate this two-pronged approach. Students in Augustana's communication sciences and disorders (CSD) department will be involved in all aspects of the project, including serving as researchers, developing counseling materials, providing sound therapy, as well as collecting and analyzing data. 
In addition to partnering with CSD students, Dr. Perreau will collaborate with Augustana colleagues. Dr. Forrest Stonedahl, associate professor of mathematics and computer science, will create the remote counseling app that will provide participants with short modules on various topics. 
Dr. Austin Williamson, associate professor of psychology and neuroscience, will provide support for participants as many hyperacusis patients experience anxiety and emotional distress. 
An estimated 6-17% of the U.S. population will report experiencing hyperacusis symptoms at some point in their lifetimes, and it is more prevalent among those on the autism spectrum, according to Dr. Perreau. Identified causes of the disorder include noise damage/exposure, head injury and Meniere's disease, a disorder caused by the buildup of fluid in the chambers of the inner ear. It can also be a genetic condition. 
"There's a complete lack of knowledge for professionals for solutions," Dr. Perreau said. "We're just starting to learn about the mechanisms of this and how it affects people. It can be debilitating and distressing — a lot of patients require support from psychologists and medications."
Dr. Perreau's scholarship is grounded in tinnitus, a ringing or buzzing noise in one or both ears that may be constant or come and go. She began her training at the University of Iowa with Dr. Richard Tyler and will continue collaborating with him on this research project.
Dr. Perreau said the clinical trial component of her work will seek to find the sound therapy that is most helpful to those experiencing hyperacusis. Sound therapy can be used to mask the sound that is undesirable or unwanted, and Dr. Perreau also intends to use it to help build tolerance in participants. 
Study participants will receive one of two types of wearable devices — either one that delivers white noise or one that slowly increases the offending noises to build tolerance.
Most with hyperacusis have not sought treatment, and the effects can grow worse over time, Dr. Perreau said. Preliminary data of her recent study showed that individuals who received treatment experienced reduced symptoms and improved functioning. 
Dr. Perreau said she is excited to delve into this work for her patients. "I also do it for my students. I look forward to mentoring undergraduate students and working with them as a team to collaborate."
She is eager to provide education to patients and provide an intervention to which they currently do not have access.
"I hope that this will be available to anyone who learns to manage hyperacusis with some support," she said. "I do believe everyone will be helped."
Dr. Perreau hopes to equip individuals with the right resources and the right questions to ask so they are empowered and emboldened to see an improved future.