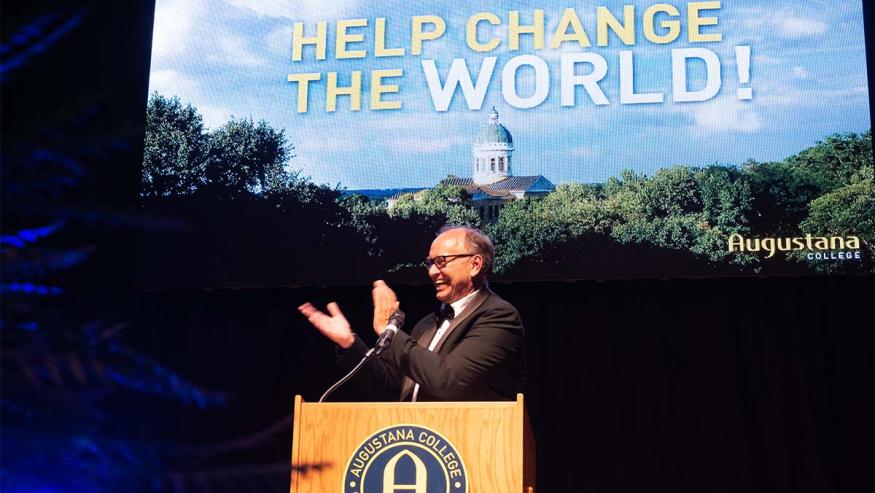 News
AUGUSTANA NOW goes on the road
From California to Massachusetts, President Steve Bahls will visit 24 cities to update alumni on the college's $125 million fundraising campaign, AUGUSTANA NOW: A Campaign for Success in the World, for the World.
The campaign focuses on four student-centered goals: affordability; preparation; innovation; diversity, equity and inclusion.
More details will be available soon, but if there's a reception planned that's close to you, please mark it on your calendar! You will receive an invitation by mail, and also an email with a link to RSVP.
AUGUSTANA NOW 2019 events
Jan. 30 – Reception and lunch, 400 Beach Seafood & Tap House, St. Petersburg, Fla. RSVP
Jan. 31 – Reception and lunch, The Country Club of Naples, Naples, Fla. RSVP
Feb. 12 – Reception and dinner, Giovanni's, Rockford, Ill. RSVP
Feb. 20 – Reception and dinner, Mt. Hawley Country Club, Peoria, Ill. RSVP
Feb. 27 – Dinner, home of Pauline Miller, Atlanta, Ga. RSVP
March 14 – The Brown Palace, Denver, Colo., 
March 15 – River Roast, Chicago
March 16 – Reception and dinner, Morton Arboretum, Chicago
April 11 – Madison, Wis.
April 12 – Milwaukee, Wis.
April 22 – Des Moines, Iowa
April 23 – Twin Cities, Minn.
May 15 – Portland, Ore.
May 16 – Seattle, Wash.
Sept. 9 – San Diego, Calif.
Sept. 10 – Los Angeles, Calif.
Sept. 10 – San Francisco, Calif.
Oct. 22 – Indianapolis, Ind.
Oct. 23 – Springfield, Ill.
Oct. 24 – St. Louis, Mo.
Nov. 13 – Boston, Mass.
Nov. 14 – Washington, D.C.
Nov. 15 – New York City
Nov. 21 – Houston, Texas