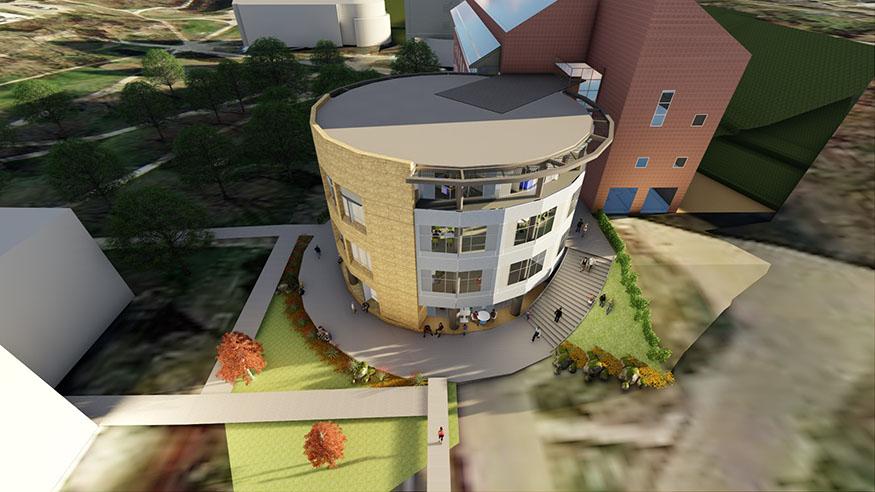 News
$2.5M Carver gift will expand science building
Augustana College has received a $2.5 million gift from the Roy J. Carver Charitable Trust to expand the college's science building, the Robert A. and Patricia K. Hanson Hall of Science. The expansion will be designed to maximize functionality and seamlessly connect to the existing building, which was completed in 1998 with the help of a $5.45 million gift from the Carver Trust. Construction is likely to begin in 2018.
The Hanson Hall of Science expansion will add 22,000 square feet of space to pursue cross-disciplinary teaching, active learning and collaborative research in the sciences—all critical to meet the educational needs of current and future Augustana students. Some features will include five large, studio-style, flexible class/lab learning spaces; five interdisciplinary research labs; and four faculty offices with adjoining space for discussion and collaboration.
This gift is the latest in a long relationship between Augustana College and the Carver Trust, which began nearly 60 years ago when Roy J. Carver was elected to the Board of Directors of the Augustana Research Foundation in 1958. Mr. Carver went on to serve on the Augustana College Board of Trustees. Since Mr. Carver's gift of $1.5 million, which was the naming gift for Augustana's athletic center, the Carver Trust has donated more than $15.9 million to the college for various programs and building projects.
Students who major in science programs at Augustana become leaders in almost every field of scientific study – fields that have immensely broadened since the opening of the Hanson Hall of Science in 1998.
Augustana students' acceptance rates into graduate science programs are excellent: medical school placement rates are 62 percent compared with 38 percent nationwide in 2015. In the last three years, 74 percent of Augustana students were accepted into dental school while the most recent national average (2013) stands at 47 percent.
The five-year placement rate for Augustana students in physical therapy graduate programs is 90 percent; into optometry schools 92 percent; and into pharmacy schools 95 percent.
In the last 25 years, more than 65 percent of chemistry majors have chosen to continue studies at major universities. Their graduate school placement is virtually 100 percent.
Since 1997, the college has had a 100-percent acceptance rate for graduating students applying to master's programs in public health (M.P.H.).
Augustana ranks among the top 70 U.S. small liberal arts colleges in the sciences, based on the number of graduates earning a Ph.D.
"We at Augustana could not be more grateful to the Carver Trust for their continued support of the college," said Steve Bahls, president of Augustana College. "This latest gift will allow us to build on our outstanding science programs and prepare future Augustana students for meaningful careers in the sciences that will benefit society."