News
'14 geology grad describes job as 'so much fun'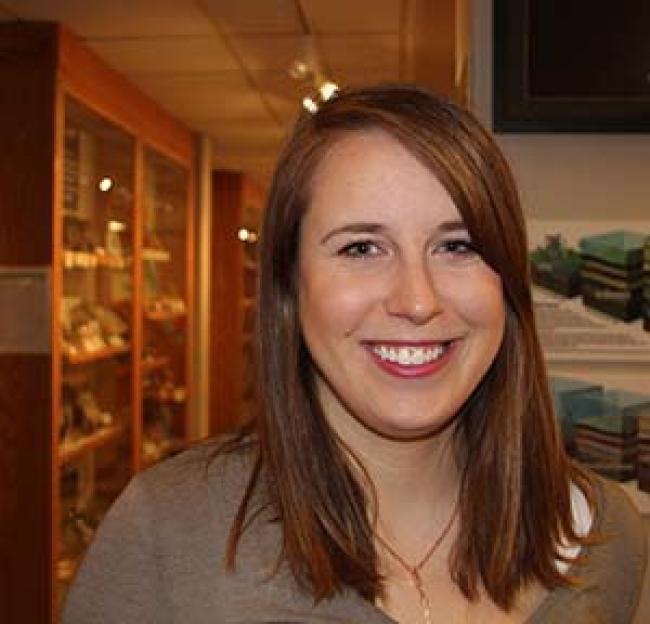 Lauren Kirik '14 came to Augustana to become a graphic designer, but an internship at a full-service branding company convinced her otherwise. Dr. Mike Wolf suggested she take a course in mineralogy after Geology 101, and as Kirik says, "I never looked back."
After graduating last May, Kirik was hired as an operations geologist for Apache Corporation, a gas and oil exploration and production company, in San Antonio, Texas. Her e-portfolio and field experience made her stand out, she said. She participated in five Augustana-sponsored field trips, including Hawaii, and the five-week Geology Field Camp in Sardinia, Italy. "My co-workers can't believe how many field trips I went on," she said.
Kirik, formerly of Moline, Ill., returned to campus recently to visit with geology department professors and staff and informally advise current geology majors on the courses and field experience that will most benefit them when looking for a job.
"I can honestly say I use all facets of geology in what I do now," she said. "It's so much fun."
She is responsible for planning and executing wells for drilling after regional geologists choose land to buy and develop. Operations geologists work with maps, charts and geological logs in locating natural formations and deposits.
Geologists whom she has met while working at Apache have told her that graduates from larger schools tend to be focused on the tools of the profession, rather than the "big picture."
"They like a liberal arts background," she explained. "There's a lot to learn, and you either sink or swim. If you have a strong foundation and are willing to take on challenges, you'll swim."