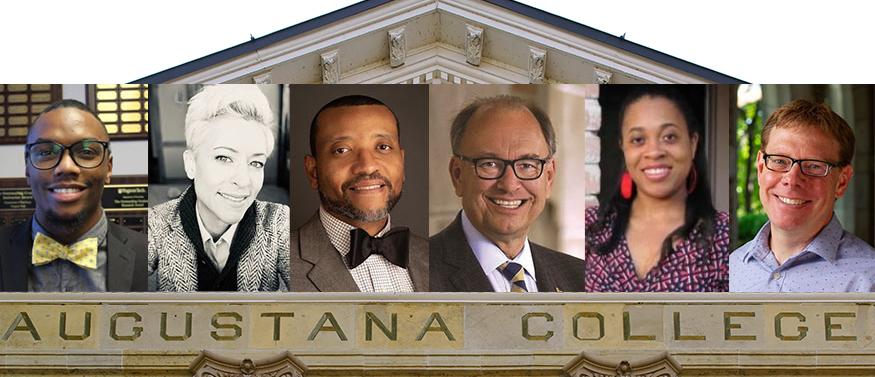 Event
Racial Justice and Equity: The Politics of Identity on Tuesday
The Office of Diversity, Equity and Inclusion will host virtual town hall, Racial Justice and Equity: The Politics of Identity.
Professionals and scholars in law, political science, sociology, history and religion will talk about justice and equity in the U.S., biases in social institutions,how identity is linked to systemic inequality and solutions to racial injustices.
Augustana panelists will include Steven C. Bahls,  president; Dr. Paul Croll, associate professor of sociology, anthropology, and social welfare; Dr. Lauren Hammond, assistant professor of history; Dr. Harwood McClerking,  assistant professor of political science; and Dr. Michelle Wolff, assistant professor of religion.
Other panelists will be Dwight L. Ford, M.Div., senior pastor Grace City Church and executive director of Project NOW, and Dr. Corey J. Miles, assistant professor of sociology and anthropology, Morgan State University.
You can submit questions for the panelists in advance.
More about the panelists:
Steven C. Bahls has been president of Augustana College for sixteen years, has taught corporate law and written extensively about higher education and shared governance.
Dr. Paul Croll's research examines attitudes and beliefs about race in America through the lenses of whiteness, white privilege, and colorblindness.
Reverend Dwight L. Ford is an innovative leader, author, thought-provoker, and public theologian who is known for his commitment to vulnerable populations and impoverished community.
Dr. Lauren Hammond current work examines African American diplomatic and intellectual engagement with the island of Hispaniola and its peoples as part of a global search for racial democracy for black people. In the community, she focuses on racial equity and racial reconciliation with the church. 
Harwood K. McClerking has a Ph.D. in the academic discipline of Political Science and works in one of the discipline's major fields: American Politics. America is an intriguing laboratory. He believes that some of the most interesting parts of the American experience are how we as a people have tried to come to grips with our differences. Trying to understand those experiences with difference shapes his work in social science.
Dr. Corey J. Miles is the recipient of a 2018-2019 American Sociological Association Minority Fellowship and the 2018-2019 Diversity Fellowship at Augustana. He is an engaged activist for All Black Lives, where he works alongside community members to change the structural conditions of Black people.
Dr. Michelle Wolff was born in in South Africa during apartheid, raised in the US, and became a first-generation college student. They make regular research trips to their homeland and are currently writing their first book-length biography of intersex scholar, priest, and activist Sally Gross.