Event
O. Fritiof Ander Lecture: "American Rune Stone— Monument, Memorial and Myth"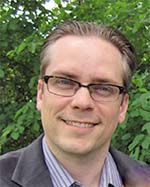 The Swenson Swedish Immigration Research Center's O. Fritiof Ander Lecture in Immigration History is presented by a prominent scholar in the field of immigration studies.
This year's 28th annual lecture will be presented by Dr. David Krueger, author of "Myths of the Rune Stone: Viking Martyrs and the Birthplace of America."
Parking is available in the evening in Faculty/Staff Lot H or on 7th Avenue. There are a few handicapped spaces nearby on 35th Street. (Campus map)
Dr. Krueger has a Ph.D. in religion from Temple University. He is a scholar, author, and educator who is passionate about public history and social justice.
He has taught at Chestnut Hill College, Temple University, and Rutgers University-Camden. His areas of expertise include American religious history, myths, and popular culture. His book deals with the significance of the Kensington Rune Stone in Minnesota for both ethnic and regional identities. It also raises important questions of what we choose to remember and why.
He has served as a scholarly contributor on radio and television, including the Travel Channel's "Mysteries at the Museum," Raw Travel TV, and the Science Channel's "What On Earth?"
Dr. O. Fritiof Ander taught history at Augustana College from 1930-1968. He was a pioneer and leading name in immigration history and the author of numerous books and articles in the field.
Location
Room 102
Hanson Hall of Science
726 35th St.
Rock Island, IL 61201
United States
Google Maps