Event
Martin Luther King Jr. Celebration: The Time is Now
Dr. Chandra Gill, CEO and founder of Blackademically Speaking, will be the keynote speaker at this year's Martin Luther King Jr. Day event, "The Time is Now" on Saturday, Jan. 13. 
Dr. Gill was part of the inaugural class of Gates Millennium Scholars. She was inducted into Phi Delta Kappa with high honors, after receiving her Ph.D. in educational policy studies from the University of Illinois at Urbana-Champaign. Blackademically Speaking develops motivational content, products and services for education.
Music for the event will be provided by the Martin Luther King Jr. Day Community Choir.
Following up on Monday, Jan. 15, Dr. David Stovall, professor of African American Studies and Educational Policy Studies at the University of Illinois-Chicago, will give a Martin Luther King Jr. Day address. His speech will be at the Gerber Center on campus and also streamed to the Olin Center auditorium.
Dr. Stovall studies the influence of race in urban education, community development, and housing. His work investigates the significance of race in the quality of schools located in communities that are changing racially and economically.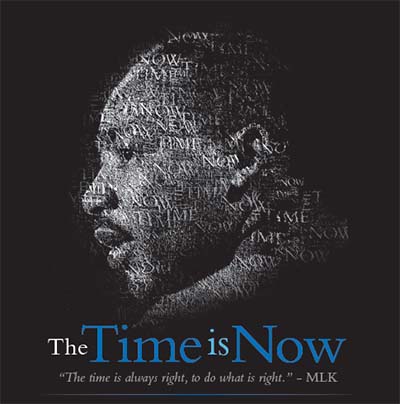 Program
OPENING CEREMONY AND REMARKS
Metropolitan Youth Program Drill Team
Michael Rogers, Multicultural Student Life, Augustana College
MASTER OF CEREMONIES
Dr. Kit Ford, Grace City Church and St. Ambrose University
THE COMMUNITY SINGS
"Lift Every Voice and Sing" (James Weldon Johnson)
INVOCATION
Pastor Gregg Hampton, The House Church
COLLEGE WELCOME
Steve Bahls, President, Augustana College; Latesha Lee, Augustana College NAACP
MUSICAL SELECTIONS
Community Choir, directed by Sam Mack Sr.
THE JOURNEY TO SELMA
Video Presentation
MUSICAL SELECTION
"Strange Fruit"
Kellen Myers, Musician
Tracia Barnes, Vocalist
THE FINAL WORDS OF MLK
KEYNOTE SPEAKER
Dr. Chandra Gill, CEO and Founder, Blackademically Speaking
MUSICAL SELECTION
Community Choir, directed by Sam Mack Sr.
BENEDICTION
Reverend Cantu