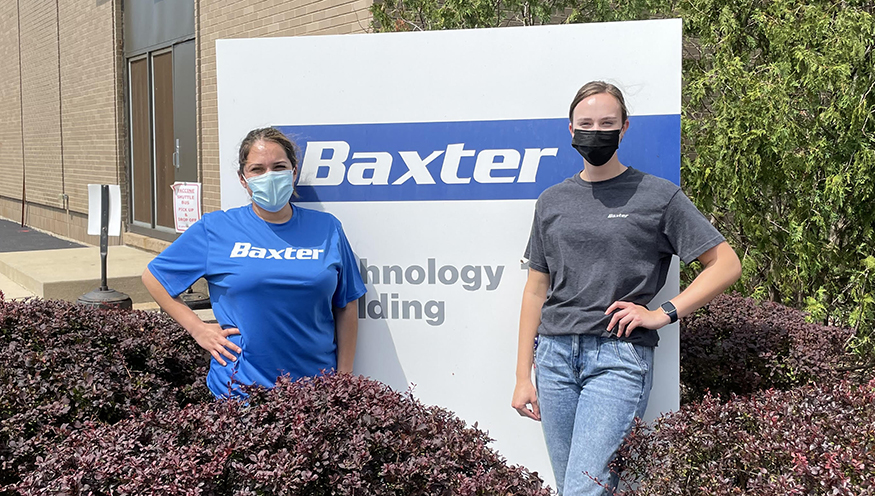 In 2011, we asked faculty which graduating seniors had taken advantage of all Augustana has to offer — who had grown academically and personally. We then asked the students to reflect on their time here, and the frequent answer was that the experience was "More than I imagined."
A decade later, we're catching up with some of them.
Lizeth Galarza
B.A., Biology, Augustana College
M.P.H., Health Services Management, Northern Illinois University 
While working her way up to her current position of senior quality manager at Baxter Healthcare, Lizeth Galarza discovered something about herself.
Are you where you thought you might be 10 years ago?
No, I thought I would be a clinic director for a migrant health clinic or leading a public health non-profit organization. Instead I work for a for-profit pharmaceutical company that manufactures intravenous solutions.
Why is this a good fit for you?
I work at a solutions manufacturing plant. We formulate, fill and package the product in house. As you can imagine, it is a very dynamic environment. I love that I get to use my critical thinking skills each and every day. Each day is different, and I get to lead a diverse team of employees.
What makes you proud of your work?
I had surgery to remove my tonsils a few years back, and when I woke up from surgery, I noticed I had an antibiotic that we manufacture at my plant attached to my IV. I remember proudly telling the nurse, "I help manufacture this drug!"
What opportunities have you had to lead? Or to be a trailblazer?
Most of my career has been leading a microbiology lab of approximately 18 analysts. Most of them came in pretty early in their career, so I had the opportunity to help them develop and grow professionally, which was very rewarding. I found a hidden passion in mentoring young professionals. 
Some of my most rewarding days have been when I delivered a promotion or watched one of my employees receive a reward for a professional accolade. I most recently hosted a lab intern from Augustana, Kylie Jozwik. I enjoyed sharing my experiences and serving as a mentor for her.
How have you stayed in touch with classmates or any members of the campus community?
Yes! I met my best friend, Courtney Lundgren, in my very first class — Sin and Salvation— during freshman year. I also keep in touch with friends from Augie who live in the Chicagoland area. I may not always see them as often as I would like, but I know we will always have Augie to connect us back to one another.
Do you have a story or anecdote you'd like to share that illustrates something about your life since Augie?
My time at Augie was invaluable. A lot of what makes me a successful professional and leader I learned at Augie. Everything from my microbiology lab with Dr. Wegman-Geedey to my racial inequality class with Dr. Croll, I have been able to apply to my professional career.