Rock Island and the Quad Cities
Four cities, three bridges, two states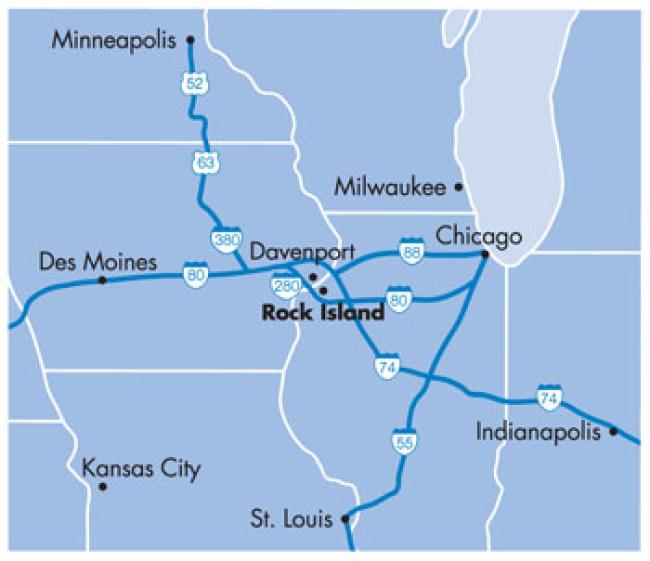 Rock Island, Illinois, home of Augustana College, is part of a diverse community of 400,000 people spanning the border between Illinois and Iowa on the Mississippi River.
The community is known as the Quad Cities, and also includes Moline, Illinois; and Davenport and Bettendorf, Iowa.
Augustana has been located in Rock Island since 1875 and joins with community partners in making the area a great place to live, work, study and play.
Rock Island is 175 miles west of Chicago, 175 east of Des Moines, 250 miles north of St. Louis and 350 miles south of Minneapolis.
Hotels
The following hotels offer a discounted rate to Augustana visitors. For a complete list of hotels in the area, please visit the Quad Cities Convention and Visitors Bureau website.
Downtown Moline, Ill./John Deere Commons
Radisson on John Deere Commons, 1415 River Drive. Less than two miles from Augustana. Complimentary continental breakfast, high-speed wireless internet, coffee makers, free local calls, HBO, indoor pool, Jacuzzi, fitness room, TGI Friday restaurant next door. (309) 764-1000. Rate: 15 percent discount on best available rate. Ask for "Augustana Friends & Family"
Stoney Creek Inn, 101 18th St. Two miles from Augustana. Expanded continental breakfast, Northwoods Traveler Program, and wireless internet access. Business center, guest laundry and fitness center. (309) 743-0101. Rate: $96 standard and double
Downtown Rock Island, Ill.
Holiday Inn Rock Island, 226 17th St. Bennigan's restaurant and lounge, indoor pool, free wireless Internet access, HBO and ESPN. One mile from campus; complimentary airport shuttle. (309) 794-1212. Rate: $92
Victorian Inn Bed and Breakfast, 702 20th St., offers a 10 percent discount to Augustana visitors. Students may join parents at breakfast at no extra charge. Rooms range from $105 to $115 a night, each with private bathroom. The 20-room inn was built in 1876 and is on the National Register of Historic Places.
Southpark Mall/Airport area Moline, Ill.
Best Western Airport Inn, 2550 52nd Ave., offers a 15 percent discount to Augustana visitors. Indoor pool, whirlpool, complimentary breakfast, exercise room, free wireless Internet, (309) 762-9191.
Comfort Inn of Moline, 2600 52nd Ave. Indoor pool, whirlpool, deluxe continental breakfast, minutes from shopping mall. (309) 762-7000. Discount of 15 percent on all rooms.
Fairfield Inn, 2705 48th Ave. Close to the airport, free continental breakfast, indoor pool and whirlpool, exercise room, cable TV with HBO, executive kings, nonsmoking and handicapped rooms available, king and queen beds. Free wi-fi. (309) 762-9083. Rate: $95
First Choice Inn and Suites, 6910 27th St. (309) 762-8300. Rate: $62 (single); $72 (double)
La Quinta Inn Moline-Airport, 5450 27th St. Ten-minute drive from campus. Free Wi-Fi, continental breakfast, airport shuttle. Outdoor heated pool and 24-hour fitness facility. Call 309-762-9008 and ask for Augustana rates: $59 (single or double), $69 (suites)
Iowa
Best Western Steeplegate Inn, 100 W. 76th St. Davenport, spacious rooms, hot breakfast buffet, restaurant, lounge, banquet and meeting facilities, indoor pool and jacuzzi. (563) 386-6900 15% discount. Rate: $110-129
Hotel Davenport and Conference Center, 5202 Brady St., Davenport. Brady St. Bistro, Schooners Lounge, Fun Center, indoor pool, whirlpool, fitness center, business center, free Wi-Fi, shuttle service, free hot breakfast; sleeping rooms rented to age 21+ only; 563-391-1230. Rate: $61 plus tax (12%), for king or double/double. Be sure to ask for the Augustana rate when making a reservation.
Hotel Blackhawk, 200 East 3rd St. Davenport, Hip and historic, spacious rooms, hot breakfast, restaurant, lounge, banquet and meeting facilities, indoor pool, hot tub, sun deck, spa and bowling alley. (563) 322-5000. Rate: $149
Radisson Quad City Plaza Hotel, 111 East 2nd St. Davenport, featuring doubles and kings, 2-room suites, hospitality suites, indoor pool and fitness center. Bistro on Brady Street Chop House, waterfall lounge and piano bar. (563) 322-2200. Rate: $108
Calendars and guides
News and info
KWQC TV 6
Quad-Cities Online
Quad Cities Convention and Visitors Bureau
Quad City Times
River Cities Reader
WHBF TV 4
WQAD Newschannel 8
WQPT PBS
WVIK NPR
Music and theater
Ballet Quad Cities
Bix Jazz Society
Black Box Theatre, Moline, Ill.
Circa '21 Dinner Playhouse
Daytrotter
Mississippi Valley Blues Society
New Ground Theatre
Playcrafters Barn Theatre
The Prenzie Players
QC Theater Workshop
Quad City Music Guild
Quad City Symphony
RIBCO
River Music Experience/Redstone Room
RiverCenter/Adler Theatre
Rozz-Tox
Museums and galleries
Augustana College Teaching Museum of Art
Bucktown Center for the Arts
Buffalo Bill Museum
Colonel Davenport House
Family Museum
Figge Art Museum
Fryxell Geology Museum at Augustana College
German American Heritage Center
Jenny Lind Chapel
MidCoast Fine Arts
Putnam Museum and IMAX Theatre
Quad City Arts
Rock Island Arsenal Museum
Rock Island Historical Society and Library
Attractions
Niabi Zoo
Mississippi River Visitor Center
Putnam Museum and IMAX Theater
John Deere Pavilion and historic sites
Deere family homes
Quad City Botanical Center
Vander Veer Botanical Park
Black Hawk State Historic Site
Celebration River Cruises
Davenport Skybridge
Splash Landing
The River's Edge (ice rink)
Davenport Skatepark
Black squirrels
Sports
i Wireless Center
Quad City River Bandits (Minor League Baseball)
Quad City Mallards (Hockey)
Cordova Dragway Park
Backwater Gamblers Water Ski Shows
ComedySportz (improv)
Quad City Sports Center (ice rink)
Ski Snowstar Winter Sports Park
Transportation
Quad City International Airport
Metrolink (Illinois bus service)
Davenport Citibus (Iowa bus service)
Visitor Centers