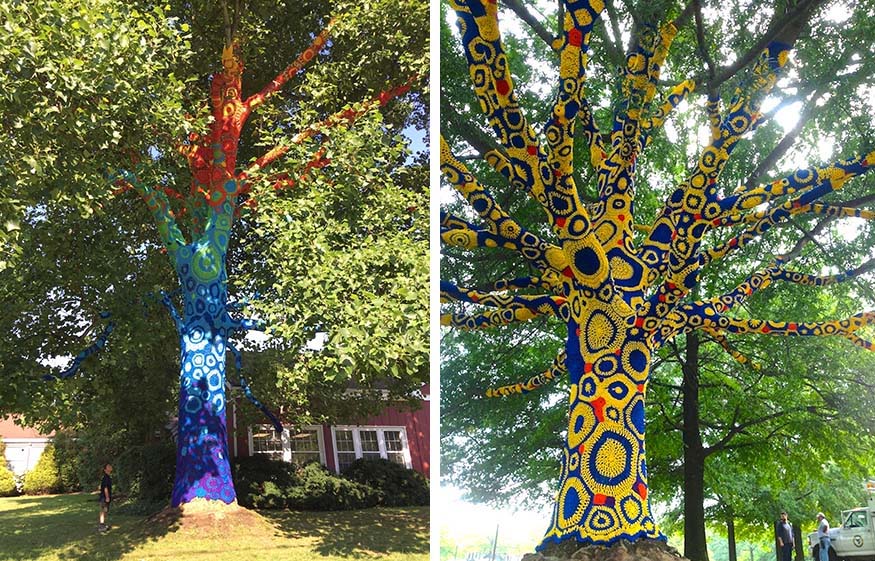 An installation by Carol Hummel at the Long Island Museum, 2015 (left), and another work in Morgantown, W. Va., 2013. (Courtesy of the artist)
#YarnbombQC
This project brought the sculptor Carol Hummel to the Quad Cities in the fall of 2017 to work with communities to create crocheted, site-specific, community-based art on trees in three locations: Augustana College, the Figge Art Museum, and Longfellow Liberal Arts School.
This project, like much of the art by Hummel, draws diverse sectors of communities together in a positive, celebratory way to help create major pieces of art for the people, by the people.
Well over 100 community members participated by creating crocheted circles, which the artist and her assistants stitched together and installed on the trees. Participants included students from Augustana College, the Creative Arts Academy and Longfellow Liberal Arts, as well as community members ranging from age 8 to 80-plus.
Hummel has been active in collaborative public art installations in Switzerland, Norway, India, Mexico, and at many cities across the United States.
The unveiling receptions are planned Sunday, Oct. 29.
The project was organized by the Augustana Teaching Museum of Art, and is supported in part by an ArtWorks grant from the National Endowment for the Arts, as well as by the Augustana Department of Art and Graphic Design, Augustana Humanities Fund, Augustana Institute for Leadership and Service, the Creative Arts Academy of the Quad Cities, the Figge Art Museum, Sunbelt Rentals and WVIK.
Organize Your Own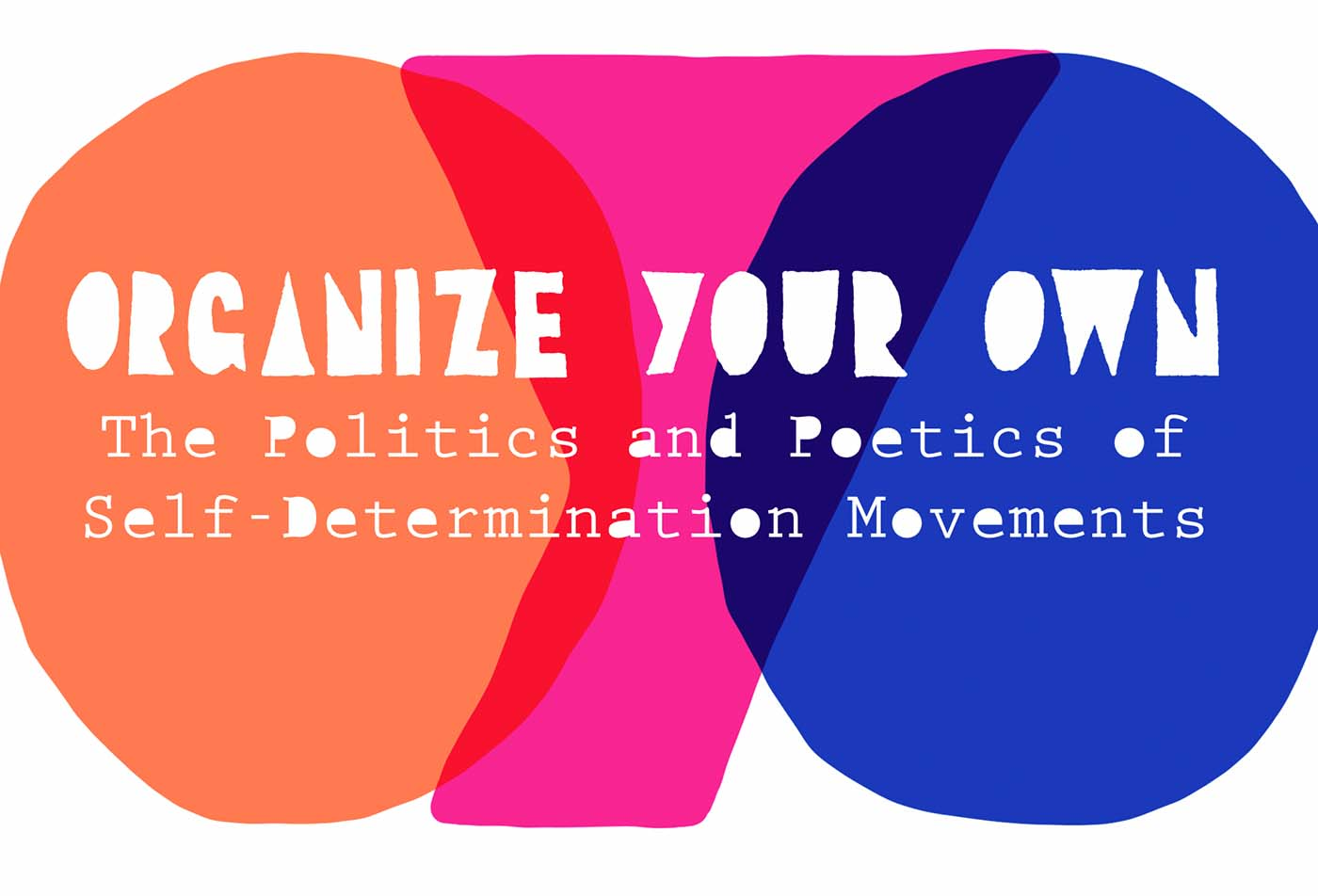 "Organize Your Own" is an exhibition and programming featuring work by contemporary artists that responds to the history of multiracial coalitions organizing against racism, poverty, and oppression. 
The exhibition will run from Aug. 25-Oct. 28. All programming is free and open to the public.
A poetry response project, in collaboration with the Midwest Writing Center, is currently underway for the exhibition. For more information check your inboxes, or contact Claire Kovacs. 
Augustana students are invited to take part in lunches with our campus visitors in town for the related programming. Interested students should contact Claire Kovacs for more details. 
Programming
Opening reception, 5-7 p.m. Aug 25, Centennial Hall. There will be poetry reading (in collaboration with the Midwest Writing Center) at 6 pm.
Rainbow Coalition Round Table, 7 p.m. Aug. 30,  Centennial Hall. This round table will feature members of the original Rainbow Coalition. Representatives from the Young Patriots, Young Lords, Rising up Angry, and the Black Panthers will talk about the Rainbow Coalition and how it connects to the present.
Women in the Black Panther Party + Young Lords: a Conversation, Sept. 28. See Augustana Fall Symposium Day schedule for time and location.
Map the Power Workshop with Little Sis, 7 p.m. Oct. 7, Gerber Center, Gävle Room 3. 
This workshop will teach participants about the importance of mapping power and money as part of an organizing agenda. 
Original support for "Organize Your Own" was provided by The Pew Center for Arts & Heritage, Philadelphia. The exhibition was curated by Daniel Tucker, and includes Amber Art and Design, the Anne Braden Institute for Social Justice Research, Irina Contreras, Robby Herbst, Matt Neff, Dave Pabellon, Mary Patten, Dan Wang and Rosten Woo.
See @organizeyourown on Facebook and #organizeyourown on Twitter.
Witness and Herbarium Tales
The exhibitions, "Witness" and "Herbarium Tales" will run from November-Feb. 10, 2018. There will be a free opening reception from 5-7 p.m. Nov. 17, with a curator talk at 6 p.m.
"Witness" features works of art that consider what it means to bear witness. How does this idea manifest itself in the visual arts?
This exhibition features works from the Augustana Teaching Museum of Art's collections that consider these topics. In addition, it shares the first-person stories of members of the Quad Cities community through a listening booth for The Great Quad Cities Listen, a WVIK project.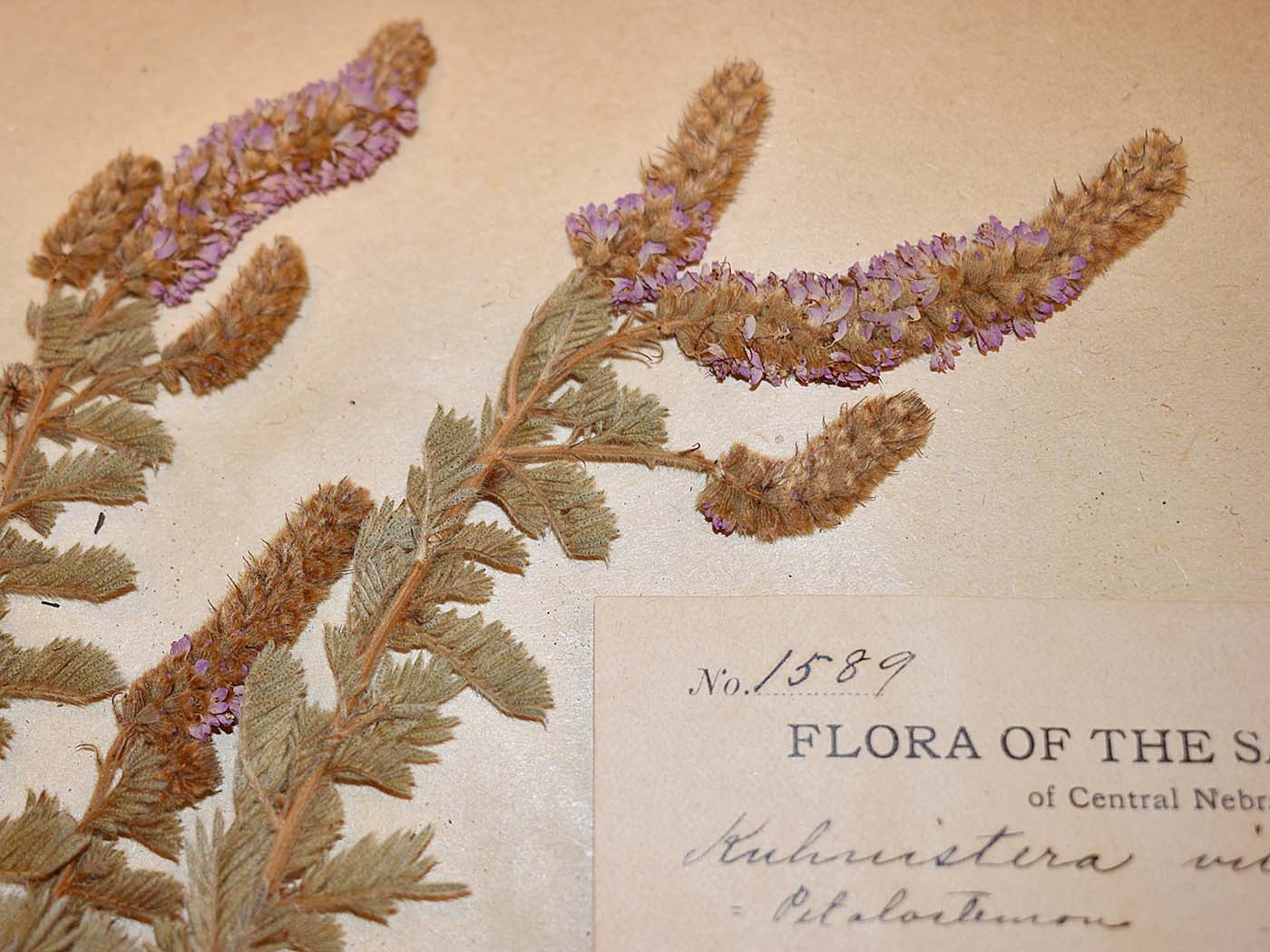 "Herbarium Tales" features some of the scientific specimens from the Augustana herbarium, and invites the visitor to explore the intersection between the study of plant biodiversity and the history of the college.
It also connects these specimens to works in the Teaching Museum of Art collections.
This exhibition is guest curated by Dr. Rafael Medina, assistant professor of biology at Augustana College.
Material Conversations
"Material Conversations" will display the work of Augustana studio art and graphic design faculty March 9-April 7, 2018
Programming
Opening reception, 5-7 p.m. March 9, with a director's talk at 6 p.m., Centennial Hall. Free.
2018 Senior Art Exhibition
This exhibition features the Senior Inquiry projects of the Class of 2018 graphic design and studio art majors. 
Programming
Artist talks, May 2, Centennial Hall. See Celebration of Learning schedule for time. Free.
Closing reception, 12:45-2 p.m., May 20, Centennial Hall. Free.
Ongoing: Permanent Collection Gallery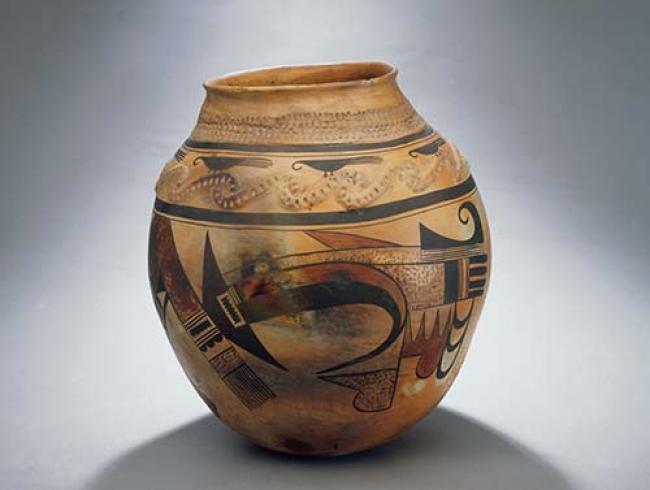 Works from the Augustana Teaching Museum of Art collections are chosen by the faculty to augment student experiences in the classroom. Here is a list of works on display this academic year.
Highlights include works from the Sam and Ann Charters Collection of Swedish Art and the Olson-Brandelle North American Indian Art Collection.
Hours
Noon-4 p.m. Fridays and Saturdays, except by appointment.
Call 309-794-7400 or email for more information.
Location
3703 7th Ave.
Rock Island, IL 61201
United States
Google Maps