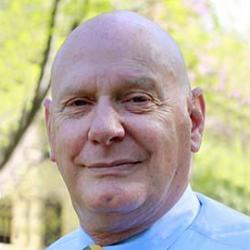 Robert B. Tallitsch
Professor of Biology
I am a professor in the Biology Department at Augustana College and also serve as a faculty member in the  Asian Studies Program. I earned the B.A. in biology from North Central College, and the Ph.D. in physiology with an anatomy minor at the University of Wisconsin-Madison, joining the Augustana faculty at the ripe old age of 24.
My current academic interests include:
• Problem-Based Learning: Problem-based learning (PBL) is both a curriculum and a process that helps the student acquire the skills needed for critical knowledge acquisition, problem solving proficiency, self-directed learning strategies, and good team participation.
• Writing Textbooks: During my tenure at Augustana I have published several articles and textbooks, including two new texts: Human Anatomy (7th Edition) published by Benjamin Cummings, and Histology: An Identification Manual (1st Edition) published by Elsevier
• Writing PBL Problems: I also write and publish PBL problems. Currently thirty of my problems have been published by the PBL Clearinghouse
•Traditional Chinese Medicine:  My interests in Asian Studies have centered upon Traditional Chinese Medicine in ancient and modern China.
Specializations: Histology, Neuroanatomy, Human anatomy, Computer-assisted instruction, Cadaver dissection, Traditional Chinese medicine
Education
B.A., North Central
M.S., Ph.D., Wisconsin