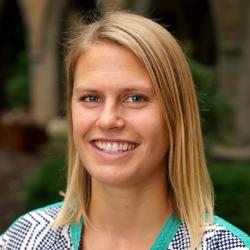 Kristy Blue
Director of Admissions West Coast
Hometown: Osceola, Wisconsin
Currently Lives: San Diego, California
What do you most love to tell prospective students about Augustana? I love to share how active and involved our students are! Augie students like to double major, intern, research, and participate and lead numerous clubs and activities. 60% study away, nearly 200 clubs/activities, Division 3 sports (top 10 in the nation for Academic All-Americans), sing, play an instrument, or perform in the theater—they do it all!
What is your favorite time of the Augustana school year? Believe it or not, my favorite time is the winter. Living in Southern California, I miss the change of the seasons. The transition of the leaves changing colors on the trees in the fall to the snowy, white landscape during the winter holiday seasons is the best time of the year.
What's great about the Quad Cities? The Quad Cities offer all the great opportunities of a major metropolitan area without the overwhelming size. Each of the cities that make up the Quad Cities express its own personality that brings something unique and different to the Quad Cities community. And you can't beat living on the Mississippi River!
Why did you decide to work in this field?  I started my career path in the health field of kinesiology. I enjoyed my internships but through these experiences I learned that it wasn't the health field that had drawn me to kinesiology in the first place, it was the rewarding feeling of helping others. I found a true fit when I began working in higher education and absolutely love helping students and families during such an exciting and nerve-racking time—the college search.
What advice do you have for students who are searching for the right college for them? Keep an open mind. You'll discover so much about yourself as you learn about all the different options out there for you. You might be surprised how the college search expands your horizons and shapes your future. Visit campuses, ask questions, attend college events— be engaged in your college search!
Territory
California, Arizona, Washington, Oregon, Hawaii
Specializations: Admissions
Education
B.S., University of Minnesota