Augustana offers a major and a minor in Scandinavian Studies. 
Careers and internships
Developing fluency in any language is "the hottest job skill," according to a CNN Money article about language fluency. The article reports that about 25,000 jobs will open up for interpreters and translators by 2020, according to estimates from the Department of Labor. In the private sector, Asian and Scandinavian languages "offer the highest return."
Augustana has a longstanding exchange program with Uppsala University in Sweden. During a semester or academic year in Uppsala, students earn credits in a variety of subjects, and coursework is available in both English and Swedish.
Augustana students have had internships at the U.S. consulate, the Grand and Sheraton hotels, and the Swedish UNESCO office, all located in Stockholm. Other possibilities include internships with Volvo or SAAB, the Peace and Life Foundation and Skandinaviska enskilda banken.
Recent graduates
Eryn Maccabee '14 is attending the University of Denver Publishing Institute.
Erek Bell '14 is a graduate student in physical geography and ecosystem analysis at Lund University in Lund, Sweden.
Lisa Huntsha '10 is an archivist and librarian at Augustana's Swenson Swedish Immigration Research Center.
Distinctions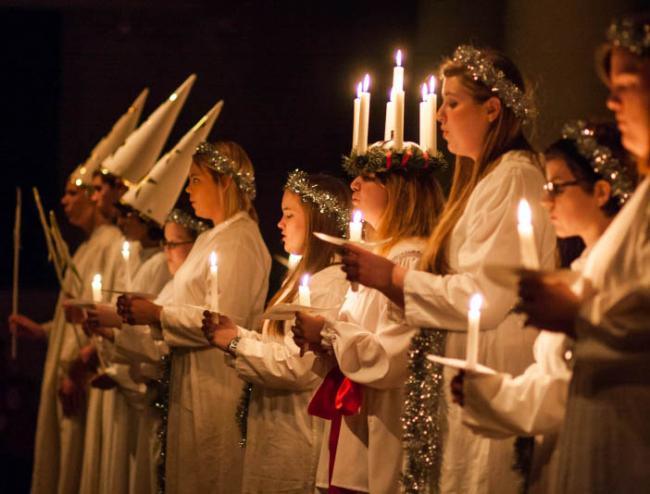 Augustana offers a 27-credit major in Scandinavian Studies and an 18-credit minor in Scandinavian Studies. Along with the Swedish language, courses cover a wide range of cultural topics, including literature, drama, art and film — classical to contemporary. Many students of Scandinavian Studies combine this major with another of Augustana's nearly 90 majors and related academic programs.
Students of Scandinavian Studies often participate in the Swedish conversation table, Scandinavian Club and the annual Sankta Lucia festival. Students also participate in activities with the local American Scandinavian Association, such as volunteering at the annual Påsk (Easter) celebration with local children.
The Swenson Swedish Immigration Research Center, a national library and archives for the study of Swedish immigration and Swedish-America, is also on campus. These resources for Scandinavian Studies are among the finest in the United States, with a collection of about 20,000 books including many in Swedish.
Students benefit from small, active classes. Whether discussing a work by a Scandinavian author or film director, comparing cultural movements of today and a century ago, or conversing in Swedish, students can learn the language and culture in more depth when they work closely with professors in a small-group setting.
Founded by Swedish graduates of the Universities of Uppsala and Lund in 1860, Augustana College is the oldest Swedish-American institution of higher learning in the United States. Augustana is one of the very few U.S. colleges and universities to offer a program in Swedish language study, along with Scandinavian literature, film, art, culture and history.
What students say
Dani Soerens '11, Scandinavian studies and communication sciences and disorders major; currently a graduate student in audiology at Northern Illinois University
"One thing that is special and unique about the education I've received in Scandinavian Studies is that since Augustana has a Swedish background, we are able to identify with the college's history and certain parts of the campus culture. Also, the professors are very personal and will help you one-on-one with anything you need."
Kate Buckingham '10, Scandinavian studies and history major; currently employed by the Therapeutic Recreation Association, Phoenix, Ariz.
"Scandinavian studies at Augustana gave me a wider appreciation for other cultures, and fueled my interest in anthropology... by studying a language and culture not widely examined, new perspective is gained through an anthropology perspective. Besides being a great way to meet people (telling someone you speak Swedish is a definite conversation-starter), Scandinavian studies provided me a great opportunity to experience the world outside the United States."
Lisa Huntsha '10, Scandinavian studies and sociology; currently archivist and librarian at the Swenson Swedish Immigration Research Center at Augustana
Augustana gave me the opportunity to pursue my many interests fully, which has shaped my passions and pursuits for the future. My experience here had also given me opportunities to hold leadership positions and grow personally, not just academically. Studying abroad in Grebbestad, Sweden, in the summer of 2008 was an irreplaceable opportunity. It was a fun and educational trip that gave me a chance to put my Swedish language skills to use, and to experience another culture.