Augustana offers a major and minor in anthropology.
Careers and internships
Graduates with a degree in anthropology often make their careers in non-governmental organizations and non-profit sectors, in public health, in museums, education, publishing or business. The program has a proven track record of preparing students to succeed in graduate programs in archaeology, museum studies and public health.
Studying anthropology at Augustana prepares students both for careers and for graduate study in anthropology or a related discipline. Many students choose to double-major in anthropology to develop their cultural expertise for professional leadership positions, especially in the increasingly global environment of the modern world.
The field of anthropology is an ideal complement to a major or minor in business, medicine, the natural sciences and many other disciplines.
A sampling of recent graduates:
Samantha Turner '15 is the museum coordinator at the German American Heritage Center, Davenport, Iowa.
Sarah Berndt '15 is studying American material culture in a master's program through the University of Delaware.
Kai Yin (Queenie) Ho '13 is an analyst at Boys Town National Research.
Clara Franklin '12 is a lead case manager at Heartland Alliance for Human Needs & Human Rights, Chicago.
Allyse Freeman '11 is curator at the Minnesota Discovery Center.
Distinctions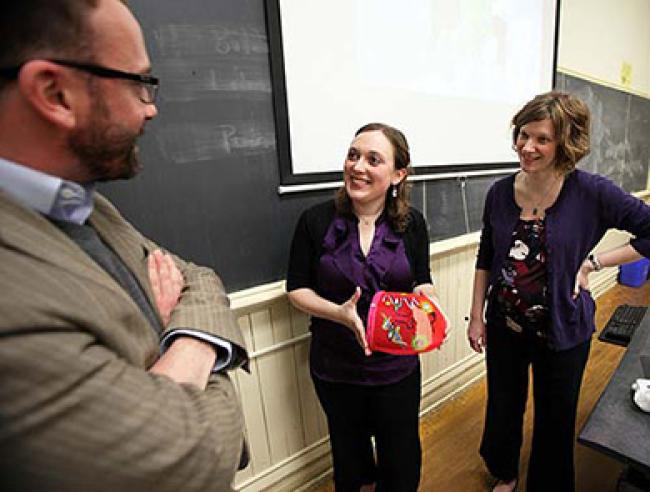 With a focus on ethnographic methods, current theoretical models, and the application of anthropological perspectives, the anthropology program offers a diverse number of courses on cultures around the world, with topics ranging from medical anthropology to popular culture, and from globalization to tourism.
The two full-time faculty both hold a Ph.D. and have a wide range of complementary specializations. Their combined fieldwork and research experience ranges from Africa to Europe, Native North America and the American Midwest.
Students undertake a Senior Inquiry project within their major program, working with a faculty mentor. In anthropology, this experience builds on the strong ties promoted between students and faculty in their small class groups, and further develops and demonstrates each student's specific ethnographic research interests.
Anthropology students at Augustana have conducted original ethnographic research in diverse settings such as Bermuda, Ireland, Israel, west Africa, with Native American communities, and with refugees in the Quad Cities, just to mention a few examples.
Students of anthropology often participate in the student-run Sociology & Anthropology club and the college's chapter of Alpha Kappa Delta, an international honor society.
Every year, students showcase their original ethnographic research at the Central States Anthropological Society conference, one of the oldest national organizations in the discipline.
Anthropology students are encouraged to combine their ethnographic field study with one of Augustana's many options in international programs. Along with fall terms in Latin America, Europe or East Asia, the college offers many intensive, long- and short-term opportunities in places ranging from Asia to Ireland — including a wide variety of cultures and environments on our own continent.
What students say
Sarah Berndt '15, anthropology and art history. Now, a graduate student in the the Winterthur Program in American Material Culture, sponsored by the University of Delaware and the Winterthur Museum.
"I've had such an amazing experience at Augustana. Resources were made available for me to do things that shaped my interest, and really shaped who I became. I don't think I could have done it anyplace else, to be honest. You have to put the legwork in, but the opportunities are here. I discovered that material culture is an actual field, not just some idea that people throw around in academic literature. I think more than anything else I want people to know it's OK to study anthropology and art history. There are viable career tracks that you can pursue."
Allyse Freeman '11 history, anthropology, geology. Now,  curator at the Minnesota Discovery Center.
"During my freshmen year at Augustana I needed a fourth class for my winter term. I had never taken an anthropology class but thought the name sounded cool. Little did I know that it would turn into my passion. The holistic approach that this discipline values is an essential skill to have not just at a liberal arts institution but just to become a better and more well-rounded person. I found myself looking forward to the readings and homework and now I am currently getting my master's in anthropology and museum studies at the University of Wisconsin-Milwaukee.
"Anthropology at Augustana has given me the skills to go digging in Ireland, to obtain an internship at the Milwaukee Public Museum, and the chance to go on another dig in Mexico through my master's program. The lessons learned in anthropology, such as "What makes us human" or "Why do we do the things we do," not only help you appreciate other cultures and ways of life but they can be applicable to almost any situation or problem within the real world."
Clara Franklin '12, anthropology, sociology (social welfare) and Africana studies. Now, a lead case manager at Heartland Alliance for Human Needs & Human Rights, Chicago.
"Augustana has amazing study abroad opportunities and professors that make the experience unforgettable. My term in West Africa allowed me to immerse myself in a culture that I would not have otherwise gotten the opportunity to experience. Also, this term gave me the chance to meet amazing Augustana students who otherwise would have been strangers. My professors, parents and friends helped me get where I am today. They always encouraged me to do things that I thought were beyond my reach and ability... I learned that I do have the ability and confidence to be a leader. While I can be very quiet and do not like public speaking or talking amongst a lot of people, Augustana gave me the skills and resources to find my voice and speak my opinions."
Kai Yin (Queenie) Ho '13, anthropology and biology. Now, an analyst at Boys Town National Research.
"I chose to attend Augustana College because of its emphasis on the liberal arts. I knew that at Augie, I could pursue interests and studies in disciplines besides my major - and I did! I joined the Cantilena Augustana choir and worked at the art museum. When I first started college, I thought I would be in medicine. Now I am pursuing a course of study in biological anthropology at my dream school - St. John's College, University of Cambridge. I couldn't ask for more!"