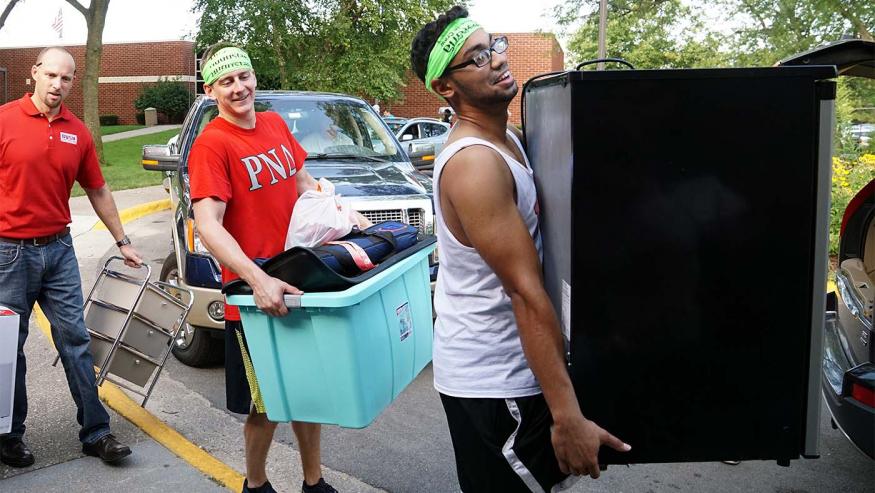 News
Augustana will welcome largest class
Class of '21

No. of high schools: 341

No. of states: 24

No. of countries: 24
Augustana's largest-ever entering class will begin moving in to campus next week. The more than 800 new students include nearly 60 transfer students and about 100 students from countries around the world. Fifty-five students are the children of alumni, and 237 are first-generation college students.
Most students will arrive Aug. 17 and will begin their college experience with a weekend of orientation activities. International students arrive a week earlier, for an introduction to American culture, the Quad Cities and Augustana's campus.
International enrollment at Augustana has increased from 3 percent in 2013 to 8 percent in 2017. The college expects to meet its strategic enrollment goal of 10 percent international students by the end of 2018.
"Whether they are the first in their families to enroll in college or they were raised by academics, and whether they arrive from just across the river or the other side the world, life as an Augustana student will be new to each one," said Steve Bahls, president of the college. "And each one has something unique to offer our college community."
Renovations to Augustana's largest residence center will be completed just in time for this large class. The three-year, $13 million renovation will give Westerlin a new roof and windows, a fire protection system and air conditioning, among other improvements. 
"The Office of Residential Life is excited to welcome such a large and diverse group of students to campus this fall," said Chris Beyer, director of residential life. "Our goal is to make sure that every student feels that this campus is their home. We have a great team of community advisors who have been on campus since the beginning of August to prepare for the arrival of our newest class of Vikings."