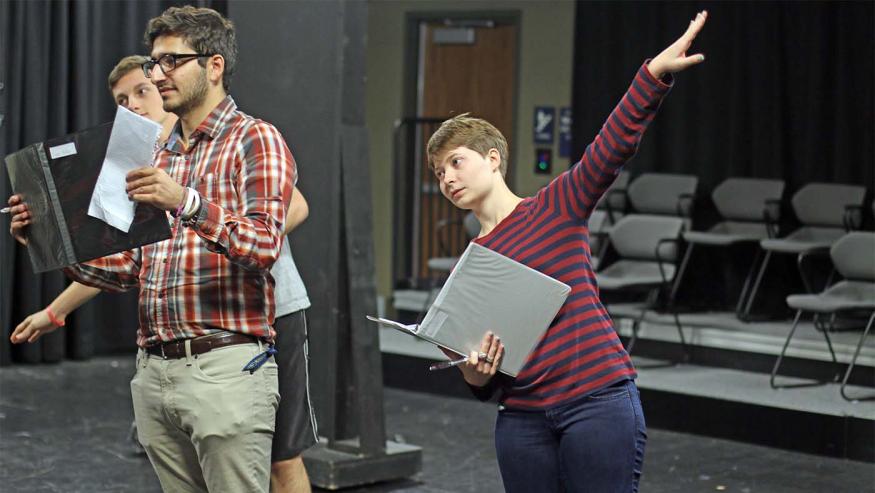 News
'Amelia Earhart' aims to thrill young audiences
Augustana's annual children's show, "Amelia Earhart," offers young theatre-goers an exciting story and a lot of history Sept. 23-24.
The play tells the story of the first female aviator to fly solo across the Atlantic Ocean, who disappeared over the Pacific Ocean in 1937. It uses headlines, remembrances, flashbacks and introspective monologues by Earhart against the backdrop of music, styles and politics of the 1930s and 40s.
Performances will be at 1:30 p.m. in the Brunner Theatre Center.
"Amelia Earhart" features Augustana students Aubrey Lyon, a junior from Mount Vernon, Iowa; Rami Halabi, a senior from Crystal Lake, Ill.; and Peter Alfano, a sophomore from Knoxville, Ill.
Isabel Dawson, a sophomore from Bloomington, Ill., serves as stage manager. Emma Brutman, a senior from Vernon Hills, Ill., is the designer for set and props.
The children's show once again is directed by Augustana alumna Jackie Wynes McCall '98. McCall earned an MFA in acting from Western Illinois University. After touring and performing all over the Midwest, her travels eventually brought her to The Old Creamery Theatre in the Amana Colonies where she serves as the director of education.
Tickets are $11 for the public, $9 for senior citizens, students, and Augustana faculty/staff, $5 for children ages 12 and under, and free for Augustana students with ID. Tickets can be purchased online, at the door or through the Augustana Ticket Office at 309-794-7306.
A special showing of the play by Kathryn Schultz Miller will be offered at 10 a.m. on Sept. 22 for students in grades 4-8. Schools that make reservations for the show will receive a pre-visit activity packet, enjoy the show and post-show discussion, and leave with follow up activities that can be done in their classroom. For more information about this special performance, email or call Christina Myatt, 309-794-7611.