Texas Medical Center: Life Lessons from the Lab
This summer, I had the incredible opportunity to be a part of the Baylor College of Medicine SMART Program in Houston, Texas, where I spent my time in Dr. Rodney Samaco's neurophysiology and molecular genetics lab at the Jan and Dan Duncan Neurological Research Institute. 
As I'm traveling home to (a lot less humid) Illinois, I can't help but reflect on all that I gained both intellectually and personally in such a short period of time. 
Even though I learned more about genetics, molecular analysis, behavioral outcomes, and translational science than I ever thought possible, I'm taking something with me that will affect the rest of my life — the power to recognize capability. 
Coming from a small college like Augustana, it was definitely intimidating walking into one of the most prestigious medical centers in the country. I've spent the last three years living blissfully in the "Augie bubble," but this experience taught me to find grace and growth in failure, forced me to step outside my comfort zone, and fortified the notion that dedication is one of the greatest contributing factors to success. 
Yet, the most striking realization is that I'm capable. Although I didn't realize it at the beginning, Augustana prepared me perfectly for this experience. It's not as if I knew the answer to every genetics question or how to execute a molecular technique flawlessly; rather, Augie provided a strong foundation based on drive, kindness, and ingenuity. 
By having a strong work ethic, treating everyone with respect, and using my liberal arts education to offer creative suggestions to tackle recurring problems, I gained the confidence to articulate my suggestions and become a valued member of the lab.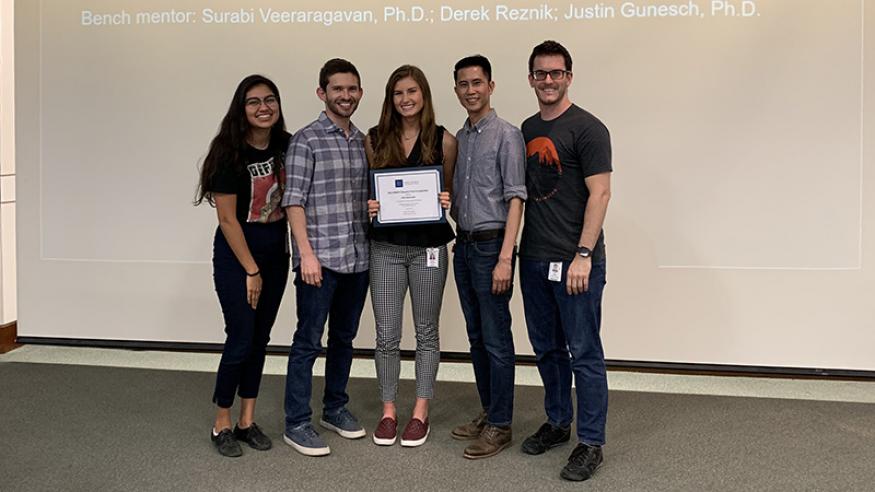 My "aha" moment came about halfway through the program when it was time for the elevator pitch, where the SMART students were asked to sum up their entire research project into ninety seconds using only layman's terms and present it to everyone in a competition.
On the Friday of the competition, I woke up at 5:30 to take the GRE for graduate school applications, drove right to work, and walked in the room to give my pitch for the preliminary round. I was filled with gratitude when I was picked as one of four students from my preliminary round to compete in the final competition.
After a long day, I walked away with a third-place finish (and $25!!!). This experience allowed me to acknowledge my capability both as a speaker and a scientist, while also reinforcing the power of collaboration and support.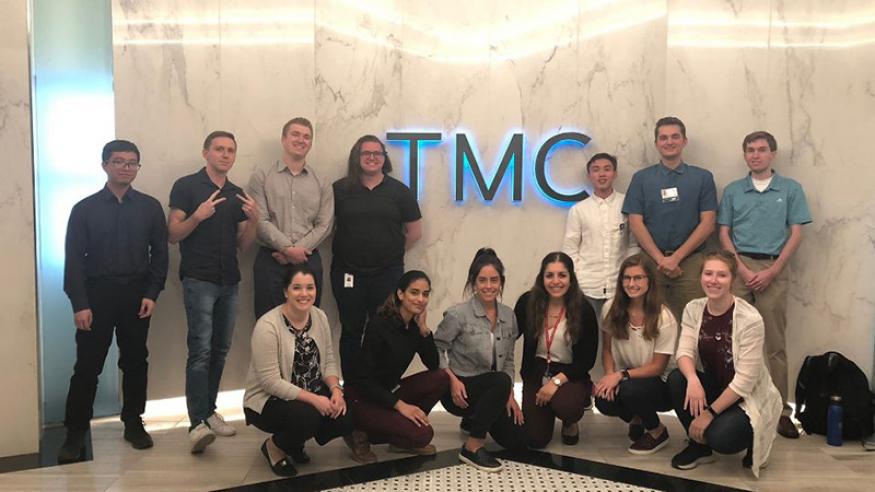 I also have to take a moment to recognize all that the other 14 Augustana students accomplished. It's truly an honor to be a part of such a dynamic, intelligent, hard-working group and I'm astounded at everyone's work and the way they are representing the Augie community. 
My goal in life is to always be surrounded by individuals who push me to be the best version of myself — whether that be intellectually, personally, or spiritually — and I'm confident that I have spent the last ten weeks among people that will continue to excel above any standards set before them. 
They tackled the late nights, early mornings, long hours, and endless studying with tenacity like I've never seen before, and it made me want to do more and be better. Time and time again, they showed that they're capable and continually excelled in all that they set out to accomplish.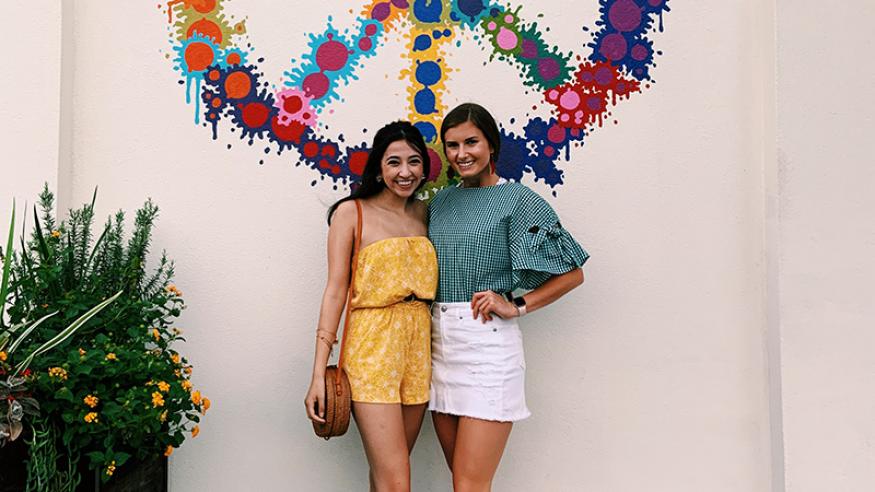 On top of all of this, I was able to spend this summer alongside one of my best friends, Marisa. She combined her love of science and astounding graphic design skills as she completed a cardiothoracic surgery medical illustration project. 
I'll always be her biggest cheerleader and it brings me so much joy to know that her artistic gift is going to be shared with the medical community and will save countless lives. 
This summer wouldn't have been possible without Dr. Storl, Dr. Hyser, the generosity of Augustana and various alumni donors, the Texas Medical Center, Dr. Rodney Samaco and his lab, my parents, and so many others. 
I'm humbled at the opportunity to get to represent Augustana in this capacity, while doing so alongside those that I admire most. 
Augie is a special place, and this summer confirmed that the morals and values engrained in each of its students will go wherever life takes them next.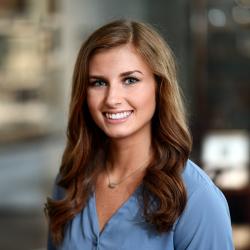 Brittany Hatlestad
Brit Hatlestad, a rising senior, is majoring in biology and neuroscience on the pre-occupational therapy track. Outside of the classroom, she is involved with the President's Advisory Council, a Board of Trustees Fellow, and is president of the Phi Rho Sorority. This summer, Brit worked in Dr. Rodney Samaco's lab where she validated the creation of an animal model that can be used to further research a rare genetic disorder, NGLY1-Congenital Disorder of Deglycosylation.