First Year Global: People care about their environment
The First Year Global program is a new initiative that provides an opportunity for a group of first-year students to develop intercultural communication skills by interacting with and learning from communities and researchers outside of the United States.
Our two guides, Edwin and Mario, talked to us about asphalt mining companies in Pintag and their impact on Ecuador's water supply. They are both part of the collective to keep Ecuador's water clean, which has been around for about five years.
They said that not only does the mining contaminate the surrounding water with sediment to the point where there are no fish, but it also causes deforestation, which pushes wildlife away.
In the area of Pintag, there are seven mining companies, and nobody knows who the owners are. There have been local protests to try to stop this mining, and the campaign is gaining national attention. The locals are resisting working for the mining companies, as they see no material benefits for the mining in the community. 
We then hiked to see a waterfall, which means a lot to the community of Pintag and represents the importance of water to the community.
One of the main things I learned from my experiences in Ecuador is that the people care deeply about the environment. Most are very knowledgeable about their surroundings and are concerned with the environment.
Today was a good day to connect more with nature, and to see firsthand how urbanization affects the environment.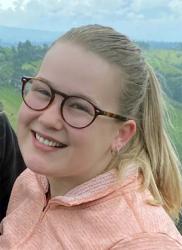 Grace Hankins
Grace Hankins is a sociology and anthropology major from St. Louis, Mo.