Why I chose Augustana over a state school
It was spring break of my junior year of high school and I'd just finished visiting what was then my dream school: the University of Kentucky. 
I grew up rooting for their basketball team, was impressed by their physical therapy program, and thought that seven hours was a great distance to be away from home and the crazy antics of my parents. 
Yet, even though I enjoyed the visit, part of me knew that Kentucky wasn't the right fit for me once I got there. 
Size Matters
For starters, it was too big. Originally, I thought having more people at a college would mean more opportunities to make friends, but I soon realized that it actually made me feel more likely to just blend in. 
The class sizes would also be a problem. In a 600 person class, how would I ask for help if I needed it? Thinking ahead to grad school, how was I supposed to establish connections with my professors for letters of recommendation when they wouldn't even be teaching half the time?
Finally, I wanted to continue running cross country and track in college. Although I was good, I knew I was no D1 talent and the chances of walking on at a school like Kentucky (who has produced amazing talent such as Olympian Sydney McLaughlin) was virtually zero. 
And so, with all these things at play, my entire college list changed. 
Changing the List
While I still applied and got accepted to Kentucky (mostly because I felt obligated to apply since I visited), it was essentially eliminated from my list. And of the few state schools I was considering (Illinois, Illinois-Chicago, and SIUE), I ruled them out because of the same reasons listed above. 
My list of schools now consisted of small, liberal arts colleges— a drastic shift from where I originally hoped to end up. And it was through this list that I found my perfect fit: Augustana College. 
Augustana offered me what state schools couldn't: small class sizes, personalized attention from professors (all of whom teach classes at Augustana…no TA's), the ability to pursue multiple majors and minors, endless opportunities for career/professional development, a familial culture on the cross country and track teams, and the capability to become the person I knew I wanted to become. 
Affordability
Augustana was actually cheaper for me than a state school would have been.
A lot of times, families look at the sticker price at Augustana and worry about how they'll pay for it. But, about 98% of Augustana students don't pay the sticker price thanks to academic scholarships and other forms of financial aid. 
In my case, since I'm from the Quad Cities, I was able to save even more money by living at home for my first three years on campus (so much for getting away from my parents). So if the issue between choosing Augie or a state school is price, wait until you get your financial aid information before truly comparing the two. 
Things could be different
If I'd gone to a state school instead of Augustana, I likely wouldn't have been as successful academically because of the large class sizes that are usually taught by TA's. 
I wouldn't have been able to compete in intercollegiate athletics, possibly paving the way for the development of more unhealthy habits. 
I probably wouldn't have been able to serve in Student Government and step out of my comfort zone by being a leader for my peers. 
I wouldn't have been able to spend this past summer in Houston, Texas doing research in a world-class setting. 
I would've paid more money towards school. And I wouldn't have been able to take the wide-array of classes that have positively shaped my worldview as a learner, thinker, and educator. 
In short, my educational career, and life in general, would be drastically different had I chosen a state school. This isn't to say that things won't be different for you. 
Each of us have different personalities and sensibilities and so some might excel at large, state schools whereas others excel at small, liberal arts schools like Augustana. 
I thought I was meant for a large state school but thankfully life ended up taking me to where I belonged all along: Augustana. I hope life ends up taking you here too.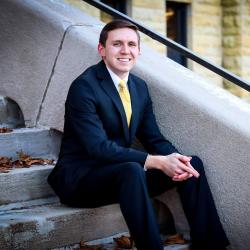 Justin Verlinden
Justin graduated in 2020, double majoring in biology and neuroscience with a minor in creative writing. He conducted research at Baylor College of Medicine, where he investigated the use of several brain imaging scans to detect early structural and functional differences in young mice with Alzheimer's, with the hope of eventually developing an early diagnostic tool for the disease. He currently is pursuing a Ph.D. in cognitive neuroscience at the University of Kentucky.