What is environmental studies, and why should you major in it?
The natural environment, the built environment, and the relationship between them—that's environmental studies. If you're interested in understanding how people's actions affect the environment and how these effects can be mitigated, consider a major in environment studies. 
Environmental challenges are all around us: climate change, loss of biodiversity, ozone layer depletion, destruction of habitats, depleting ground water supplies, introduction of alien species, environmental pollution, solid waste disposal, and storm water and sewage disposal. 
All these pose a threat to forest, rural, urban and marine ecosystems.
A career in environmental studies is about working on solutions to environmental issues that create a positive impact on quality of life, without threatening our natural resources. 
An environmental studies major will give you the knowledge, skills and analytical tools needed to tackle these environmental challenges on a local, regional and international level. You'll be creating a more sustainable, healthier environment for generations to come.
How do I choose a school for environmental studies?
No matter what major you're pursuing, it's a good idea to research a variety of schools—from large regional universities to smaller colleges. The more you research and visit, the greater the chance you'll find what matters the most to you and your future.
Dedicated faculty
Your professors and advisors should be as committed to your success as you are. While looking at a school, schedule a meeting with a professor from the environmental studies department. They should be willing to share with you more information about the major itself, as well as average class size in the department, their teaching style, course/major expectations and details about advising.
Liberal arts approach
With a field like environmental studies, some might think a large university and its research facilities are the way to go. But many smaller-sized colleges can offer undergraduates even more access to labs and facilities, more hands-on learning opportunities, more professional connections and more individual attention.
Because environmental studies majors need a broad background of knowledge and experiences, a liberal arts college can be perfect fit. 
So, what can I do with my environmental studies degree when I graduate?
A major in environmental studies can go in many directions, bringing you a variety of career path possibilities. A partial list for those with a bachelor's degree includes:
Environmental monitoring technician
Sustainability coordinator 
Corporate social responsibility officer 
Energy auditor 
Park interpreter 
Remediation specialist 
Advanced degree holders have the opportunity to apply for similar careers, although often with greater specialization and responsibility. 
Other potential careers include:
Environmental consultant – $55,966 (PayScale)
Public relations specialist for environmental organization – $61,150 (BLS) 
Environmental attorney – $74,569 (ZipRecruiter)
Environmental engineer – $65,464 (PayScale)
Fundraiser for environmental causes – $57,970 (BLS)
Environmental policy analyst – $58,926 (Glassdoor)
Augustana's environmental studies major/minor
Think environmental studies could be for you? Augustana's curriculum includes core courses in the environmental studies program, plus electives in biology, chemistry, economics, English, geography, geology, history, political science and sociology. 
You'll also learn to apply quantitative and qualitative analytical skills to solving problems and interpreting research data. Your creativity will help you design research models to study environmental issues. 
What else?
Faculty attention and mentorship
Augustana has an 11:1 student-faculty ratio, and professors are able to get to know you, regardless of your major. The ability to form relationships with professors gives you unique opportunities to find close mentors and advisors in your field, and perhaps serve as research assistants or co-authors as undergraduates.
Because Augustana professors are focused on student success, teaching is their first priority. There are no teaching assistants at Augustana, and 100% of classes are taught by professors.
Facilities
Augustana completed an addition to Hanson Hall of Science in the fall of 2019. Prominent among the spaces featured in this new addition are flexible teaching/learning labs, studios and faculty offices dedicated solely to environmental studies. 
Location
The Quad Cities (population 400,000) along the Mississippi River gives you research and field sites, jobs and internships in Fortune 500 companies and non-profits. Get hands-on learning in places urban, rural or right on the river.
Upper Mississippi Center for Sustainable Communities 
Augustana's Upper Mississippi Center (UMC) mobilizes faculty and students to help communities solve social, economic and environmental 21st-century challenges. Students and faculty put their skills and knowledge to work in real-world settings. It doesn't get any more hands-on than this!
In recent years, Augustana UMC students and faculty worked with local cities/counties to: (1) assess the health of urban streams and address current stormwater management challenges, and assess the risk posed by the emerald ash borer to urban forests; (2) improve urban forest management, regional transportation and transit routes; and (3) complete projects related to the presence of lead paint in homes in impoverished neighborhoods.
More opportunities outside the classroom    
Not many liberal arts colleges have a field station. Augustana has three. Encompassing a total of nearly 180 acres, the field stations are living libraries and outdoor laboratories for students and faculty interested in the environment.
You can visit the Green Wing Environmental Laboratory for one-day excursions or overnight trips to complete classroom assignments or independent projects. Bring your waders. 
Environmental studies majors are encouraged to complete at least one internship. Career mentors and advisors at CORE (Careers, Opportunities, Research and Exploration), Augustana's one-of-a-kind career and exploration center, will help you find these internships and job shadows.
Next step
A major in environmental studies can bring you a lifetime of interesting opportunities, challenges and successes. 
If you're a high school student still searching for the right college to study environmental studies, the admissions team can help you decide if Augustana is a good fit for you. Start by exploring our admissions information, including visits and financial aid, or request more information.
If you're already in college and wish to transfer to a school that offers an environmental studies major, start by exploring our options for transfer students.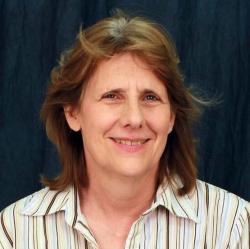 Debbie Blaylock
Editorial Director, Communication and Marketing