Best study spots on campus
Studying and doing homework isn't always the easiest task. Obviously, your dorm room can be a good spot, but it can be easy to get distracted (especially with the temptation to take a nap). Finding a spot with a good environment can keep you productive and help your concentration. In no particular order, here are some of the best places to study on Augustana's campus:
1. The Brew
Located on the fourth floor of the Tredway Library is The Brew by the Slough, the campus coffee shop and cafe. There are tons of tables, booths and comfy chairs set up right in front of the cafe area. And when the weather is nice, there are tables outside on the patio. 
There's also a computer lab (The Fishbowl) and printer located on the same floor, as well as larger tables and TV monitors for groups to study or prepare projects and/or presentations. The Brew is a great place to study and enjoy a beverage or snack while you work!
2. The Tredway Library
The library is always a great place to study and do homework. You're surrounded by books and in-person resources, as well as computers and printers. The library also has group study rooms on several floors available for students to check out. 
The Tredway Library allows students to choose from a variety of "noise levels" that best suit their needs and preferences. If you require minimal distractions while you work, the first floor and third floors are "quiet floors." Students who choose to work on those floors don't speak or make loud noises so that everyone can stay focused on their studies. The more social and active floors are the second and fourth floors.
3. Dorm common areas
If you're looking for a space to study in the comfort of your own dorm (but not in your room), the lounges in Westie and Erickson can provide that change of environment. Erickson also has a basement, which has plenty of chairs and tables set up for students to work. 
The dorm common areas are definitely more social and collaborative than some other places on campus, so they can be great areas for working with other students, but distracting for solo work. However, if you're a student who can still stay focused with other people around, these can be good spots for you.
4. Evald lobby
Evald provides a quaint and quiet place for students to work. In the lobby, there are a few tables and couches. When weather permits, the Evald patio is also a nice study spot. When classes are in session, the area is very quiet with minimal distractions. 
This is one of my personal favorite places to get work done on campus because the building is close to the Carver P.E. Center, where I would have swim practices. Instead of walking all the way back to my dorm, I would find a spot in Evald to do some homework while I waited for practice to begin.
5. Hanson Hall of Sciences
Especially with the new expansion, the Hanson Hall of Science is a terrific place to study and do homework. The academic building provides various classrooms that are available for students to use when a class or lecture is not in session. There are also several common areas for students to gather and collaborate. 
The academic spaces were designed to promote active learning, peer instruction and group activities. For example, tables, chairs and even monitors are on wheels so that students can rearrange the rooms to best suit their studying needs and environment. The Hanson Hall of Science provides students with collaborative environments, perfect for both individual and group work. 
Augustana's campus provides more good study/homework spots that I wasn't able to include on my list. If you ask any current student or alum, they will all have their own personal favorite spots.
Everyone knows what their individual study needs are, and there are spots that will fulfill those requirements. You can schedule an in-person tour or take a virtual tour of campus to see where some of these study spots are, as well as where some other ones might be!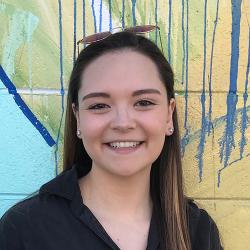 Patti Grod
Patti graduated from Augustana in 2020; she was a double major in communication studies and French, with a minor in entertainment and media studies. She is originally from Northbrook, Ill., but her family relocated to Henderson, Nev. Outside of academics, Patti was a member of the Vikings varsity swim team, director of PR and marketing for HerCampus, and a member of Delta Chi Theta sorority.