Four reasons to apply this summer
It's summer of 2022 and time to get serious about applying for the fall of 2023... even if the water is cold!
As a parent, I read these communications and say to myself, "Gosh, isn't it a little early?" But as an admissions professional, this morning I reviewed several drafts of an email we are about ready to send to prospective students like my daughter, sharing the news that our application for the fall of 2023 is open.
I now find myself having to reconcile my initial, parental feelings, with the reality that many students will not only start applying for fall of 2023, but soon will be receiving admissions decisions. The fall 2023 admissions cycle is here this summer, and is about to heat up. 
As a parent for 17 years and a college admissions professional for nearly 30, I need to jump in, even if the water is cold. 
So here are some things on my mind. Rest assured, I'll be sharing this advice with my daughter (if she'll listen).  
Don't apply on a whim.
Just because a college waives the application fee, don't apply just to apply. Whimsical applications seldom lead to a great outcome. Applying to a place about which you are not serious has all the signatures of trophy-collecting.
Further, someone on the other end is going to have to process that application, send you all sorts of reminders about completing the application and then read your application with all seriousness. Apply to those colleges you are truly interested in. 
You don't need to have everything ready to go.
Submitting an application and responding to those invitations from colleges does not require you to have your transcript, letters of recommendation, essays, etc. Colleges and universities seldom see the arrival of a tidy little package of materials and are quite accustomed to piecing an application together over weeks or months.  It only begins with the application, which for the most part is just some personal information.  
Applying early could get you more attention, and sooner.
At many colleges, submitting your application earlier in the process will catch the eye of the admissions officer who will be working with you at a time of year when they might have more time to reach out and get to know you. Don't underestimate how much easier it is to connect with an admissions staff member right now.
Think about how busy you will be when you go back to school in August. Admissions officers will be equally busy, traveling from high school to high school and catching planes, trains and automobiles trying to connect with students like you. 
Applying when you have time is better than waiting for the season of deadlines.
As I enter my 31st year of college admissions work, I can think of nothing more stressful for prospective students than an application deadline. These deadlines often come at the same time as other pressing commitments for seniors. 
It's the summer before your senior year. Applying to college is just a step in the process of finding the one for you. What better time to get serious about this step toward a bright future?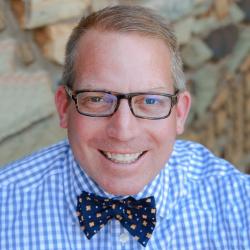 Kent Barnds
Executive Vice President of External Relations