Why high schoolers should think about their résumé now
The easy answer to why you should be thinking about your résumé as a high schooler can be explained in three words: you need one. That's also the lazy answer and oversimplified. In all honesty, the world ahead of you is a competitive one and a résumé is a vital tool to keep you in the game. Here, you'll find a list of reasons why you should consider creating a résumé, as well as what you can put on it.
Getting a job
Your résumé should be a short, to-the-point page listing your experiences, skills and accolades, emphasis on "page." It should detail any relevant information that the employer is looking for, such as education and if you have any proficiencies they're seeking (Microsoft programs, HTML, secondary language, etc.). Just about every job you apply to will ask to see one. In many cases, your résumé is what you'll depend on when it comes to getting a job interview. 
This applies to the part-time job you might apply to while in high school. In my experience, you had two options when filling out the job application online; attach a résumé or complete their online form. After a summer of getting rejection emails and learning humility in the process, I tried out the résumé option. I got my first callback and, subsequently, my first job. 
In the multiple pages you're able to communicate why you're qualified in a job application, a résumé can do it in one. If you don't have one, ask your parents or a school guidance counselor for help. 
College application
While a college application is very different from a job application, the same skillset applies. Depending on the college you apply to, you may be asked to submit a résumé as a supplement to your application. 
If not, learning how to write a résumé now will benefit you greatly when it comes to filling out the common app for colleges. Listing out all of your past volunteer experiences, academic awards or memberships in esteemed societies (National Honor Society, English Honor Society, etc.) will give you a concrete definition of your qualifications and save time when you do sit down to fill out the application.
Creating a résumé is also important when it comes to letters of recommendation. Whether you're looking to receive a letter from a teacher or school counselor, they only know so much about you. Having a résumé handy can help them get a better sense of who you are outside of their classroom and outside of school in general. 
Internships
If only I had known in high school that internships weren't just for college kids. As it turns out, there are a lot of opportunities for high schoolers to explore their interests and gain experience in a field of study they might consider going into. From corporations like Microsoft to government agencies like the CIA, a number of internships are available to high school students during the summer. 
Whether you'll need a résumé depends on which internship you apply for, but you should definitely bank on having one in case it is required. Looking ahead to the future, you'll definitely need a résumé for internships aimed at undergrad and graduate students. 
Much like everything else on this list, the sooner you start building a résumé, the better it will be, and the more it will stand out.
Scholarships
Getting accepted into college is half the battle. The other half is figuring out how to pay for it. Many college scholarships don't require a résumé. However, if you want your scholarship application to stand out among the potential hundreds of candidates, a document outlining your accomplishments and merit will certainly do that. 
If you feel as though the application limits your ability to shine, you should treat your résumé as the place to make that happen. By adding on a CV, you've already separated yourself from those who didn't. 
In conclusion, it's never too early to start thinking about a résumé. For most students in high school, you can generally navigate the next few years without one. But if you want to hold yourself above the competition and ahead of the curve, you should really consider sitting down and crafting one.

If you're like me and dread the idea of opening a blank page on Microsoft Word and staring at it with no direction, Augustana College has a few pointers on how to get started and a few do's and don'ts.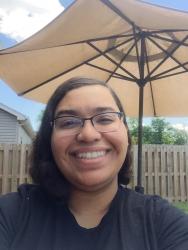 Autumn Peele
Autumn Peele graduated from Augustana College in May 2021. A geology major with a theatre minor, she has had a lifelong passion for paleontology. She plans to attend grad school and specialize in vertebrate paleontology. On campus, Autumn was the vice president of the Udden Geology Club and a student worker for Augustana's web services and new media department.