How to experience campus when you can't visit
So, you've found a school you're interested in. It meets all of your standards and requirements for majors and extracurriculars. The only catch is that you're not able to visit in person. No worries! Here are some other ways you can experience campus without leaving your house.
1. Take a virtual tour
Many colleges and universities have a virtual tour of campus on their website. Augustana is no exception! 
Virtual tours can help give you a better idea of what the campus looks like. This can include academic buildings, dorm rooms, cafeterias, outdoor features, etc. Aside from finding a school that meets your academic standards, it is also very important to consider whether or not you can envision yourself on campus as a student. 
2. Follow the college on social media 
Following a college on Facebook, Instagram and Twitter is also great ways to get a better sense of the campus if you're unable to visit. 
It's a great place to find pictures of students, scenic views, campus events, as well as first-hand accounts from current students and alumni about their experiences at the school. Augustana also has a blog (Blogustana) for current and prospective students. Most articles are written by current students, but you'll find some from faculty and administration, too. Check it out for info about admissions, campus life, preparing for college, etc. 
3. Visit the college's admissions page
Another way to get to know more about the school is by exploring their admissions information on their website. 
The page provides students with important information like admission counselors' contact information, the application process, tuition costs and financial aid, a sign up for the mailing list, photo galleries, and much more. The webpage can provide students with a lot of the information that would be provided on a campus tour. 
4. Meet with a college representative locally
Many schools understand that not every student is able to visit campus in person. A way for those students to meet with someone in person is by getting in contact with a local college representative from their area. Contacting a representative can allow students to schedule a one-on-one meeting, or find out the next time they will be in the area at a college fair. 
Augustana College provides a "Find Your Counselor" webpage for prospective students to find contact information for the college representatives in their areas. 
5. Talk with current students and/or alumni
Talking to current or past students of the university can help give prospective students a better sense of campus life through their personal stories and experiences. 
They can tell you about what they like about the school, why they chose to go there, as well as how the school might be a good fit for you. If you don't know any current or previous students, the college's admissions office will be able to put you in contact with students. 
Ask them questions that can help determine for you if the school would be a good fit for your needs and interests. 
No matter what reason keeps you from visiting a school you're interested in, there are plenty of ways to get a feel for what life there would be like without leaving home.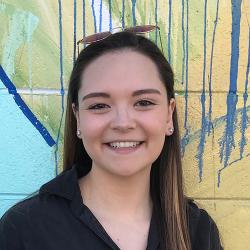 Patti Grod
Patti graduated from Augustana in 2020; she was a double major in communication studies and French, with a minor in entertainment and media studies. She is originally from Northbrook, Ill., but her family relocated to Henderson, Nev. Outside of academics, Patti was a member of the Vikings varsity swim team, director of PR and marketing for HerCampus, and a member of Delta Chi Theta sorority.