Everything you should know about FAFSA
What should you know about the FAFSA? A lot! The process can be overhwhelming, but it can have a huge effect on college tuition costs. 
Let's get the basics out of the way:
First, you should know that FAFSA stands for Free Application for Federal Student Aid. The application is free, so if you're being asked to pay, you could be filling out the wrong form or falling for a scam.
Any eligible student planning on attending college may complete the FAFSA. It determines your financial aid eligibility and is a requirement for federal, state and institutional grans, federal student loans and federal work-study. Once determined, this aid can cover expenses like tuition, room and board, books and supplies and transportation. It can also be used to pay for other related expenses, like a new computer.
FAFSA must be filled out every academic year. Yep, you read that right. Every year. FAFSA requires a new application each year to adapt to any changes that could have affected your life financially.
To complete a FAFSA, you must be a U.S. citizen or an eligible noncitizen, have a high school diploma or GED, and be enrolled or accepted as a student in an eligible degree program.
The information you'll need:
To fill out all the necessary forms, you'll have to gather tax information from the prior year, other untaxed income information, and asset information for you and your parents or guardians. You may want to consider linking with the IRS in your FAFSA to transfer your tax data!
If you're filling out the FAFSA for the first time, it may be helpful to have a parent or a trusted adult guide you through your records. Your files can be confusing, and our parents have been doing federal paperwork for a lot longer than most of us!
What's the deadline?
Don't forget to file it! Deadlines vary by state and school so be sure to check with your school as soon as possible. Augustana College's preferred deadline to file FAFSA is November first.
For Illinois, the 2020-21 deadline is as soon as possible after October first, or until funds are gone. The federal deadline is June 30, 2021.
You can go online to check your application status once the paperwork as been submitted.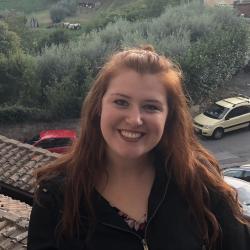 Chelsea Meyer
Chelsea Meyer is a senior from Roscoe, IL. She is double majoring in Communication Studies and Multimedia Journalism & Mass Communication while on the Pre-Law track. 
On campus she's involved with Greek Council as the service chair, a member of the Delta Chi Theta Sorority, and a member of the Women's Golf Team.