Special Collections
Home of the college archives, local history collections, and rare books.
---
CHANGES IN RESPONSE TO COVID-19:
Beginning on 8/10/2020, the Special Collections reading room will be open by appointment only for current Augustana students, faculty, and staff.  Only one patron will be allowed in the reading room at a time.  Appointments may be requested for 1-hour slots between 9 a.m. - noon and 1 p.m. - 4:30 p.m. (5 p.m. during the fall semester when classes are in session) Monday-Friday.  To request an appointment, please email specialcollections@augustana.edu at least three business days in advance of your desired appointment time and provide as much detail as you can about which materials you would like to access.  
When arriving for an appointment, please wash your hands with soap and water immediately prior to entering the reading room and do not apply hand sanitizer after washing your hands.  You will be required to wear a mask the entire time you are in the reading room and we ask that you maintain a safe physical distance from the staff who are assisting you.  
Until further notice, Special Collections remains closed to members of the public, alumni, retired faculty/staff, and anyone who is not currently enrolled in Augustana College courses or actively employed by the college.  We will continue to provide assistance virtually to the best of our abilities and we ask for your patience and understanding as we adapt to our new circumstances.  Emailing us at specialcollections@augustana.edu continues to be the best way to communicate.  If you do not have access to email, you may call us at (309) 794-7643.
---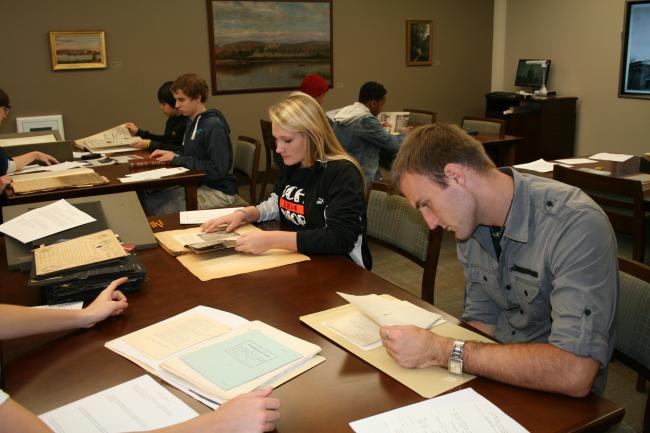 Special Collections, located on the first floor of Tredway Library, holds Augustana's collections of rare books and manuscripts as well as the college archives. The materials held in Special Collections are non-circulating, but may be requested for on-site use in the Ernest and Mary Belle Espelie Special Collections Reading Room, which is named in honor of the generous contributions of the Espelie family.
When classes are in session, researchers may access Special Collections without an appointment from 1:00-5:00 p.m. Monday-Thursday.  During academic breaks and over the summer, the reading room is open from 1:00-4:30 p.m. Monday-Thursday.  The current academic calendar for the college is available here. For more information or to schedule an appointment with the librarian, see the Contact page.
Researchers are encouraged to search our collections for relevant materials prior to making a research visit, in order to maximize time spent in the reading room. Researchers are also welcome to contact us to schedule an appointment outside our open hours or ask a question about our collections.
The primary mission of Special Collections is to collect, preserve, and make available materials that serve the teaching and research needs of Augustana College and the local community.
Materials in Special Collections support the college curriculum and assist in faculty teaching and student learning. Materials also further the research of students, faculty, and staff, independent researchers and the public.
Special Collections attempts to support and foster intellectual curiosity and provides an opportunity for users to develop rhetorical and critical thinking skills, cultural stewardship, empathy and engagement with materials, and acceptance of ambiguity through interactions with primary materials.