Swenson Center Internships
The Center offers a number of library and archival internships during the school year and summer for Augustana College students, and sometimes students from other institutions.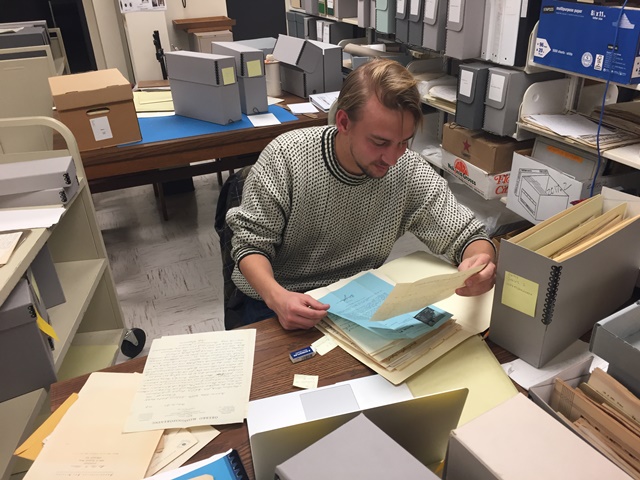 Interns gain hands-on experience with library and archival tasks including research, describing historical materials, processing archival collections, assisting patrons, and other special projects.
Students interested in careers in libraries, archives, museums or one related to historical research will benefit from an internship.
About the Swenson Center
The Swenson Swedish Immigration Research Center is a national library and archives located on the campus of Augustana College in Rock Island, Illinois. The Swenson Center's collections contain thousands of historical books and archival records including personal papers, photographs, maps, sound recordings, sheet music, and rare materials. The collections allow the study of a variety of topics related to Swedish immigration to the United States (primarily from 1840-1930), Swedish-American culture and communities, and "Swedish-Americanness" today.
The Center assists researchers of all kinds, including distance researchers, students, and genealogists. The Center collects both Swedish- and English-language materials. 
Internship Projects
Internship projects vary based on current needs of the Center and students' goals and skills. All interns will be introduced to archival practice and will work hands-on with historical materials. 
Some examples of projects:
Archival Description: The Center strives to reduce its backlog of unprocessed archival holdings and make these materials available to researchers. Interns study best practices in archival processing and conduct background research to place archival materials in historical context before physically arranging and describing the materials. The final step is writing and publishing a finding aid online. 
Preservation: The Center strives to preserve its collections for future generations of researchers. Interns read relevant literature and are trained in preservation tasks for books, photographs, or sound recordings. Tasks may include flattening rolled photographs, digitizing or migrating media, or book repair (page reattachment, spine repair, or custom pamphlet and book enclosures).
Outreach & Research: The Center strives to make its unique collections better known and more accessible to researchers. Interns research either a specific archival collection or a historical topic, learn how to write about historical topics, and learn how to conduct research in an archives. They will construct an argument or story, situating the topic or collection in historical context and within the context of the Swenson Center's mission. The result will be either an article or an exhibit in the Center's reading room.
Compensation
Internships are typically unpaid, but there are opportunities for funding available through CORE (including Augie Choice) for Augustana College students.
We can assist interns in finding affordable housing for the length of the internship and can lend a bicycle for transportation. 
Academic Credit
Internships are typically part-time and may be for academic credit (with a letter grade, 0-9 credits), pass/non-credit, or zero-credit. Internship types are Academic or Experiential. See the Augustana internship page or contact CORE for more information.
Non-Augustana College students should contact both the archivist/librarian and their home organization about academic and other internship possibilities. 
Desirable Skills
Swedish-language skills are not required for internships. Students with knowledge of (or who are studying) Swedish will be encouraged to work with Swedish-language materials. 
Detail-oriented and organized
Ability to work independently
Excellent written communication skills
Good computer and technology skills
Willingness to ask questions and learn new skills
Interest in library/archives/museum work
Must be able to handle fragile materials with care and attention to detail
Experience or interest in Swedish language or culture a plus, but not required.
To Apply
Summer internship applications for Augustana College students will be posted to Handshake in December or January annually. For internships during the school year, or opportunities for students from other institutions, please contact the archivist/librarian.  
Past Interns:
Fall 2019
Victor Trollsås
Uppsala University, Uppsala, Sweden
Re-processing Magdalena Persson Mårtensson letters and pre-processing collection on Swedes in Missouri
Spring 2019
Ramona Collins
Augustana College
Inventory of SWEA International, Inc. donation
Summer 2018
Shelby Jensen
Augustana College
Enhancing finding aid descriptions and "Swedish Arts in North America" exhibition
Fall 2017
Hugo Stiernstedt
Uppsala University, Uppsala, Sweden
Processing the Elsa Rebekka Ahlwén Sundeen (1905-1986) archival collection
Fall 2013
Alexander Mahaffey
Augustana College
Digitizing American Union of Swedish Singers records (1896-2005)