The Dagmar and Nils William Olsson Visiting Scholar Award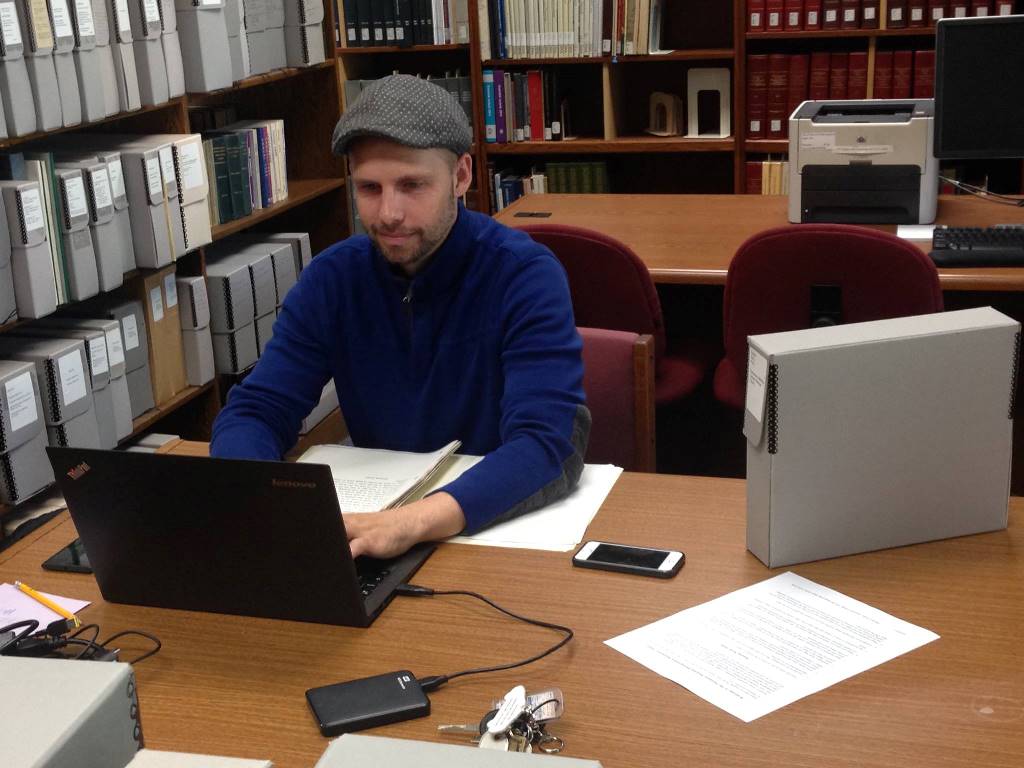 Deadline for applications is May 15, annually
This award is a reimbursement of travel and living expenses associated with your 1- to 2-week visit to the Swenson Center, up to $2,500. The award is open to anyone doing academic research on any aspect of Swedish-American history. It is not intended to be used for genealogical research. We encourage graduate students and younger scholars to apply. The award should be used within one year of notification. Following your research, you will be expected to write a short article summarizing your project and use of the Swenson Center's materials for publication in our quarterly journal, digital repository, and/or on our website. 
Collections
The Swenson Center's collections consist of library and archival materials, maps, photographs, music recordings, sheet music, newspapers, microfilm, and more. To gain a better understanding of the resources available at the Swenson Center, and to get ideas for projects and topics, see our Collections, and Academic Research Assistance & Topics pages. 
Depending on your area of research, you may encounter resources in the Swedish language. However, most of our more recent records are in English. About 41% of our library materials are in English and 77% of our archival collections are at least partially in English.
Contact the archivist/librarian for more information or assistance.
To Apply
Submit a two- to three- page proposal and a current curriculum vitae to the Swenson Center. The proposal should include:
an outline of your proposed research topic,
a statement showing how the resources of the Swenson Center are appropriate for your project,
a proposed timeframe for the study.
The deadline for applications is May 15, annually. 
Applicants will be notified of the decision by June 15. 

This award was established by Nils William Olsson, a leading authority in the field of Swedish-American studies, and his wife Dagmar.
Past Recipients
2020
Isabelle Gapp
University of York, United Kingdom
From Woodstock to the Great Plains: The American Landscape in the Painting of Birger Sandzén and John F. Carlson
2019
Gunilla Hermansson
Gothenburg University, Sweden
Song Lyrics as a Challenge to Transnational Literary History--the Case of "Vårvindar friska"
2018
Nevra Biltekin
Stockholm University, Sweden
Between Transnational Migration and Cultural Diplomacy: Gendered Practices, Imagined Homelands, and Swedish Women in the United States, 1980s-1990s
Related Article

2018
Ulf Zander
Lund University, Sweden
News Exchange - Allan Kastrup and Swedish Public Diplomacy in the United States in the Postwar Decades

2017
John Everett Jones
Collegeville, Pennsylvania
Pioneer Swedish settlers of western New York (Jamestown) and Northwestern Pennsylvania (Sugar Grove/Chandlers Valley) in the era prior to the American Civil War (1844-1860)

2016
Anders Bo Rasmussen
University of Southern Denmark
For God and Country: Race, Religion, and Reconstruction in Swedish American Texts

2014
Philipp Gollner
University of Notre Dame
"Evangelize-Americanize:" White Religion and Acculturation among late 19th-Century Swedish Immigrants
Report: My work at the Swenson Center

2013
Juri Rebkowetz
Ludwig-Maximilians University. Munich, Germany
German and Scandinavian Immigration to Minnesota and Wisconsin during the Second Half of the 19th Century - Contacts, Conflicts, and Cooperation
Report: The 2013 Olsson scholar and his experiences at the Swenson Center

2012
Jennifer Vanore
University of Chicago
The Call to Care: Religion and the Making of the Modern Hospital Industry in Los Angeles, 1895-1965

2011
Adam Hjorthén
Stockholm University, Sweden
Commemorating Presence: Swedish-American Jubilees in Transnational Perspective, 1938-1996

Katrin Leineweber
Christian-Albrechts University, Kiel, Germany
The Integration of Swedish Immigrants in Seattle/King County since 1850
Report: The Integration of Swedish Immigrants in Seattle/King County since 1850

2010
Brita Butler-Wall
University of Washington
Women in the Bishop Hill Colony
Report: Brita Olsdotter from Östanå

2009 
Erika Jackson
Michigan State University
"Scandinavian Preferred": Nordic Ethnic Identity, Gender and Work within Chicago, 1879-1933
Report: The 2009 Olsson Scholar

2008
Rachel Gianni Abbott
University of Alaska Fairbanks
Folklore and Material Culture among Swedish Immigrants in late Nineteenth-Century Utah

2007
Elizabeth Baigent
Oxford University, U.K.
Swedish Immigrants in McKeesport, Pennsylvania

Christopher Cantwell
Cornell University
Swedish Immigrants in Chicago and their Relationship to D.L. Moody

2006
Christopher Jaffe
Northern Illinois University
Swedes and Other Ethnic Groups in Rockford, Illinois

2005
Agnieszka Stasiewicz
Jagiellonian University, Krakow, Poland
Swedish Immigrant Children and Books Published for Them by the Augustana Book Concern
Report: "Children of two countries: Ethnic identity in youth literary culture in Swedish America"

2004
Ms. Joanna Daxell
Université de Sherbrooke, Canada
Swedish Literature in North America

2003
Paul Lubotina
St. Louis University
Swedes and other Ethnic groups on Minnesota's Mesabi Iron Range

2002
Lars Nordström
Beavercreek, Oregon
The Life and Work of Samuel Magnus Hill, a Pioneer Educator and Minister in Nebraska

Malin Glimäng
University of Hawai'i
The History of Swedish Female Immigration

2001
Gabriella Rundblad
University of East Anglia, U.K.
Language Use in the Creation of a Swedish-American Identity

2000
Anne-Charlotte Harvey
San Diego State University
Swedish Theatre in the United States 1880-1930

Eva St. Jean
University of British Columbia, Canada
Swedish Immigrants in British Columbia

1999
Barry L. Peterson
Tallahassee, Florida
Comparison of Swedish traditions in the Rural Midwestern United States and Sweden

1998
Christopher Mitchell
University of Georgia
Strindbergarna—A Swedish Theater Club in Chicago 1912-1915

1997
Edward Burton
University of Göteborg, Sweden
Social and Political Views of Postwar Swedish-America

Roger Kvist
Umeå University, Sweden
Swedish Immigrants in the American Civil War