About & Visit
Contact
Phone: 309-794-7204
Fax: 309-794-7443
Mailing address:
Swenson Center/Augustana College
639 38th Street
Rock Island, IL 61201-2296
Street address:
Denkmann Memorial Hall
Augustana College
3520 7th Ave
Rock Island, IL 61201
Hours
The Swenson Center is open to the public by appointment from 9 a.m. to 12 p.m. Monday through Friday. 

The Center is closed:
Friday afternoons during the summer (May 31 to August 23)
The week between Christmas and New Years Day
Hours are by appointment. Always call ahead. See Genealogy page for more information on making an appointment for genealogical research. Call 309-794-7204 or email swensoncenter@augustana.edu. 
Staff
Dag Blanck, Director
Lisa Huntsha, Archivist/Librarian
Jill Seaholm, Head of Genealogical Services
Internships & Employment
Internships
The Center offers internships during the school year and summer for Augustana College students, and sometimes students from other institutions. Students gain hands-on experience with library and archival tasks including research, describing historical materials, processing archival collections, assisting patrons, and other special projects. Internships are typically unpaid, but there may be opportunities for funding available through CORE (including Augie Choice) for Augustana College students. Find out more on the Swenson Center Internships page.
Student Employment
The Center hires 3-4 Augustana College student workers per academic year and 1 per summer to help carry out the day-to-day functions of the Center and to work on special projects. Open positions will be posted to Handshake with instructions on how to apply. 
Full-time Employment
Any full-time positions are posted on the Augustana College employment page.
 
Location
The Swenson Center entrance is on the first floor of Denkmann Hall. 
Street address (not the same as our mailing address):
Denkmann Memorial Hall
Augustana College
3520 7th Ave
Rock Island, IL 61201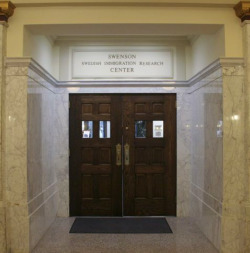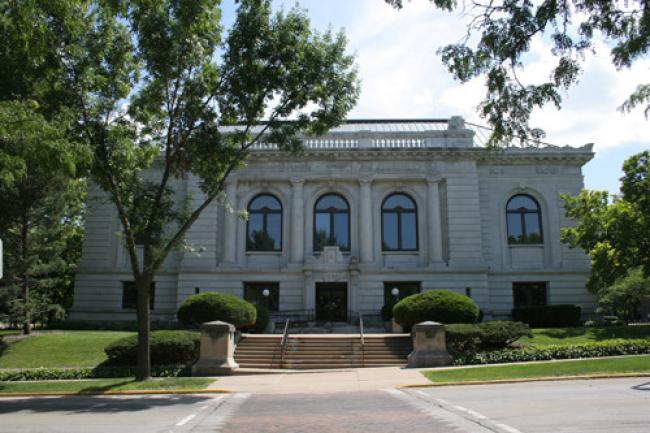 Parking
Street parking is available along 7th Avenue and 35th Street.
Some visitor parking spaces are available in Lot E, see interactive Campus Map or printable Campus Map.
Handicapped parking is available directly to the east of our building. 
Gifts & Donations
Mission & Vision
Mission Statement
The Swenson Swedish Immigration Research Center is a national and international research center, library and archives for the study of Swedish-American history and relations. 
The Center collects, preserves and makes available archival and library materials, promotes and initiates research and is a leader in Swedish-American genealogy. 
Vision Statement
The Swenson Center strives to be a leading national and international institution for the study of Swedish-American history and relations. 
Purpose Statement
The Center focuses its work on the transatlantic migration, contacts and exchanges between Sweden and North America, in particular: 
The study of Swedish immigration to North America, of Swedish-American individuals, communities and institutions, and of the position of Swedish Americans in the larger American social context. 
The broader cultural, social and political relations between the two countries and their ways of interacting with each other—past and present. 
At Augustana College, the Center is a key part in the College's historic and ongoing connections with Sweden.
History
The Swenson Center was founded by Birger and Lyal Swenson on December 31, 1980. Birger Swenson emigrated from Sweden in 1912, graduated from Augustana College, and worked for the Augustana Book Concern. The endowment established by the Swensons provided the initial financial support for the Swenson Swedish Immigration Research Center. 
Advisory Committee
Continuing
Steven Bahls, President of Augustana College
Dr. Wendy Hilton-Morrow, Vice President of Academic Affairs, Provost and Dean of Augustana College
Dr. Douglas Nelson, Chair
Dr. Dag Blanck, Director 
Christine Schafer, Director of Thomas Tredway Library, Augustana College
Term Ending 2020
Dr. Jennifer Eastman Attebery, Professor of English; Director, Folklore Program, Idaho State University
Dr. Ellen Hay, Professor Emerita of Communication Studies, Augustana College
Kerstin Lane, Former Executive Director of the Swedish American Museum, Chicago
Term Ending 2021
Dr. Philip J. Anderson, Professor Emeritus of Church History, North Park University
Dr. Thomas Bengtson, Professor of Math and Computer Science, Earl H. Beling Endowed Chair in Mathematics, Augustana College
Dr. Ulf Jonas Björk, Professor of Journalism and Public Relations, Indiana University  
Dr. Peter Kivisto, Professor of Sociology, Anthropology and Social Welfare, Richard A. Swanson Chair of Social Thought, Augustana College
Dr. Byron Nordstrom, Professor Emeritus in History and Scandinavian Studies, Gustavus Adolphus College
Term Ending 2022
Dr. Anne-Charlotte Harvey, Professor Emerita of Theatre, San Diego State University
Bruce Karstadt, CEO, American Swedish Institute
Dr. Adam R. Kaul, Associate Professor of Anthropology, Sociology and Social Welfare, Augustana College
Dr. Joy K. Lintelman, Professor of History, Concordia College
Dr. Harald Runblom, Professor of History, Uppsala University, Sweden
Emeritus
Mariann Tiblin, Associate Professor Emerita, University of Minnesota Libraries 
Staff
Lisa Huntsha, Archivist/Librarian
Jill Seaholm, Head of Genealogical Services
Geoffrey Fröberg Morris, Editor, Swedish American Genealogist