Campus update for Oct. 23, 2020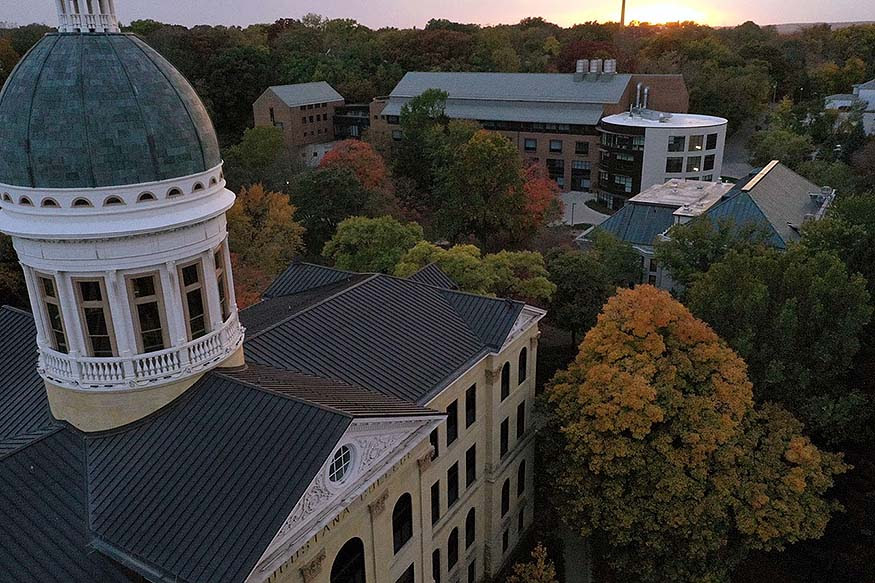 Dome's eye view: We could not resist this fall beauty shot shared by Andrew Hipes, a first-year student from Morris, Ill.
---
Make an appointment with Access Control
With the new CDC guidelines in place, the Access Control office will be available by appointment only. The office is open 8 a.m.-4:30 p.m. weekdays.
If you are in need of a new ID, key pickup, etc., call 309-794-7707 or email accesscontrol1@augustana.edu to make an appointment. Please wait for a return call or email before coming to the office. 
---
Today's updates: 
• The Student Government Association is offering several ways for you to get connected and offer input on what SGA does this year.
• You can get a shirt with an Augie fish on it.
• A new studio art class, "Art of the Americas," is being offered in spring.
• The intramurals calendar for this semester has been updated: bocce ball, badminton, pickleball and a free throw contest.
Today: Afro Sway 4 p.m., OctobHERfest 6 p.m., African Week movie 8 p.m., hypnotist Chris Jones 8 p.m.
Saturday: Trick or trivia 8 p.m. Sunday: Meet-up at the Pumpkin Patch 2 p.m., 
Texas Medical Center info session 6 p.m.
---