Campus update for Oct. 14, 2020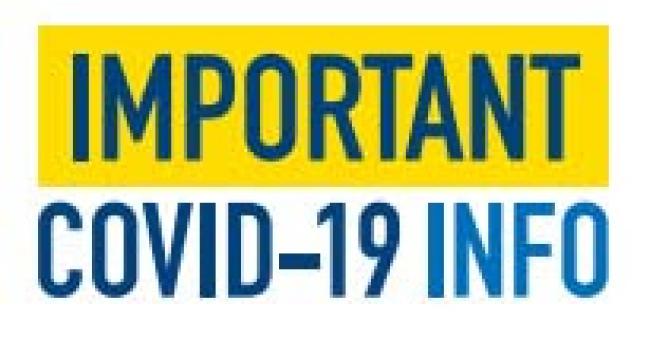 Today's campus briefing covered COVID-19 numbers, the importance of flu shots, and calendar changes.
President Steve Bahls, Dean of Students Dr. Wes Brooks, and Provost Dr. Wendy Hilton-Morrow thanked the campus community for continuing to observe the COVID-19 guidelines: masking, distancing and keeping groups small.
Important points:
• It's important to get a flu shot. You can get one at Augustana Convenient Care or upcoming clinics for students Oct. 23 and staff Nov. 2.
• COVID-19 numbers are posted every Monday at midday.
• The residence hall checkout deadline for winter break is noon Nov. 26. Students who need to stay on campus will need to fill out a winter break housing application (to come).
• Students who return for J-term will be asked to stay on campus between the end of J-term and the start of spring semester. Provost Dr. Wendy Hilton-Morrow promises it will be a a productive and enriching time, with details to come.
• The CCIW has decided that all athletics-related activities will cease Nov. 25-Jan. 1. Activities will resume Jan. 2 if conditions allow it.
---
Free speech, welcome and inclusivity
President Steve Bahls reminds our campus community that free speech, welcome and inclusivity are not mutually exclusive. In his words, "In fact, each enhances the others."
In his Statement on Freedom of Expression, finalized in 2017, President Bahls laid out his views on freedom of expression at Augustana College. You are encouraged to read the statement at this time, especially as we approach the upcoming election, because "... we, as a community, have an obligation to respond to those who use their free speech rights to shout down or attempt to intimidate others."  
---
Today's updates: 
• Juniors: Do yourself a favor and consider applying for the Texas Medical Center Summer Research Program. Go to one of the upcoming informational meetings: 6 p.m. in Olin Auditorium Oct. 25 and again Nov. 8. This is for all majors.
• The Augustana Bookstore has a fall special: navy crew sweatshirt or hoodie for $20 while supplies last.
• Reminder: The deadline to withdraw from a 14-week course, and be able to reuse the credits this academic year, is 4:30 p.m. this Friday, Oct. 16. If you are considering dropping a course, get in touch with your advisor asap. The last day to withdraw from a fall course is Nov. 20, but credits may not be reused this year if you drop after Oct. 16.
• We all use Google Meet, so why not do it better? Shawn Beattie in ITS has a handy video explaining some new, useful Meet features.
• The African Student Association (ASA) will celebrate African Week with a series of events starting Sunday.
Today: Worship Under the Stars 8 p.m. 
Thursday: Student Government Association open meeting 8 p.m.
---
Help us explain Augie to the Class of 2025!
We're looking for student stories to feature in our latest recruitment campaign for the Class of 2025. Submit a 30-second video about your peak Augustana experience or the mentor who has shaped your education.
Our favorites will be contacted to tell their stories in an upcoming recruitment video.
---
Celebrating Jenny Lind's 200th on Friday
Jenny Lind was a beloved figure in the early history of the Augustana Lutheran Synod and College, chiefly due to the generosity she showed to the Swedish immigrants as they built their church in Andover, which came to be known as the Jenny Lind Chapel.
Two lectures and a concert Friday will be held in her honor, including a short concert by Augustana's Jenny Lind Vocal Ensemble.