Campus update for Nov. 23, 2020
Nov. 23, 2020
Today we updated our COVID-19 dashboard with the final results from the weekly surveillance testing done on campus. The news is good:
→ 3,720 tests from Aug. 25 through Nov. 17
→ 29 positives
→ A positivity rate of .00779.
The total number of new cases on campus among students and staff also dropped this week to 14 from the previous week's 37. (This number includes people tested in our surveillance testing and also those who reported that they were tested elsewhere.)
Plus, student quarantine numbers went down by half to 42.
#AugustanaStrong!
---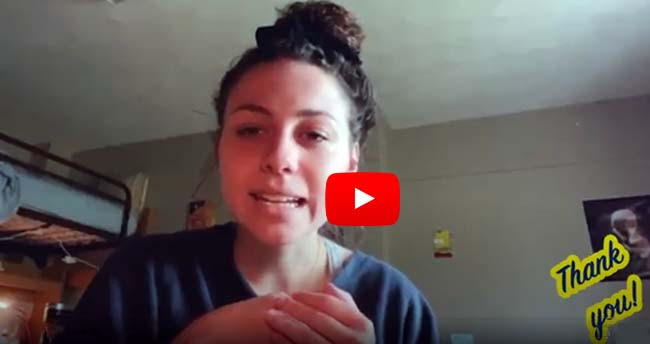 Thanks for getting us through!
The Student Government Association compiled a video thank-you to faculty last week in honor of American Education Week:  "From the bottom of our hearts, we want to say thank you for all the hard work you have put in throughout the past year. Your words of motivation and wisdom have encouraged us to get through this tough semester."
---
Today's updates: 
• You received an important reminder from the Registrar to check your fall schedule and exam week schedule in Arches.
• Though most business courses are limited to business majors, there also are courses open to any student. Currently there are two: BUSN389 Sports Management (2 credits) and BUSN320 Marketing for Creative Professionals (4 credits).
• Jordan Franks '16 and other young grads are keeping their "Friendsgiving" tradition alive onscreen.
Today: Lighting of the tree 4:30 p.m. Everyone is welcome to enjoy the festivities from a distance!
---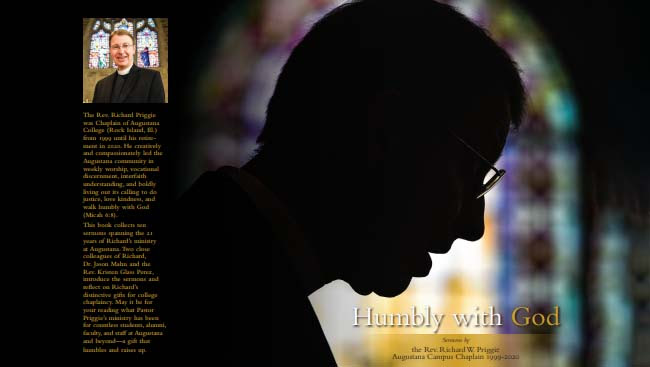 "Humbly Before God" now on sale
Before you head home for the holidays this week, stop by the Augustana Bookstore and check out a new book by Pastor Richard Priggie, who retired this year after serving as campus chaplain for 21 years.
"Humbly Before God" collects Augustana sermons that comfort and challenge the reader, and cultivate gratitude for life's many gifts. The book also is available through the bookstore website.
Proceeds go to the Richard W. Priggie Fund for Student Spiritual Exploration, which supports you and your classmates when you embark on vocational discernment and spiritual exploration.
---