Campus update for Nov. 18, 2020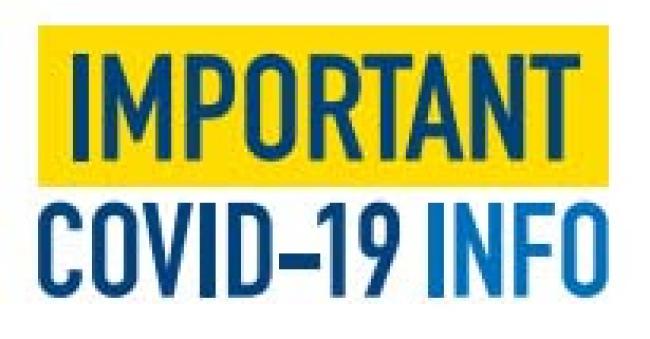 Since Augustana remains at COVID Alert Level 3, Dr. Wes Brooks wants to remind you of our expectations and the consequences for violating those expectations between now and Thanksgiving.   
The college will continue vigorous enforcement of COVID expectations and will be implementing stricter penalties for violations. Examples include tripling of fines to $300 and the loss of campus activity privileges upon return for J-term or spring semester. 
These stricter guidelines and new fines are intended to help control the spread of COVID-19 before students return home to their families.
1. Group gatherings, both on and off campus, must be limited to 10 or fewer students at all times. Masks and physical distancing are expected during gatherings. 
2. Eating in restaurants or patronizing bars is a violation of these rules. 
3. Residence hall visitor restrictions remain in place. 
→ Please read the entire letter on this subject from Dr. Brooks.
Plan ahead for testing and reducing risk
If you are being tested for COVID-19 Friday — or even if you are not — it's important to think about your behaviors over the next few days.
Please read the guidance from Dean of Students Wes Brooks about how to minimize your risk of spreading COVID-19 on campus or taking it home when you leave for Thanksgiving.
---
Communication and Marketing is working on our annual Year in Review to share with the campus community, alumni and parents.
We can all agree 2020 has been quite a year. What stood out to you? Is there an interesting fact, anecdote or statistic that gives us a 2020 Augie snapshot or insight? Or maybe you have a photo that sums it up.
Contribute to the Year in Review
---
Today's updates: 
• The last Wednesday chapel of the semester will begin at 8 tonight on the Campus Ministries Facebook page.
• If you need a replacement ID or key — or if you have found a lost one — you need the Access Control office. It is open 8 a.m.-4:30 p.m. weekdays by appointment only. Email or call 309-794-7707 for an appointment. Wait for a return call or email before going to the office. Students who have lost a key should contact Residential Life.
• In case you missed the Career Development-sponsored alumni panel of Black/African-American Career Professionals last month, you can still tune in!
• Mortar Board is holding a pet photo contest to raise money for World Relief.
• The Augustana Bookstore sale ends Friday! You can get 20% off regularly priced gift items and clothing both online and in the store.
Today: What in the F-1? 4:30 p.m., yoga 5 p.m.
Thursday: Visa and immigration updates 9:30 a.m. and 6:30 p.m.,  blood drive 10 a.m., yoga 4 p.m., Pandemic Perspectives 5:30 p.m.
---
Start thinking about summer fellowships
Augustana awards summer fellowships of $1,500-$3,000 to students for research and creative activities under the guidance of a faculty member.
All majors are eligible. Applications and letters of support are due Feb. 19, 2021. 
---