Campus update May 19, 2021
May 19, 2021
Our COVID-19 guidelines have worked, and we want to finish the semester strong. Everyone on campus still needs to wear a mask and practice social distancing.
If someone is helping you move out of the residence halls, please ensure they wear a mask, too.
These guidelines will carry over to our three commencement ceremonies on Sunday at the Taxslayer Center. The center's policy also requires a health screening, masking and social distancing inside the arena.
It's going to be a joyful occasion for the graduates, their families and all of us. We're especially happy to see the Class of 2020 come back to walk across the stage they missed last year!
This in-person experience is only possible because you've worked to keep COVID-19 at bay all year. Thank you.
Baccalaureate service on Saturday
Baccalaureate will be virtual, premiering at 10 a.m. Saturday on our YouTube channel. This beautiful service includes readings and prayers from many faiths and traditions.
Changes this summer
The college will begin transitioning to the "new normal" on or after June 11. Those on campus this summer will get more information from the Augie Strong Task Force about changes in dining and masking rules, among others.
---

If you need inspiration, look here
We'll add our final More Than I Imagined senior profiles on Friday. Every year, we're inspired and delighted by the stories of growth they tell us. You will be, too.
This is the 11th year of the series, and we are starting to take a look back at some of our graduates from a decade ago. See what's new with Dr. Chris Hedlin and Dr. Jeremy Hoffman.
---
Today's updates:
• More than 40 in-person and online classes are offered this summer. You can register for a summer class until 4:30 p.m. May 27.  (Late registration is available through noon June 2 for a $40 fee.) Classes start June 1.
• The last Wednesday Chapel service of this school year is at 8 p.m. today at the Anderson Pavilion. Rain location is Ascension Chapel.
• Tomorrow is the first-ever national Mental Health Action Day. Here are concrete steps you can take for yourself or someone you care about.
• Beginning the week of June 7, Campus Cupboard will be open from 2-3 p.m. on Wednesdays in Sorenson 302.
 If you know any littles in the Quad Cities, encourage their parents to sign them up for our Kaleidoscope art classes for kids! Classes are in-person this summer.
 Isabel Dawson '20 is the new assistant executive director of the Genesius Guild, which produces classic outdoor summer theatre in Lincoln Park next door.
 Augustana's baseball Vikings closed the regular season 33-7 and finished 25-7 in the CCIW. They'll open conference tournament play at 3 p.m. today!
 Jordan Delp '09, former Viking standout, has been added to the men's basketball staff as full-time assistant to Coach Tom Jessee. ("Delp back with Augustana")
---
Are you reading this?
Don't you hate it when you have one foot out the door and someone says, "Just one more thing before you go"? We do, too, but we're asking a favor anyway.
→ Fill out this survey about the Campus Update and Student Bulletin. It will help us make improvements for next school year. It is a short survey, honestly.
Campus Update and the Student Bulletin will move to a monthly summer schedule after today. Thanks for your news, comments and encouragement this year.
---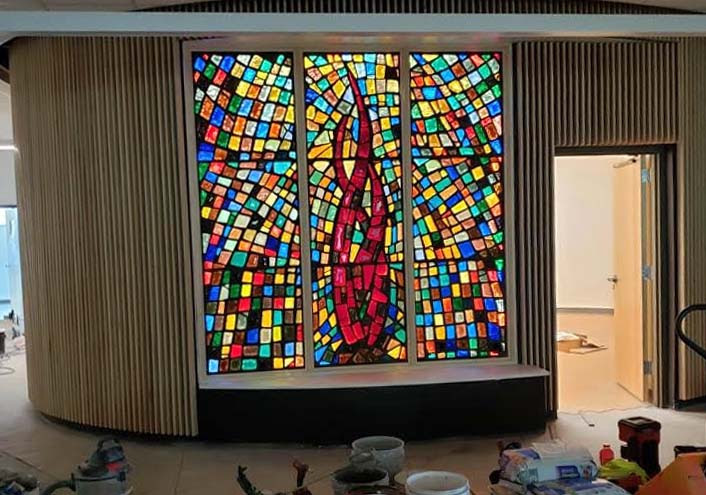 Back into the light
This week, stained glass was installed in the Meditation Room inside the new Lindberg Center. Entitled "The Living Flame," it was the centerpiece of the Dag Hammarskjöld Room in the Student Union from 1960-1979. That room also was known as the Meditation Room, but was renamed to honor the memory of the Hammarskjöld, the  Swedish U.N. secretary general who was killed during a peace mission in 1961.
The stained glass work was commissioned from Egon Weiner, a prominent Chicago artist and friend of Conrad Bergendoff, Augustana president at the time. There are at least two other works by Weiner on campus: the cross outside Ascension Chapel and the bust of Conrad Bergendoff in the entry vestibule of Centennial Hall.
When the College Center (now the Brunner Theatre Center) opened in 1979, the Student Union became the Biology Building and "The Living Flame" went into storage — until now.