Campus update for June 4, 2020
June 4, 2020
Dear students,
Here's your chance to leave your mark on the new Peter J. Lindberg, M.D., Center for Health and Human Performance, and it's not by scratching your initials in wet concrete.
We are running a contest to select original artwork for the two kinesiology labs.
You can create art that includes photos and/or drawings. The two winning pieces will be produced to hang as vinyl graphics to promote the spirit of learning in the new building.
Submissions are due by midnight June 22. Here are the details.
---
Good news:
• The Augie Strong crowdfunding campaign blew past its original goal of 1,000 donors, ending Monday with 1,378! The campaign to help the college with unexpected costs due to the pandemic raised nearly $1.6 million.
• The Class of 2024 is looking strong. More than 600 students have paid their tuition deposits for this year. The Office of Admissions expects more students to commit this summer.
---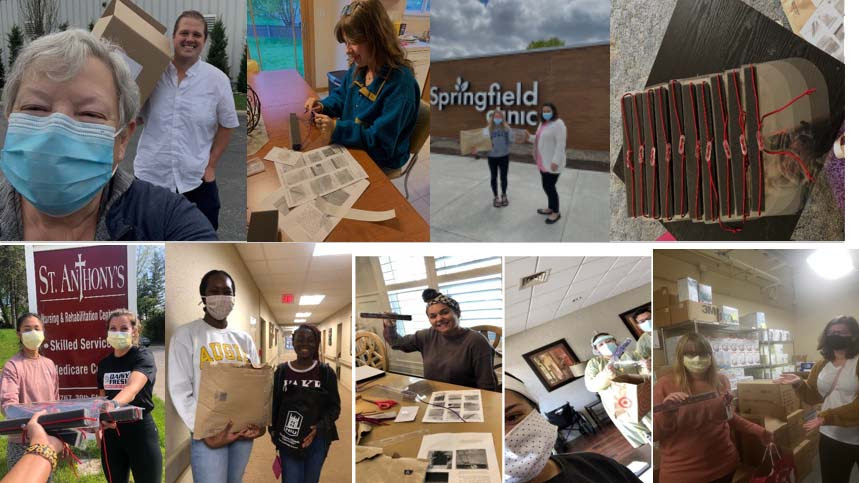 The Face Shield Project!
Students in Social Gerontology knew that senior care settings were at greater risk for COVID-19 and that many facilities do not have easy access to PPE, so they started the Face Shield Project this spring.
Dr. Marsha Smith contacted Drew Allen '10, who runs Grace Engineered Products in Bettendorf. He donated 215 shields. Students assembled and delivered shields to nursing centers. 
Top row from left, Drew Allen donating shields to Dr. Smith, Kayla Millan assembling, Kayla Lewis delivering to a Springfield clinic, and Emily Tokarz assembling. 
Bottom row from left, Hannah Wilhite, Vanessa Iroegbulem, and Awurama Boafo donating to St. Anthony's (near Augustana), Nina Cosentino assembling and donating to Towerhill Healthcare Center, and Cassie Talbot delivering to Hammond Henry Hospital.
---
The pros and cons of living off campus
Justin Verlinden '20 lays it out in a post for Blogustana:
"I consider myself to be Augustana's leading student expert in living off-campus simply because I've lived off-campus all four years. My first three years were spent at Verlinden Hall, located in East Moline aka the gem of the Quad Cities, and this year I'm living in a senior house near campus..."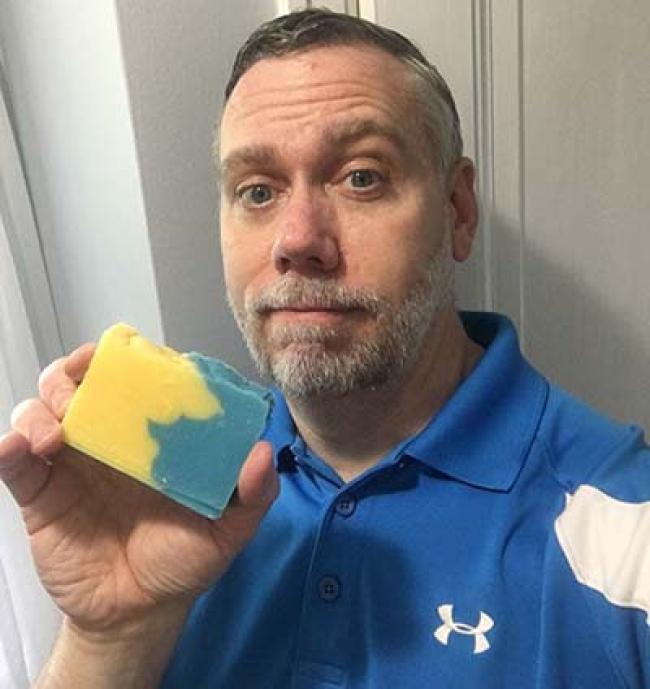 ---
Go (shower) Vikings!
Professor of Kinesiology Dr. Shaun Edmonds has been making Augie soap.
"I'm still a bit of an amateur. But I love to bake, and after two cakes and a thing of cookies, I figured it would be better to make something I can't eat :)." 
---