Campus update for Aug. 7, 2020
Aug. 7, 2020
Information to read before you arrive on campus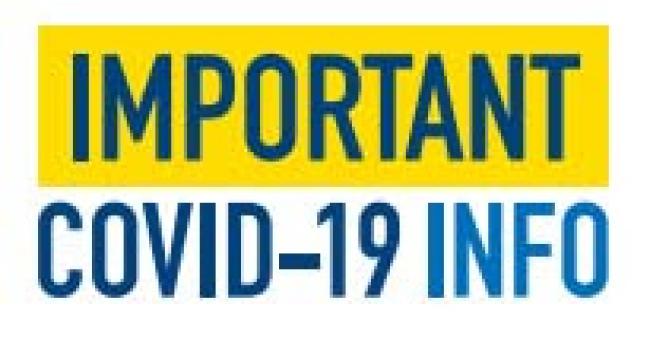 Every student must read these requirements about coming to campus for fall semester.
Some students will need to self-isolate at home for 14 days before coming to campus.
That includes students traveling from high-risk locations in the U.S. and those who are traveling internationally.
If you are experiencing symptoms or have been in contact with someone who has, you also may need to delay coming to campus.
→ Please read these requirements.
Watch your email on Monday for the final Augustana Strong report with details on the fall semester.
Where to direct your questions
The Live Chat crew will provide answers as quickly as possible. They are online during the week now (look for the blue bubble on Augustana.edu), and we will add weekend hours starting Aug. 15. Alternatively, email livechat@augustana.edu or use our comments form.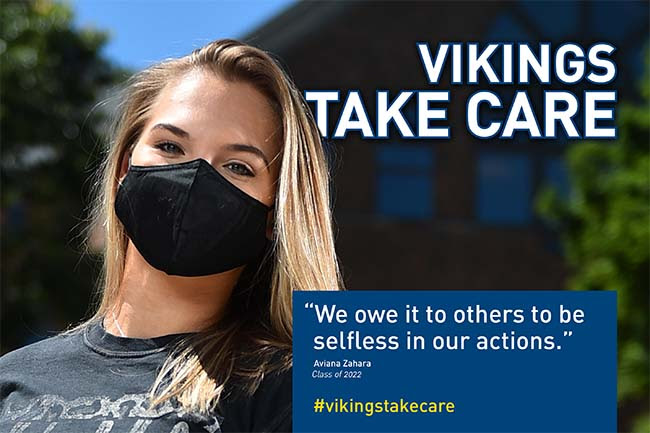 Keep an eye on our social media to hear why your fellow #VikingsTakeCare. Follow us on Facebook, Twitter and Instagram. Use the hashtag #VikingsTakeCare to share why you choose to wear a mask and practice social distancing, and the reasons it's important to you that #VikingsTakeCare.
---
See 'For Peter Pan on Her 70th Birthday' Aug. 14
The Mississippi Bend Players will present a virtual reading of Sarah Ruhl's play, "For Peter Pan on Her 70th Birthday" on Aug. 14. It begins at 7:30 p.m. CDT..
Tickets are free but donations will be accepted. A Zoom link to the performance will be sent at noon Aug. 14.
Filled with Quad Cities references and memories of the past, Ruhl lovingly wrote the piece, which explores life, death and the allure of never growing up, for her mother, Kathleen Kehoe Ruhl.
Kathleen Ruhl will reprise the role she inspired in this presentation. After the reading, there will be a Q&A session with the cast and playwright. → Learn more
---
Today's updates:
• President Steve Bahls and Mike Zapolski, director of athletics, gave a virtual State of Athletics talk Thursday. They updated alumni on the decision to postpone fall sports competition, and gave an in-depth explanation of the current NCAA guidelines and what those mean for Augustana student-athletes.
• Augie Choice applications are available online. We're now accepting applications for fall internships, student teaching, research/creative scholarship and J-term study away programs. Don't delay; apply now. Questions? Contact Beth Ford.
• The first in a new series of presentations and discussions on Indigenous topics — Digital Dialogues — starts at 7 CDT tonight on Google Meet. The presentation will be an introduction to the term BIPOC (Black, Indigenous and people of color).→ Learn more.
• Please wish Michael and Ariel Rogers a fond farewell as they depart Augustana College to relocate to Wisconsin. They graduated from Augustana in 2012. Michael has been the director of the Office for Student Inclusion and Diversity for the past two years, and served the college since 2015. Ariel has been an area coordinator for Residential Life. We will miss them and wish them well.