Campus update for Aug. 24, 2020
Aug. 24, 2020
Dear students,
Today the college announced some important changes to the Augustana Strong plan for opening campus. Students who move into campus housing will be asked not to leave campus until Sept. 14.
President Steve Bahls said Augustana is taking extra protective measures after seeing other colleges that have been forced to close their campuses recently.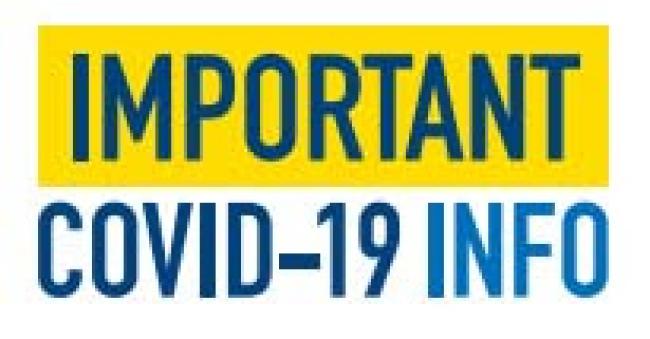 In a briefing this morning, Dr. Wes Brooks, dean of students, said students will be allowed to travel home, to a relative's home or to an off-campus job.
He asked that students consider whether their off-campus employer is following state-mandated safety protocols.
Students will be allowed to leave campus if they have an urgent need to buy or pick up a necessary item. However, Dr. Brooks urged students to bring two weeks' worth of necessities with them.
VERY IMPORTANT: Student gatherings not sponsored or approved by the college — whether on or off campus — will be limited to 10 people or fewer. The restriction applies to gatherings with friends, fellow students and families. All gatherings will require physical distancing and masks.
---
New students and families: Join us for an inspiring, music-filled and engaging virtual event at 7 p.m. today. 
---
Today's updates:
• A free COVID-19 drive-through testing site is open from 9 a.m.-5 p.m. at the TaxSlayer Center, 1201 River Drive, Moline, until Aug. 30. There may be long wait times.
If you have a positive COVID-19 test result (outside of the college's testing protocol), please call the college switchboard to report it, 309-794-7000.
• Seniors and commuter students can pick up their Welcome Boxes from 10 a.m.-5 p.m. today and Tuesday on the Quad next to the gazebo. Today's pickup is for last names A-L and tomorrow is last names M-Z.
• The Learning Commons is offering remote tutoring and help with writing, among other services, once classes begin.
• Augustana College Express Service (ACES) transportation around campus will be offered every day in a 14-passenger bus, allowing passengers to spread out a bit.
• The PepsiCo Rec Center and the Westerlin Activity Center are open starting today. Mask up and work out! (Details and hours)
• Attention employees: A limited number of Vikings Take Care yard signs is available free for pick up in the Founders circle
---
Dan Lloyd, head coach of our men's and women's swimming and diving teams, gets a photo of the progress on the Lindberg Center. Most recent progress: roof joists over the pool, plumbing and electrical for the locker room area, and footings for the therapy pool. Final wall panels were going up today! In this video, Coach Lloyd shares a list of innovations you will see in the new pool at Lindberg.
---