Campus update for Aug. 18, 2020
Aug. 18, 2020
Dear students,
Even though most of you are not here yet, the pace is picking up around campus. There is a lot to talk about and to learn.
For that reason, Campus Update will start arriving a little more often in your inbox: Monday-Wednesday-Friday for now.
Please read! And do not hesitate to ask a question or reply with a suggestion.
We keep all the Updates archived, in case you want to look something up.
---
If you bought a parking permit, you can pick it up at the Facilities Office in Sorensen Hall.
If you have not purchased a permit, no worries! You can still order one by mail OR, if you are on campus, buy one at the Facilities Office. 
Here are the details, and things you need to know before you go to Facilities.
---
Our annual Opening Convocation for new students and their families starts at 7 p.m. CDT this Monday, Aug. 24. Tune in on YouTube live for music and inspiration from our speakers, plus some surprises.
You'll hear from President Steve Bahls; Provost Wendy Hilton-Morrow; Dean of Students Wes Brooks; Monica Smith, vice president for Diversity, Equity and Inclusion; and Kaitlyn Watkins from the Student Government Association.
New students: Keep an eye out for your Welcome Week schedule.
---
Augustana Dining Services is now hiring students to work in the Gerber Center Dining Hall and Gus' Snack Bar for the fall semester.
If you are interested, fill out an application on Handshake.
Dining Services is the largest employer of students on campus. Supervisors will schedule around your classes and give you as few or as many hours as you want, within college guidelines. (You also get a free meal on each shift, so there's that!)
For more information, contact Brian Stone.
---
Today's updates:
• Financial Aid has added virtual office hours from 3-4 p.m. Tuesdays, noon-1 p.m. Wednesdays, and 10-11 a.m. Thursdays. (See all offices with virtual appointment and office hours.)
• Campus Cupboard is restocking, and will reopen in Sorenson 302 from 12:30-1:30 p.m. Aug. 26. 
• The required COVID-19 training for students has been delayed due to technical issues. Please keep an eye on your email for an update this week.
---
The Augustana men's basketball team drew 12,555 fans to Carver last season. That ranks us 10th for attendance among more than 400 NCAA Division III programs!
---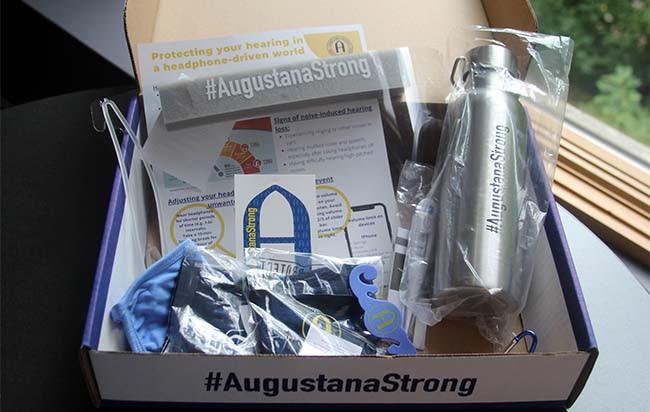 Thank you to our Office of Student Life students, who are working hard to get Welcome Kits ready for you. The kits will be available in the residence halls. Commuter students will be able to pick them up at OSL the first week of classes. Kits will include reusable face masks, among other handy items.
---