Campus update for April 28, 2021
April 28, 2021
New round of emergency grants to students
We expect to distribute pandemic emergency grants to students by Friday. This money comes from the federal Higher Education Emergency Relief Fund, and this is the second allocation. The first grants were distributed last May.
Grant amounts and eligibility are based on your FAFSA. Students who are receiving a grant will get an email notification.
Grants have been distributed directly to the bank accounts of students who signed up for direct deposit.
Otherwise, students can pick up their checks in the Business Office (second floor of Sorenson Hall) until Wednesday, May 12. Bring a photo ID or student ID. If a check is not picked up, it will be sent to the student's mailing address on file.
Checks will be mailed on Friday to distance learners.
For more information, email studentaccounts@augustana.edu.
→ See detailed information about emergency grants
---
Commencement notes and updates
Ceremonies are in person at the TaxSlayer Center in Moline, Ill.
Graduates themselves do not need a ticket. They will receive six tickets for guests.
Please do not share extra tickets with people outside your family. Seats are assigned. Using an extra ticket from another family would cause a mixing of groups, and that defeats efforts to mitigate COVID-19 transmission.
All commencement questions should go to tickets@augustana.edu or 309-794-7306.
 Hey seniors, don't forget!
You are invited to share a photo that captures the essence of your Augustana experience for a slideshow on graduation day. You have until May 7.
---
Grant to launch minor in integrative medicine and humanities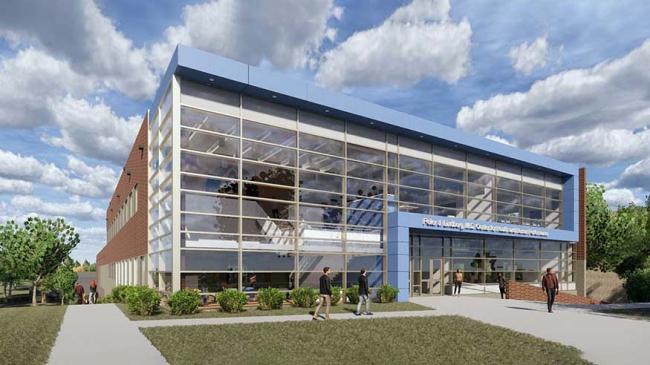 The minor and an internship program with UnityPoint Health will serve students who pursue pre-professional degrees in health care.
College planners expect to launch the new minor in the fall of 2023. → Read more
---
Today's updates
 It's time to start thinking about departure plans. Students should plan to move out of campus housing within 24 hours of completing their last exams, but no later than noon on Saturday, May 22. Use Housing Self-Service to indicate your move-out time or to ask for an extension. Check with your CA if you have any questions.
• Reminder: The dedicated Moodle app is not compatible with our service provider. You can navigate to a mobile-friendly Moodle or get a functionally identical app from the Apple or Google app store: Search for the OpenLMS app. 
• Taking Moodle quizzes and exams is best done from a computer with a wired Ethernet connection that is plugged in to power. Lab computers are a good place for this.
 Seniors, are you looking forward to the Last Lecture and Senior Toast!?
• Today is International Denim Day. People across the world will wear jeans with a purpose, support survivors, and educate themselves and others about sexual violence.
• The Scandinavian Studies student award is up to $500 for an outstanding paper or project on a Scandinavian-related theme. Deadline is May 21.
 Dr. Kathy J. Jakielski, professor of communication sciences and disorders, has received a Fulbright U.S. Scholar Program award to Cambodia. She will lecture and research at Paññāsāstra University of Cambodia, Siem Reap, as part of a project to introduce the science of speech-language pathology to students and faculty.
---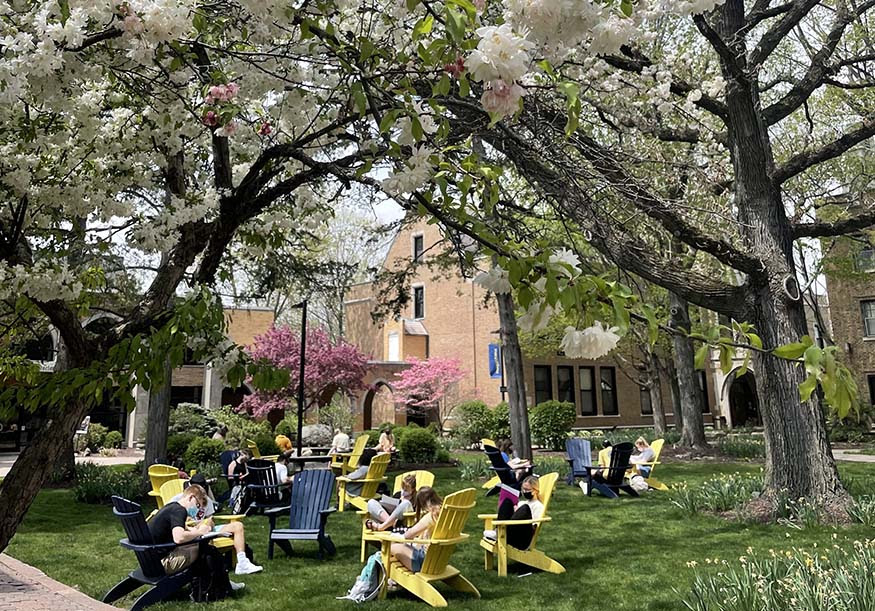 Dr. Jessica Nodulman's Comm-250 Health Communication class picks one of the best spots on campus for spring beauty.