Augie Choice helps students stand out
Augie Choice gives all students $2,000 to support a qualifying hands-on learning experience of their choice, such as international study, research or an internship. 
Augie Choice guarantees students the opportunity for the kinds of learning that will make them stand out when they start careers or go on to graduate school.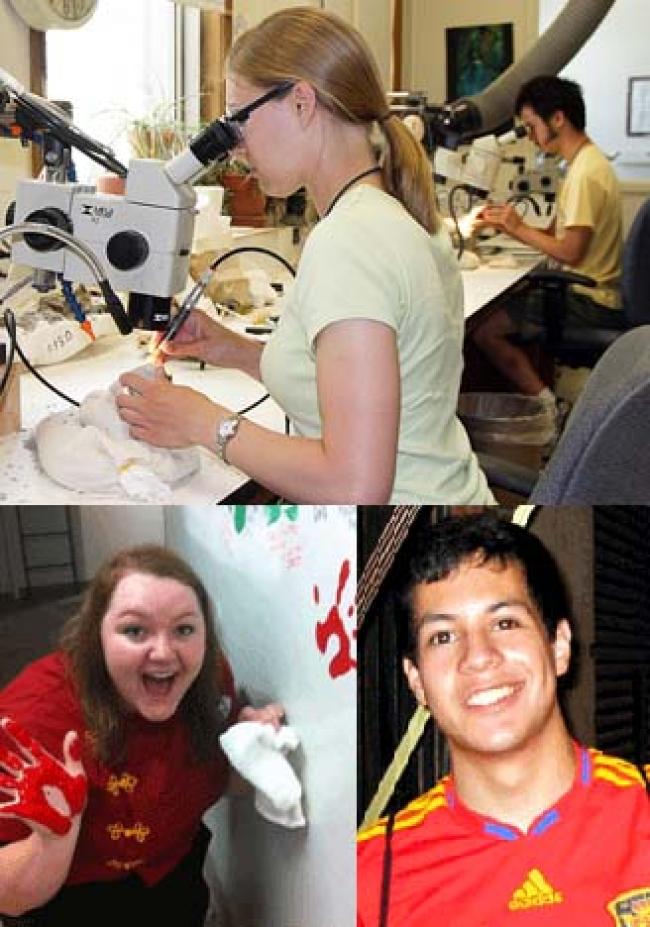 What would you choose?
• Emily Beatty '12 interned at the place considered the happiest on earth, leading guest tours at The Great Movie Ride at Disney's Hollywood Studios. With Augie Choice, she paid for travel and rent until her first paycheck. A communication studies major with a minor in sociology, she said, "Augustana has taught me not to accept what is; rather it has pushed me to ask questions and dig deeper. That foundation gave me a great reputation of dependability and a strong work ethic in this internship."
• Elizabeth Fisher '13 and Vernon Meidlinger-Chin '13 had summer internships at Chicago's Field Museum. Their stipends were paid through a National Science Foundation grant awarded to their professor, Augustana paleontologist Dr. William Hammer, while Augie Choice paid living expenses. At the Field, they learned to prepare fossil specimens and helped inventory the museum's fossil mammal collection. Back on campus, the two geology majors are using their new knowledge to work on dinosaur fossils Dr. Hammer discovered in Antarctica.
• Edwin Fonseca '12 studied Spanish in Salamanca, Spain, where he used Augie Choice to pay for trip excursions and other travel expenses. "I had a number of experiences in Spain that are irreplaceable… being in Spain when the country won the World Cup soccer championship is something I will never forget." With majors in accounting and international business and a Spanish minor, he now is interested in working in Spain or with a company that has a relationship with that country.
• Andrew Shaffer '11 spent a summer researching in Argentina, where he studied a method of popular social justice called the escrache. "My worked needed to be done on-site, in Argentina, and there is no way I would have been able to complete it without funds from Augie Choice." Andrew graduated from Augustana in history and is continuing his research at the University of San Francisco, working on a master's in international studies.
• Trung Nguyen '12 interned in the IT department at the Hanoi Stock Exchange in Vietnam, where he worked on a project to both increase the speed of and expand the amount of data on the system database. Trung is a math and computer science major with minors in physics and economics, and he used Augie Choice to cover travel. "Working at the Hanoi Stock Exchange gave me a lot of valuable experience, both in terms of learning the job and interacting with others…it's all thanks to the Augie Choice program that I was able to complete such an exciting internship."
Learn more: Contact Angie Williams in the Office of Career Development, third floor, Olin Center, 309-794-8612.