Library Student Employment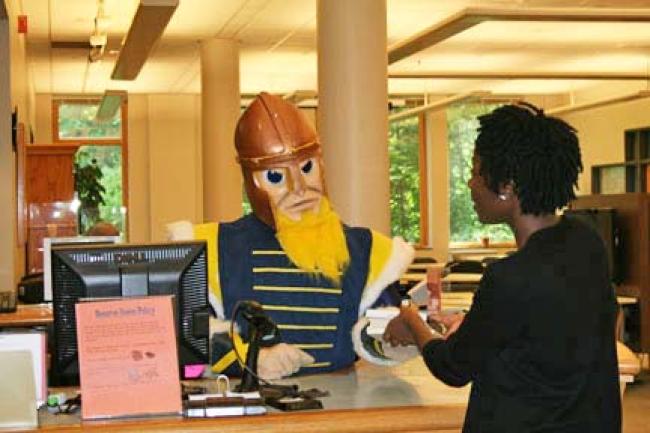 Hiring process:
All library jobs are posted to Handshake. For the most complete listing of open jobs, look at that website. This page provides information about the types of jobs for which we hire students, but does not reflect active job openings.
Each department has specific needs in regards to available working hours available. Therefore, if the application requires you to provide availability, it is in your best interest to list all hours you are available to work, not just your preferred hours.
Applicants are considered on the basis of skills, experience and hours available to work. Work study students are given priority in the hiring process.
Most library hiring takes place before the start of the academic year. Some departments conduct their hiring during the spring of the prior academic year.
Applications are maintained until the end of the current academic term, or the end of the fall term in cases where the application is filled out at the end of the spring term with fall term availability.
Student Jobs in the Library:
Circulation Student Assistant
Provides excellent customer service to all patrons, checks items in and out, assist in the overall maintenance of the library's collection (shelving and cleaning), scanning materials for electronic reserves, and special projects and general office duties as assigned by the supervisors.
Note:
Hundreds of applications are submitted each year for 20 or fewer open positions. Members of the library staff will directly contact those students we select for positions.
Circulation Student Supervisor
In addition to Circulation Student Assistant tasks, the Student Supervisor is responsible for supervising their peers, resolving patron issues, and assists with circulation reports and special supervisory tasks. These supervisors are hired from experienced Circulation Student Assistants.
Reference
Assists reference librarians with preparing materials for classes, designs and creates library displays, manages the upkeep of the reference area, and completes other special projects as assigned.
Research Help Desk
Please note: This position requires a separate application process, which typically occurs during the spring term for a fall start date. Please email anneearel@augustana.edu directly if you are interested in working at the Research Help Desk.
Responds to questions from students, faculty, and members of the public; questions range from general computer or printer issues to advanced and specialized research inquiries. A librarian will always be available during student shifts to provide support and respond to in-depth research questions.
Special Collections
Please note: This position requires a separate application process. Please email emmalincoln@augustana.edu directly if you are interested in working in Special Collections.
General clerical support, including data entry, filing, shelving, and making reproductions. There are some opportunities for upper-level student employees to assist researchers with reference requests, to index publications and photographs, to handle rare and fragile materials and write descriptions of such items, and to develop and curate exhibits. Working hours are generally between 1 and 5 pm, Monday through Thursday.
Technical Services/Interlibrary Loan
Process requests for interlibrary loan materials (print and electronic), shelve periodicals, maintain periodical stacks, assist with general office duties.