Special Collections Policies and Services
Use the menu below to learn more about the services we offer.
Reading Room Policies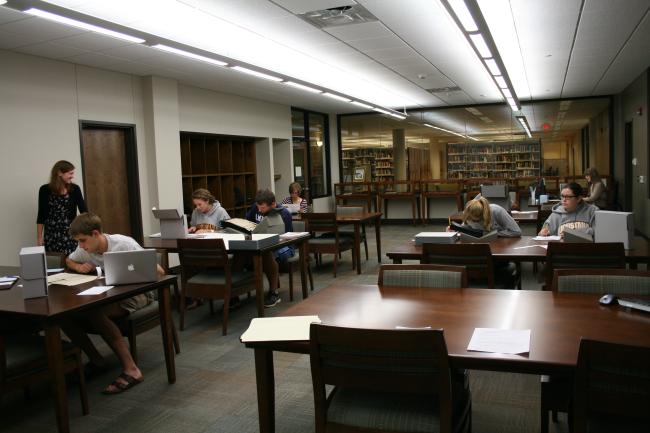 Special Collections strives to be a welcoming and flexible environment. The nature of our materials, however, means that we must take some extra precautions. On your first visit to Special Collections each academic year, you will be asked to fill out a registration card. On each subsequent visit you will be asked to fill out a materials request card.
Special Collections is a closed-stack, non-circulating facility. Requested materials will be retrieved by staff and must be used in the Reading Room.
Special Collections staff will be happy to help you determine which materials you need. Materials in Special Collections can be easily damaged by normal handling; we ask that you please be careful handling materials, follow all instructions from the staff, and make sure your hands are clean before handling materials. Materials must be kept on the Reading Room tables at all times and any supports provided for the materials must be utilized. Please leave manuscript materials in their existing order.
Pencils are the only writing instruments allowed in the Special Collections Reading Room. Please clear the use of a laptop computer, camera, or recording device with Special Collections staff. Note paper and essential reference books are the only materials allowed on the table top while Special Collections materials are present. Please place other materials, backpacks, and coats on the floor, your chair, or the hooks by the door.
Food and drink are not allowed in Special Collections.
Please set your cell phone to mute or vibrate and take any calls to the corridor outside Special Collections so as not to disturb other researchers.
Only work involving Special Collections materials is permitted in the Special Collections Reading Room.
Instruction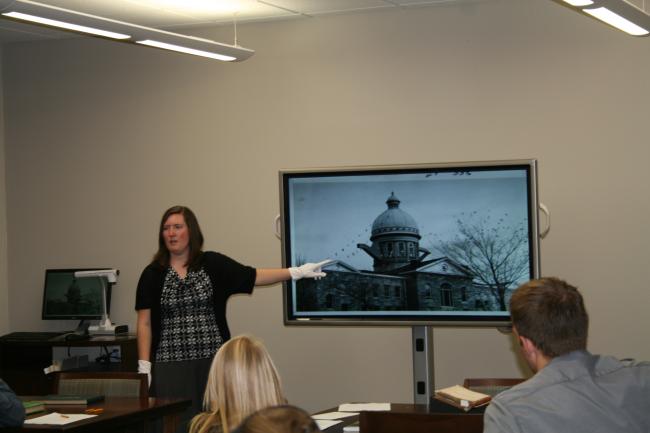 Special Collections welcomes and encourages the use of our material by classes and individual students. As the repository for rare books and manuscripts at an undergraduate liberal arts college, part of our mission is to support the Augustana College curriculum and to assist in faculty teaching and student learning.
Working with Special Collections materials gives students a unique experience using original primary source documents. Special Collections has conducted instruction sessions for a wide range of classes, from first-year Liberal Studies classes to Senior Inquiry seminars, and in a wide variety of disciplines including English, history, women's and gender studies, art history, anthropology, and geography. Both introductory and in-depth instruction are available, and include hands-on use of the materials in Special Collections. Instruction sessions are planned in consultation with the course instructor.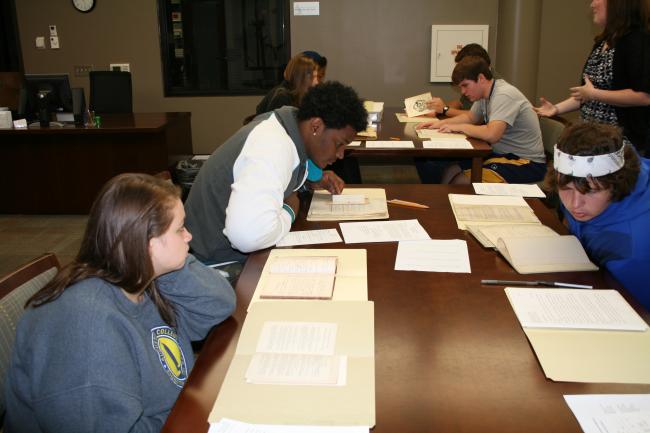 If you are interested in scheduling a class session in Special Collections, designing an assignment using Special Collections materials, referring a student to Special Collections, or are wondering whether Special Collections has materials relevant to a class you are teaching, please contact Special Collections Librarian Emma Lincoln.
Reproductions
Photocopy, digital image, and digitization requests must be evaluated by staff to determine the suitability of materials for reproduction. Turn-around time on reproduction orders will depend on the number of reproductions requested and the availability of staff time. 
Pricing for Reproductions
Books, manuscripts, and archival materials
PDF photocopies & high-resolution images, Augustana community: $0.20/scan
PDF photocopies, other: $0.20/scan
High resolution digital images, other: $5.00/scan
CD to store digital images: $1.00
Digitization of manuscript materials: $30.00/folder or volume
Reproductions will be delivered via email attachment, Dropbox, or on a CD. 
Use of Special Collections material in publications must be approved by Special Collections staff. We reserve the right to charge a fee, separate from the reproduction fee, for the use of our materials in publications. The following credit line is required if material from Special Collections is used in a publication: Special Collections, Augustana College, Rock Island, IL.
Audiovisual materials
CDs and DVDs: $5
Audiocassettes: $35
Vinyl records: $55
Open reel audiotape: Contact for price
Transcription discs: $120/side
VHS videotapes: $20
Mini DVs: $20
U-Matic videotapes: $45
Betacam videotapes: $35
Open reel videotape: Contact for price
Video-8 videotapes: $35
Film: Contact for price
Above fees do not include shipping charges or necessary conservation treatment charges. Reproductions will be delivered via Dropbox or CD/DVD. 
Most audiovisual media cannot be reformatted in-house and must be sent to a third-party vendor for transfer. As such, researchers should allow up to 12 weeks for processing. 
Loans
To encourage access, support research, and promote awareness of its collections, Augustana College Special Collections may arrange to lend materials to donors or other institutions for exhibition. Loan requests are approached in a spirit of collaboration with a willingness to provide access through the most suitable means, with the understanding that Special Collections has an ethical responsibility to safeguard materials for future research use. 

Special Collections loans material to its original donors/donor organizations and other approved institutions for the purposes of display or exhibition only. Under no circumstances shall material be loaned to any organization or individual for research use. Researchers unable to travel to the Thomas Tredway Library to access material for research use should contact Special Collections to discuss alternative means of access, such as reproduction.
In order to allow sufficient time to prepare materials for shipment, borrowers should submit a loan request no less than three weeks prior to the desired date of receipt. All loans must conform to Special Collections' Conditions Governing Loans and must be approved by the Special Collections Librarian. Special Collections reserves the right to deny a loan request if environmental conditions surrounding the proposed exhibition or display of material is unsatisfactory. Special Collections staff will adequately pack materials for transfer to the borrower and instruct the borrower in the proper handling and packing of Special Collections materials for return. The borrower should be prepared to assume any costs associated with the loan. Materials must be returned by the date stipulated in the loan agreement.
Please contact Special Collections if you have any questions about our loan policies or procedures or if you would like to initiate a loan request. These policies conform to the most recent ACRL/RBMS Guidelines for Interlibrary and Exhibition Loan of Special Collections Materials.