Frequently Asked Questions
Computers
There are computer labs available on the 2nd, 3rd, and 4th floors of the library.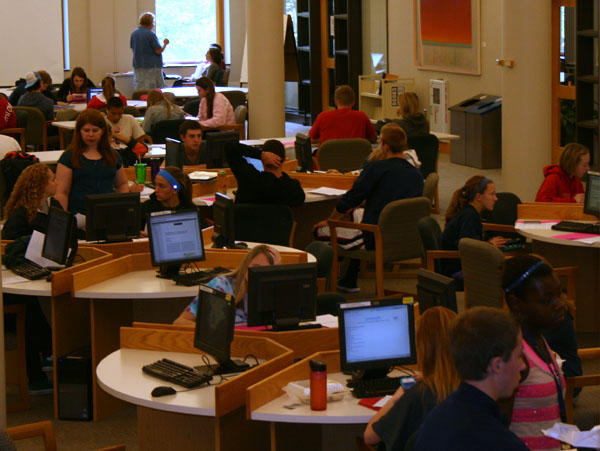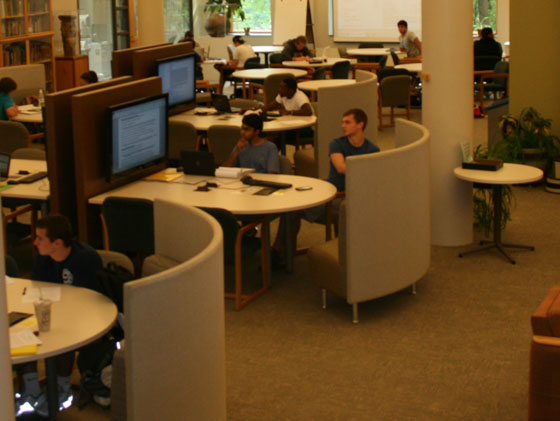 In addition to the computer labs, we have laptops available for check out at the 2nd floor circulation desk and the 4th floor Information and Library Services desk (across from the Brew servery).
Printing
Printers are available throughout the library.
2nd floor:
Library Find-Me Printing - card swipe print release on all black and white printers on the 2nd floor
Color printing on Library2ndFloor-Color (only direct print option)
3rd floor:
Printer is located in the computer lab, across from the elevators
4th floor:
Printer is located next to the entrance to the Reading/Writing Center
Papercut Account:
If you have run out of your annual printing allotment, you can purchase a Papercut card for $5 at the 2nd floor circulation desk.
To redeem your Papercut card:
Go to printing.augustana.edu.
Log into your account using your Augustana username and password.
Click on "redeem card".
Enter the card number listed on the card you just purchased.
How-to videos
The super-short video tutorials listed here are a great way to learn more about using the library. Each video is less than three minutes.
How can I find a book in the library?
http://www.screencast.com/t/HhvEB1vI
What is I-Share? And how can I use it to order a book?
Quick definitions
You've probably come across these library words before. Here's what they mean:
Article: A written composition published in a periodical. Generally speaking, articles are more narrowly focused than books.
Database: A database is an online collection of information in the form of full-text articles and/or citations. Databases are searchable in order to locate and sort information by topic/subject, author, title, and more.
Interlibrary Loan: A system that allows you to order books, articles, and other materials from other libraries across the country.
I-Share: A catalog of all the materials held by over 80 libraries across the state of Illinois. You can use I-Share to order books that our library doesn't own.
Journal: A type of periodical that publishes scholarly articles.
Periodical: A publication -- such as a journal, magazine, or newspaper -- that is published at regular intervals, such as weekly, monthly, quarterly, or semi-annually. This on-going publishing schedule is one characteristic that distinguishes periodicals from books.
Popular sources: A popular source is typically written by a journalist for a general audience. Usually found in magazines, popular articles are brief (a few pages) and may include photographs or other eye-catching images. Popular articles do not offer the same level of in-depth research that scholarly sources do.
Primary sources: A primary source is an original material created within the cultural / historical context of the time period being studied. For example, if you are researching some aspect of the Civil War, primary sources could include: a newspaper article published during the war, the text of a speech delivered by President Lincoln, a diary entry written by a Union or Confederate soldier, or a legal document or map or letter created during the 1860s.
Scholarly sources: This type of source is written by an academic or researcher -- someone who has a background in the field and has expert knowledge on the topic. Likewise, their targeted audience is often other academics, students, or researchers. They are often published by a university press. Scholarly sources show evidence of thorough research in the form of numerous in-text citations and a lengthy bibliography. They tend to be long (20+ pages for a scholarly article is common) and because they use technical language specific to the field, they can be difficult to read unless one has a background in the subject. Scholarly sources are often described as peer-reviewed because they are only accepted for publication upon review by a panel of judges (other experts in the field). This helps to ensure that scholarly sources are high quality, reliable, and authoritative sources.
Secondary sources: A secondary source synthesizes other sources (sometimes primary sources) and offers analysis or commentary on a particular topic. Seconary sources can be popular or scholarly.
Study rooms
The primary purpose of the library's study rooms is to serve the academic needs of students at Augustana by providing space for them to study in a quiet space, meet with others to discuss group projects and work in conjunction with one another in an interactive setting. Study rooms are available for check-out only by members of the Augustana community.
The library has 9 study rooms available for check out at the 2nd floor circulation desk.
The 7 study rooms located on the 3rd floor are intended for groups of 1-4 people, and the study rooms each have a dry-erase board.
The 2 study rooms located on the 2nd floor are intended for groups of 4-10 people. The study rooms have a dry erase board and group media station, with plug ins for laptop content to be shown on the larger screen.
These rooms are available for 4-hour check out on a first come, first served basis. They may not be reserved in advance and are not intended for use as classrooms or meetings on a regular basis. On rare occasions, small group library instruction sessions may be held in a large group study room.
Exceptions to this policy may be made during term breaks and in the summer months.
Reserving the 4th floor computer lab
The primary purpose of the 4th floor Library computer lab is to serve the academic needs of students at Augustana by providing an open computer lab and a place for library instruction.
The lab will be open for student use when no other activity is scheduled. This use preserves the presence of a computer lab on the library's fourth floor.
Library instruction sessions are the main scheduled activity that will take place in the lab, and have priority in its use.
If no library instruction classes are scheduled, other departments may schedule the lab for a session that requires participants to use computers. Staff of these departments should contact Vicky Ruklic (x7266) to reserve the room. Other than for library instruction, the lab will rarely be reserved more than one week in advance. Due to heavy use by students during 8th, 9th, 10th, and Finals week, the lab will not be reserved for other use at those times.
All non-library requests to reserve the computer lab must be submitted to Vicky Ruklic. Term-long classes and regularly-occurring meetings will not be scheduled in the fourth floor lab.
Exceptions to this policy may be made during term breaks and in the summer months.
Gerber Center digital image policy
Groups or organizations who wish to post ads on the digital signage in The Gerber Center (near the 4th floor information desk and Gävle rooms) need to follow these guidelines.
How to submit a banner ad for The Gerber Center digital signage:
1. Precedence is given to functions which are open to all students and hosted by a department based inside The Gerber Center or a function held within The Gerber Center itself
2. Submissions must be received by email at least 10 days before the event.
a. Student banners will be submitted through the Office of Student Life (tiafuhr@augustana.edu)
b. Campus departmental banners will be submitted through the Library (vickyruklic@augustana.edu)
3. Information about the event must include the title of the event, a short description of the event, time, and place.
4. You may submit a finished banner ad (graphic) or simply the information needed. If you have a photo you wish to have used in the ad, please include that at the time of submission.
5. Ready-made banners must be .jpg, .jpeg, or .png.
6. Each submission must have the name and email address of a person who may be contacted for more information about the event.
7. You must include the dates when you wish to have the ad displayed.
Tobacco
As required by Illinois law, all Augustana College buildings are smoke-free, and the use of tobacco, including smoke-free products, is prohibited within campus buildings. This policy also includes e-cigarettes. Smoking, vaping and the use of smoke-free tobacco products is allowed only in designated areas that are at least 15 feet from entrances, exits, windows that open, and ventilation intakes.  Additionally, smoking, vaping and use of smoke-free tobacco is not allowed in college-owned vehicles by drivers or passengers.