2018 fall term in Siena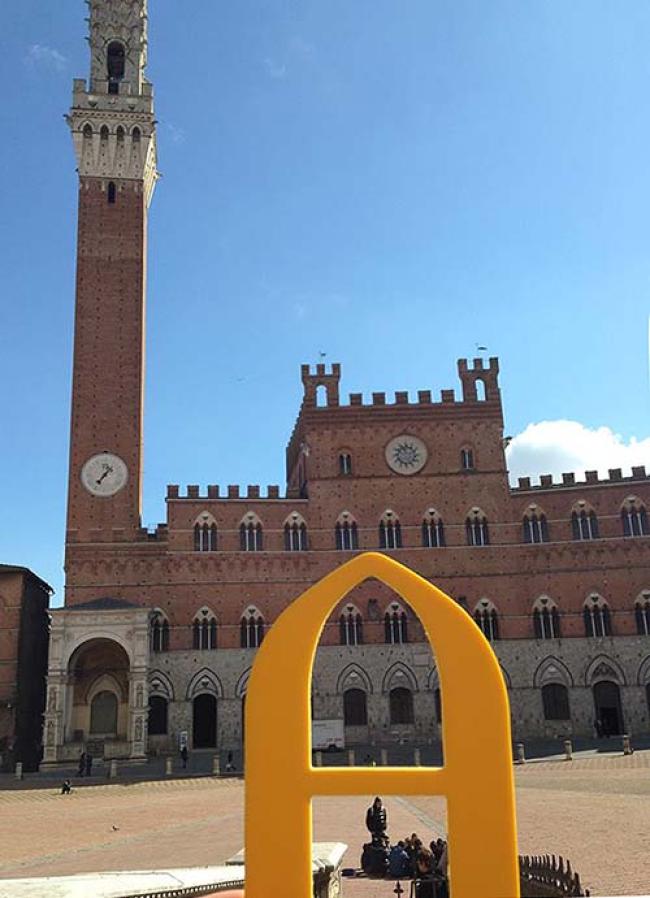 Applications for 2018-2019 are now closed.  If you wish to be added to an alternate list for this program please contact the IOP Director at internationalprograms@augustana.edu.
Augustana partners with IES Abroad for this program open to all majors, with options for coursework that will allow students to study the region's glorious past and complex present. 
All participants will study introductory Italian language to better get to know the people and culture. In addition to Italian, students will be able to choose up to three additional courses taught in English. 
With side trips to Florence, the Chianti and Amiata regions and an overnight excursion to Bologna, this program provides opportunities to learn much about Italy and its people. 
Program dates:  Aug. 27 - Nov. 5, 2018
Eligibility: This program is open to all Augustana students in good academic standing (2.0 GPA or higher). The program has a cap of 24 students. If more students should apply, a selection process will be used to determine the roster and a short alternates list.
No prior knowledge or study of Italian is required for this program. All coursework other than the required Italian language course is conducted in English.
Recommended for: This program is open to all majors. Students with an interest in history, art history, languages, religion, business and economics should find this program to be of particular interest. 
Once courses are selected for the 2018 program, the emphasis of the program may be adjusted to match the pool of courses to be offered. 
Anticipated program cap:  24 Students
Faculty contact: Dr. Amanda Baugous (Business) or Dr. Peter Xiao (Art)
Housing: Students will be housed in shared furnished apartments in Siena. Meals are not provided but all students will have kitchen facilities.
Academics: This program in 2018 offers the Augustana/IES courses listed below. Students may opt to enroll in three courses plus the one-credit seminar for a total of 10 credits. They may also opt to take all four courses plus the seminar for a total of 13 credits.  
Students who opt for the 13-credit option should be careful not to create overloads for the remainder of the academic year. 
This program is designated as a Learning Community.
ISS 132: Italian Term Seminar ― This one-credit culture seminar is required of all participants. It will include pre-departure sessions offered in the spring 2018 and on-site meetings and assignments in Siena. This course will be led by Dr. Amanda Baugous and Dr. Peter Xiao.
ITAL 150: Beginning Italian ― This course is required of all participants unless a student can demonstrate prior study of Italian. It is an introduction to basic Italian, including the vocabulary and expressions which will be of most use living and studying in Italy. This course will be taught by local Italian faculty.
BUSN 389: Informed Consumerism in a Borderless World ― This course will study the economy from the perspective of production, distribution and consumption of key products of Italy, including wine and automobiles. This course will provide historical context but will also look at today's economic environment, the role of the European Union, national and regional laws and structures which impact the production, sale, export and marketing of vital products in the Italian economy. This course will be led by Dr. Amanda Baugous.
ART 301: Drawing In Situ (PA) ― This course combines introduction of drawing fundamentals with art appreciation in the context Siena, Florence & Tuscany. Students will approach art, architecture and local scenery through structured development of drawing techniques and color usage and concepts. In the case of Siena, this course will allow students to explore the artistic treasures of Sienese and Florentine museums, architectural gems and unique neighborhoods, granting them the opportunity to combine appreciation for the culture, history and artistic production of the region with their own artistic self-discovery.   
ECON 370: Topics in International Economics: Italy and the Economic Integration of Europe ― This course focuses on economic policies implemented by the EU and the effects of these policies, with a special focus on the impact on Italy of membership in the European Union (EU), The first part of the course analyzes the institutional assessment of European Union. The course then examines economic policies of European Union with an emphasis on monetary policies. The third part of the course analyzes European economics policies and looks at the effects of those policies. In all sections of the course special attention is devoted to the Italian case.  This course will be taught by local Italian faculty.
Due to the nature of the coursework in Italy, it is recommended that all students enroll in the ISS Seminar, Italian language course and only two more courses of the 3 offered.  While taking all three electives is not forbidden, it is believed that a heavy 13-credit load on this program will negatively impact the experiential component of the program.
If students choose to pursue a study abroad experience that takes them into a credit overload, those will lead to additional overload fees owed to the college and billed during the student's final term of that academic year.
Program cost: The cost for 2018 is tentatively set at $16,100.
Program cost compared to campus: The program fee is approximately $1,400 below what the college anticipates fall 2018 tuition, room  and board charges to be for the term in Rock Island. When the estimated $3,000 in out of pocket expenses for airfare and meals are added the a total cost to students is expected to be $19,100, roughly $1,600 above the same term on campus. 
This means that students who utilize the $2,000 Augie Choice grant should actually see a savings of $400 compared to a term on campus. 
Cost includes: Tuition and fees, accommodation in shared apartments in Siena, airport pickup and transfer from Florence to Siena, all group excursions, health insurance, Access to IES Siena library and computer lab, 24/7 IES emergency support. 
Cost does not include: airfare to/from Florence, meals, independent travel or discretionary spending. These out-of-pocket expenses are estimated at $3,000.
Financial aid:  Students participating in this program are eligible for the same grants, scholarships and loan eligibility while abroad as they would be for this trimester on campus.  When billed for the program each student will receive a detailed billing statement which reduces the cost of the program in accordance with the student's anticipated financial assistance.  

Augie Choice: This program is Augie Choice eligible for all students who have completed three terms or 30 credits (sophomore status) or higher at the time of departure. Transfer students who have also completed three terms or 30 credits at Augustana are also eligible for the Augie Choice grant.