Study away term or semester in Sevilla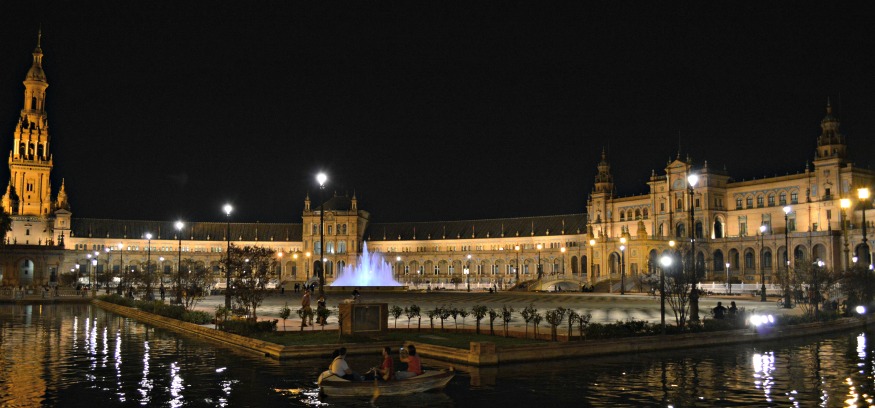 Applications for 2018-2019 are now closed.  If you wish to be added to an alternate list for this program please contact the IOP Director at internationalprograms@augustana.edu.
Affiliated Spring Semester in Spain Program
January to May
The Sevilla semester program is a Spanish immersion program for students who have completed Spanish 203 or higher at Augustana. 
With an affiliated program, Augustana students withdraw from Augustana to enroll directly at the Center for Cross-Cultural Studies in Sevilla during the Augustana's winter and spring terms. The program has been pre-approved for transfer coursework in Spanish and other fields, including Learning Perspectives, but it does not offer a Learning Community designation. 
Also, because this program requires withdrawal from Augustana, financial aid packages do not travel with students, though some federal aid is available to those who qualify. 
Eligibility: This program is recommended for Spanish majors or minors and requires prior completion of Spanish 203. Student must have no fewer than nine credits of Spanish at Augustana with a 3.0 GPA prior to application for the program. Students who wish to do an internship for three credits must be approved by both Augustana College and the Center for Cross-Cultural Studies. 
Recommended for: This program is open to all majors, however, due to the intensive language focus and the requirement that students complete Spanish 301 or higher as a prerequisite, the program will be of particular interest to any student completing a major in Spanish or Spanish for professional use.
Not recommended for: This program is not recommended for any student in their final year at Augustana. Due to the expectation that the final 24 credits of study be completed at Augustana, participation in this program, which requires withdrawal from Augustana and transfer of credits back to the College, would require special dispensation from the college.
For this reason this program is only recommended for those students who plan to return to Augustana the following fall for at least one more year of study.
Program schedule: This is an annual offering, with students traveling in Spain for the January-May duration of the program. Students study at Augustana for fall term and have free the period between the end of fall term and the January departure for Spain. 
Students on this program MAY NOT enroll in December five-week courses on campus as they will be withdrawn from Augustana for the entire winter term. 
Applications to CC-CS are due in October. Augustana applicants can work with International & Off-Campus Programs to complete required forms during spring term and summer the year prior to the enrolling in the program.
Program fee: For upcoming program fees for next year, visit the Spanish Studies Abroad website. Students enroll in the spring semester + J-term program offered by CC-CS and Spanish Studies Abroad (SSA). 
Augustana Financial Aid is not available for this program, however Augie Choice and Federal Aid programs are available for those who qualify. For many students the cost of attending the SSA school in Sevilla for a semester, even without financial aid from Augustana, is comparable to the cost of remaining at Augustana for the two trimesters the program replaces. This program is designed to offer equivalent credits for two terms Augustana.
Financial aid
Students who withdraw from Augustana in order to participate in this program will not be eligible for standard Augustana financial aid, however they may still be able to utilize targeted grants such as Augie Choice or Freistat Center Grants for Language Immersion. 
Students interested in this program should discuss grant options and financial aid planning with both the Director of International & Off-Campus Programs and the Director of Financial Assistance at Augustana prior to departure.
Freistat Grant: Students on the affiliated semester program can apply for Freistat Language Immersion Grants. These grants are competitive and students must apply the year prior to participation (January/February 2017 for the 2018 spring program). 
Grants can range from $500-$2,000 or more.  
Augie Choice: This program is available for Augie Choice to any student who has completed 6 terms or 60 credits at Augustana prior to departure in January. 
Course list:  All participants enroll in 18 credits during the January and spring semester program. This is organized into two immersion language sessions in January and February, followed by a Spring semester of three courses. 
The intensive language sessions transfer to Augustana as Spanish 314, two credits of Spanish 310 and three credits of Spanish 300-level elective. During the Spring semester, students take a one-credit language skills course (included in the 310 credits) and three elective courses. 
Elective courses transfer either as direct equivalents to Augustana coursework (SPAN 322, 331, 328, 315 or BUSN 405) or as 300-level elective credits with Learning Perspective approval (PP, PS).  Students may also opt to enroll in an internship program equivalent to three credits as one of their Spring courses.
For more information on the semester program:
Augustana College, in affiliation with the Center For Cross-Cultural Studies and Spanish Studies Abroad, offers two different options for a trimester or a semester in Sevilla, the heart of southern Spain. Each program offers students the opportunity to live with a family in Sevilla, study from a range of courses in Spanish and earn credits towards their Augustana degree.
This customized 10-week program is designed to offer Augustana students an opportunity for a full term abroad in the sunny Andalucia region of Spain. Study, intern and explore southern Spain as you take courses from the Augustana catalog.  All coursework is in Spanish and parallels coursework offered on campus.
Faculty contacts:  For more information, contact Dr. Araceli Masterson or Dr. Ana Bordería-García
Eligibility: This program is open to any Augustana student who has met the following requirements:
College GPA of 2.0 or higher AND GPA in Spanish of 3.0 or higher.  Additional GPA requirements may be necessary for internship eligibility.
Completed no fewer than three Spanish courses at Augustana, including either Spanish 301 or 305, prior to fall 2017
This program has a cap of 20 participants. If a greater number of students apply, Augustana may utilize its selection process, which combines GPA and academic year to determine the program roster and a short list of alternates. Students must apply during the November-January application period to be considered.
Recommended For: This program is open to all majors, however students must have completed through Spanish 301 or higher in order to qualify.  For this reason, this program is of particular interest to students completing a Minor, Teaching Major or SPAN and/or SPPU Major in Spanish. 
Anticipated Program Cap:  20 students
Program Schedule: Aug. 28-Nov. 4.  Orientation meetings were held on campus in spring 2017.
Housing: Students will be housed with families throughout Sevilla.  Partnering organizations Spanish Studies Abroad and the Center for Cross-Cultural Studies have been working with local families since it opened its doors to students in the 1960s. 
Each student will have a private room and each Augustana student will be placed with a different family, though there may be other international students living in the same home. Housing includes laundry and three meals daily as part of the program. 
Course information
All courses, with the exception of one taught by the Augustana program director, will be taught by local faculty through the Center for Cross-Cultural Studies. This program is approved as an Augustana Learning Community. 
The program includes the following course options, from which a student may enroll for either 10 or 13 credits:
ISS Seminar on Spanish Culture (1 credit): This course is mandatory for all program participants and includes assignments completed both during the spring pre-departure meetings and on-site in Sevilla.
Spanish 345: Topics in Spanish Literature (PL 3 credits)
Spanish 314: Advanced Grammar (3 credits) 
Political Science 377: Politics & Economics of Spain (PS 3 credits).
Spanish Internship (3 credits): Requires additional application and approval by Spanish Studies Abroad.  May require a higher overall GPA of 2.5. 
Students should plan their academic coursework for the year to avoid course overloads. If students choose to pursue a study abroad experience that takes them into a credit overload, those will lead to additional overload fees owed to the college and billed during the student's final term of that academic year.
Cost
This program is budgeted with a fee of $16,730. A final cost is dependent upon student enrollment. 
Program cost compared to on-campus fall term: The anticipated cost is about $270 below the anticipated on-campus charges for fall 2017. The Spain program should not cost students more than a term at Augustana. 
Includes: Ground transportation, tuition, accommodations, full board (meals provided in homestay housing), group excursions and international health insurance. 
Does not include: The program fee does not include airfare or discretionary spending.  We anticipate that the out-of-pocket costs will be between $2,000-$2,500 depending on a student's independent travel or use of discretionary spending.
Financial aid
Students participating in this program are eligible for the same grants, scholarships and loan eligibility while abroad as they would be for this trimester on campus.  When billed for the program each student will receive a detailed billing statement which reduces the cost of the program in accordance with the student's anticipated financial assistance. 
Freistat Grants: Students on this program can apply for Freistat Language Immersion Grants.  These grants are competitive and students must apply in winter 2017. Grants can range from $500-$2,000 or more.   

Augie Choice: This program is Augie Choice eligible for all students who have completed six terms or 60 credits (junior status) or higher at the time of departure. Transfer students who have also completed three terms or 30 credits at Augustana are also eligible for the Augie Choice grant.