2017 fall term in Brazil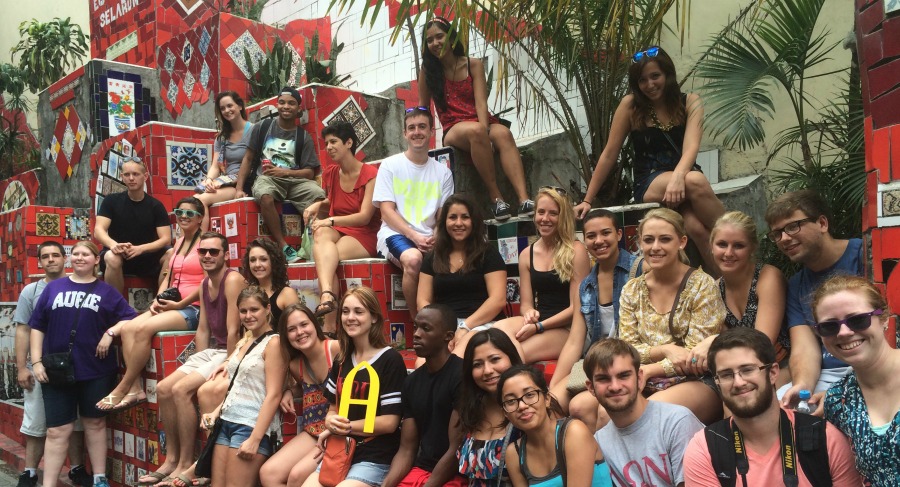 Applications for 2018-2019 are now closed.  If you wish to be added to an alternate list for this program please contact the IOP Director at internationalprograms@augustana.edu.
The goal of this program is to examine the development and diversity of Brazilian society, with a special emphasis on its artistic and musical expression, history and politics. The program offers a first-hand experience, partly in homestays, that fosters student understanding of Brazilian daily life, social norms, and cultural traditions. 
Some of the planned activities include:
Attending a soccer game
Demonstrations of capoeira (Brazilian martial arts)
Visit Samba school and Samba nightclub - learn to samba
Visit Afro-Brazilian religious ceremony
Cooking lessons
Visit Maracanã stadium & other Olympic sites
Itinerary: Students will spend the first five weeks of the 2017 fall term on campus in Rock Island, where they will begin their coursework. This includes the one-credit PE course on the music, dance and culture of Samba, as well as the ISS culture seminar. 
At the mid-point of the fall term, students will have a week off to go home and finish getting ready to travel to Brazil. Students and faculty then travel to Brazil for five weeks.
The program spends two weeks in Rio de Janeiro, Brazil's second largest city, followed by three weeks in Salvador, home to the largest number of Afro-Brazilians in the entire country, where students will be housed in homestays.
Eligibility: This program is open to all students with a 2.0 GPA or higher, but does have a target enrollment of 20 students and may be competitive. If more than 20 students apply for this program the college's selection process may be utilized.  This process uses student GPA and academic year as guidelines for selection to the program.
No prior study of Portuguese language is required. Portuguese essentials will be included in the ISS seminar course.
Recommended for: This program is open to all majors. Students in the fields of political science, economics, Africana studies, Latin American studies, sociology, history, business and international business may find this program particularly engaging.
Anticipated program cap:  26 students
Faculty contact: Dr. Mariano Magalhães
Academics: Students must enroll in all four courses included in this program for a total of eight credits. Students who wish to enroll in additional five-week courses during the first five weeks of fall term may elect to do so.
This program is designated a Learning Community (LC). 
Courses offered include:
ISS 311: Brazil Seminar (1 credit)

Includes on-campus orientation, Portuguese language lessons, cultural studies and ongoing seminar activities, assignments and discussion sessions while in Brazil.

HEPE 230: Dance & Music of Brazilian Samba (1 credit)

An introduction to Brazilian Samba, taught on campus during the first five weeks of fall term.

ECON 406: Economics of Development (PH, G)

A study of developmental economics with Brazil as the case study. No prior study of economics is required. 

POLS 348: Politics of Brazil (PS and G)

An exploration of the realities, complexities and promise of Brazilian democracy. No prior study of political science is required. 
Students should plan their academic coursework for the year to avoid course overloads. If students choose to pursue a study abroad experience that takes them into a credit overload, those will lead to additional overload fees owed to the college and billed during the student's final term of that academic year.
Cost information
Program cost: $15,650  
Program cost compared to fall term on campus: On campus costs for fall term, including housing and meals ,are $17,000. If we calculate the Brazil program fee of $15,650 and an estimate of $1,700 for room and board during the first half of fall term (spent on campus), the total cost for the Brazil term for a student living on campus would be $17,050. That is total of $50 more than staying on campus for the fall term. 
With Augie Choice, that means a student could expect a savings of between $1,500 and $1,950 (some of which would be used for food and discretionary spending in Brazil.)  Students living off campus will need to arrange for their absence, but may save even more by participating, depending on their housing arrangements. 
Program cost includes: Tuition, airfare, ground transportation, program excursions, accommodations, Salvador homestays (with meals), group meals, and health insurance. 
Program cost does not include:  On-campus housing costs for the first five weeks of fall term, visas for entry to Brazil ($200), individual meals in Rio, discretionary spending in Brazil.  Augustana estimates an additional out-of-pocket budget of $500-$700 for these items.
Additional housing costs depend on student housing arrangements for on-campus or off-campus housing and a meal plan (if appropriate). 
Financial aid
Students participating in this program are eligible for the same grants, scholarships and loan eligibility while abroad as they would be for this trimester on campus. When billed for the program, each student will receive a detailed billing statement which reduces the cost of the program in accordance with the student's anticipated financial assistance.  

Augie Choice:  This program is Augie Choice eligible for all students who have completed three terms or 30 credits (sophomore status) or higher at the time of departure (fall 2017).  Transfer students who have completed three terms or 30 credits at Augustana are also eligible for the Augie Choice grant.
Campus housing: Students who live on campus during fall term 2017 may opt to either reserve their rooming assignment while away in Brazil by paying room fees for the entire term rather than for the first half only. These students may leave their possessions in the on-campus housing for the remaining weeks of fall term and will return to the same housing for winter term. 
Students who do not wish to have full-term housing may pay for only the first half of fall term, move out prior to departure for Brazil and then receive a new rooming assignment upon their return to campus. Augustana cannot guarantee that these students will be returned to the same housing arrangement they left earlier in the year.