2019 spring term in Amsterdam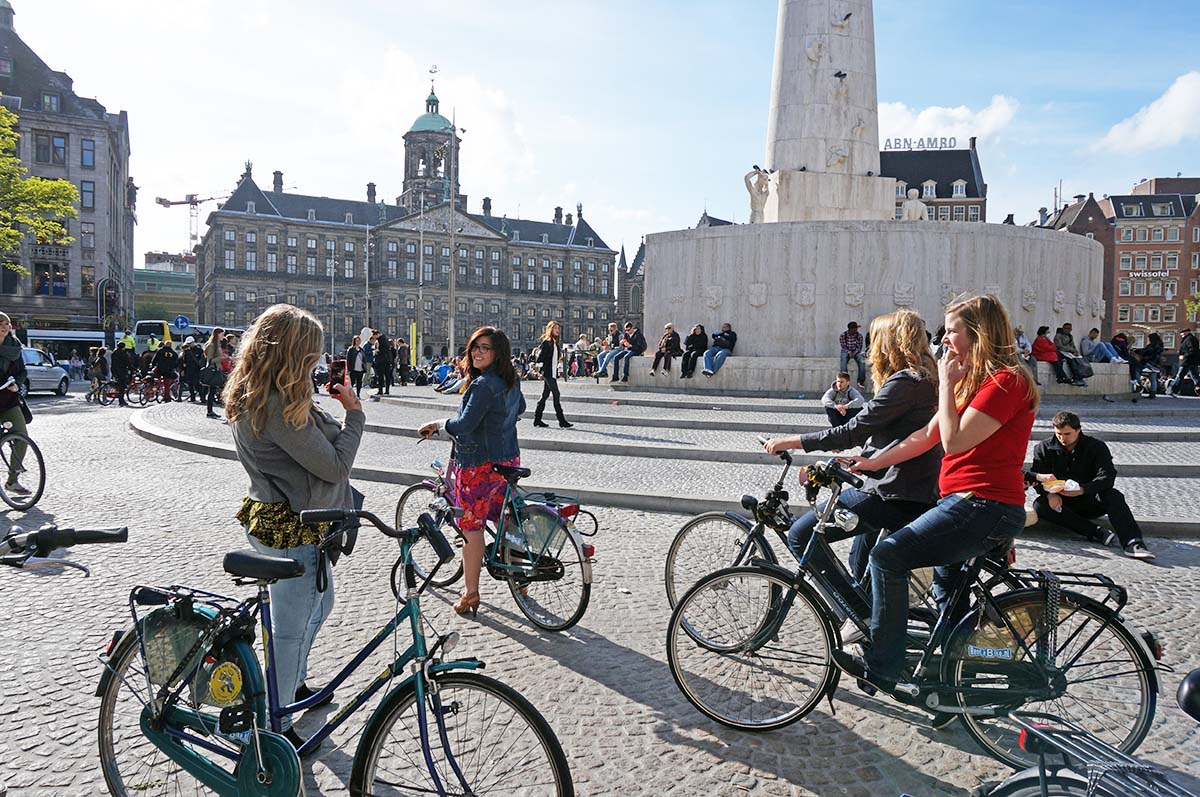 Late applications for this program are being accepted on a first-come, first-enrolled basis until each program is filled to its capacity.
• Get application instructions
Amsterdam Term offers students the chance to live the life of a thriving, progressive and cosmopolitan European city. Students will live in the heart of the city, use bicycles as mass transit and take classes with both Augie faculty and local experts.
Program dates: March 4- May 13, 2019. Pre-departure orientation meetings will be held on campus during winter term 2018-19.
Faculty contacts: Prof. Taddy Kalas (WLLC) or Prof. Vickie Phipps (GRD)
Eligibility: This program is open to all students with a 2.0 GPA or higher. The program has a target enrollment of 20 students and can be competitive. If more than 20 students apply for this program the college's selection process may be utilized. This process uses student GPA and academic year as guidelines for selection to the program.

Recommended for: This program is open to all majors. Students with interest in art, art history, graphic design, European history, world literature, gender and sexuality, or cultural studies should find this program to be of particular interest.
Anticipated enrollment cap:  24 students
Academics 
All students are required to enroll in the one-credt ISS Seminar and no fewer than three of the three-credit courses provided on the program. Students may opt to enroll in all four of the three-credit courses, but this is not recommended as it leads to a heavy course load which may detract from the experiential learning possibilities of the overseas program. 
Additionally, students must pay close attention to their course load during the 2018-2019 academic year so that the 10-credit or 13-credit load of the program does not lead to a credit overload for the year. Students who overload will be required to pay additional credit overload fees. 
This program is a Learning Community designated program and several courses will offer Learning Perspectives. 
Courses for the 2019 program are:
ISS 314: Seminar In Dutch Culture:  Team taught by Profs. Kalas and Phipps.  This one-credit course is required of all students. It combines pre-departure meetings and assignments during Winter Term 2018-19 with on-site activities, lectures and discussion sections while in Amsterdam. 
World Literature 311: Literature & Landscape (PL, G) ― Taught by Prof. Kalas during weeks 1-5 of the Amsterdam program. This course will focus on Dutch literature during and after the Second World War and will explore how the Dutch viewed, processed and reacted to the Nazi occupation of their nation. 
Graphic Design 410: Design & Culture (PH pending) ― Taught by Prof. Phipps during weeks 6-10 of the Amsterdam program.  The GRD 410 course provides a design environment on the move. Students will explore design and culture. During the term designers will 1) ask challenging questions as to the role design plays in shaping culture and 2) investigate how ideas can and do influence our everyday.
Art History 375: Dutch Art and Identity (PP, G) ― Taught by local Dutch Faculty.  This course will review the history of Dutch Art and make use of visits to the city's fine art museums. 
Women's & Gender Studies 303: Gender and Sexuality (PH) ― Taught by local Dutch Faculty.  This course will study sexuality and gender through the contextual lens of the city of Amsterdam and Dutch social structures, laws and attitudes.
Program cost
Program fee is tentatively set at $19,400. A final program fee will be set in Winter of 2017-2018. 
Cost compared to spring term 2019 on campus: When compared with an anticipated on-campus cost for spring term of $17,600, the Amsterdam program has an additional cost of $2,200. When accounting for approximately $2,600 in out-of-pocket costs (airfare and meals) we come to a final cost difference of $4,800. Students who use Augie Choice should anticipate a total expense for this program of $2,800.
Cost includes: Tuition, ground transportation, room, excursions and insurance.
Cost does not include: Airfare, food, independent travel or discretionary spending.  We anticipate a total of $2,500-$3,000.
Financial aid
Students participating in the 2019 program will be eligible for the same grants, scholarships and loan eligibility while abroad as they would be for this trimester on campus. When billed for the program each student will receive a detailed billing statement which reduces the cost of the program in accordance with the student's anticipated financial assistance.  

Augie Choice: The 2019 program is Augie Choice eligible for all students who have completed three terms or 30 credits (sophomore status) or higher at the time of departure.  Transfer students who have also completed three terms or 30 credits at Augustana are also eligible for the Augie Choice grant.